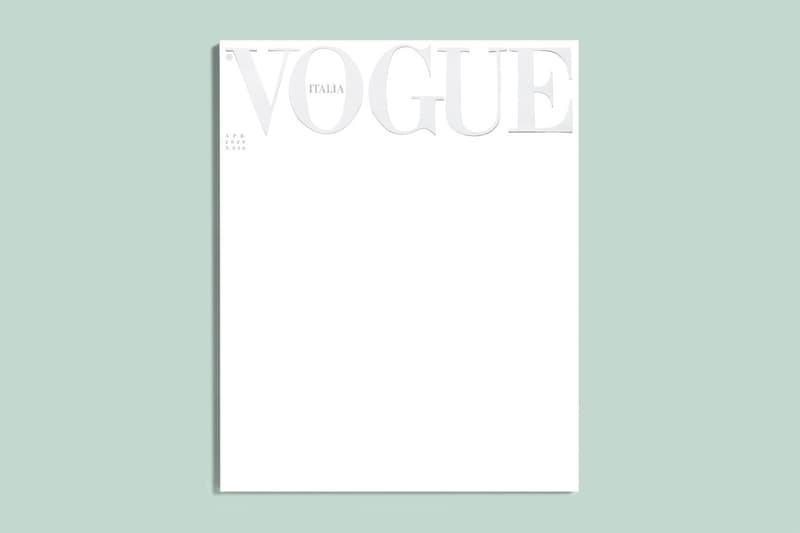 Fashion
In Light of Coronavirus Pandemic, 'Vogue Italia' Publishes Blank April Cover
Forgoing a cover star.
In Light of Coronavirus Pandemic, 'Vogue Italia' Publishes Blank April Cover
Forgoing a cover star.
A new issue of Vogue Italia releases digitally on April 10 and in light of the global coronavirus pandemic, the publication has decided to feature a blank cover in lieu of its usual cover star. Editor-in-Chief Emanuele Farneti penned a statement explaining the magazine's decision, recently posted to Instagram.
Farneti states that just under two weeks ago, Vogue Italia was planning to print an issue involving a twin project with L'Uomo Vogue that had been in the works for some time. However, "To speak of anything else — while people are dying, doctors and nurses are risking their lives and the world is changing forever — is not the DNA of 'Vogue Italia.' Accordingly, we shelved our project and started from scratch," Farneti explains. He goes on to explain the significance of a blank, all-white cover:
"White is first of all respect. White is rebirth, the light after darkness, the sum of all colours. White is the colour of the uniforms worn by those who put their own lives on the line to save ours. It represents space and time to think, as well as to stay silent. White is for those who are filling this empty time and space with ideas, thoughts, stories, lines of verse, music and care for others…Above all: white is not surrender, but a blank sheet waiting to be written, the title page of a new story that is about to begin."
Head to Vogue Italia's website to read Farneti's full letter.
In related news, Vogue Italia has granted three months of free access to its digital archives.
Share this article