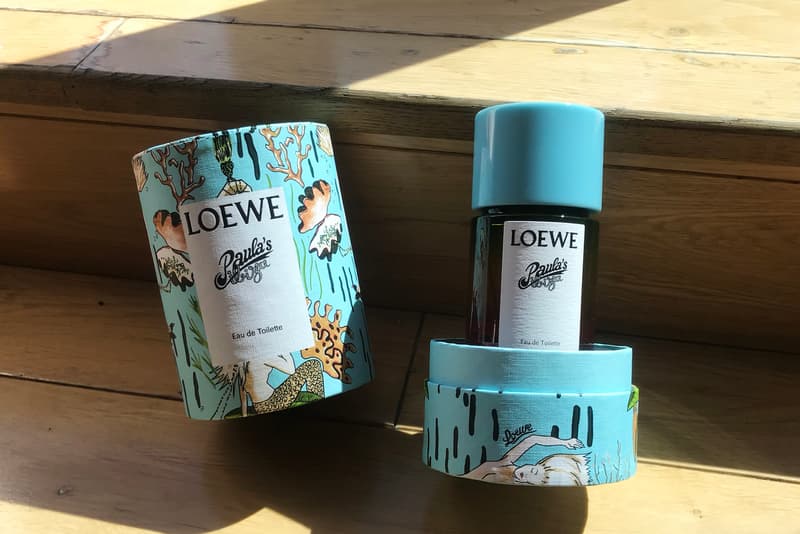 Beauty
Loewe's Paula's Ibiza Fragrance Captures the Spirit of Summer
Having us longing for days outside.
Loewe's Paula's Ibiza Fragrance Captures the Spirit of Summer
Having us longing for days outside.
Close your eyes and imagine you're on a beach somewhere. The sun is hitting your skin just right, the sand is gently exfoliating your feet, and you can hear the sound of waves rolling and birds chirping. That is how Loewe's new Paula's Ibiza fragrance makes me feel. "It reminds me of the sun-kissed summers I spent in Ibiza as a teenager," said Loewe's Creative Director Jonathan Anderson, who worked with in-house perfumer Nuria Cruelles to break down the scent's many layers of everything from coconut water, to Madagascan mandarin oils.
Having been a loyal Le Labo user and somewhat of a fragrance snob in the past, I'm always hesitant to try something new. I have many specs when it comes to scent – not too floral, not to sweet, not too heavy – you name it, so when Loewe released its Paula's Ibiza Fragrance, I knew that I needed to put it to the test.
Described as "something volatile and fickle, just like a breeze," the scent takes on a unisex note, which boasts coconut water layered with bright green galbanum, Madagascan mandarin oils, notes of driftwood, sand lily, frangipani flowers, vanilla absolute, Sulawesi patchouli oil combined and finished with warm ambergris. At first glance the ingredients may feel overwhelming, but when turned into a scent, they pair wonderfully to create a light and breezy fragrance. The bottle captures it perfectly, arriving with a summer-inspired gradient glass bottle, equipped with a sky blue bottle cap embossed with Loewe's signature logo at top as well as its written moniker on the label at front.
Ideal for day-to-day wear throughout the spring and summer season, the fragrance transports you away to a sunny Ibiza – even from the comfort of your self-isolated home. And if you're not convinced, the top shelf-worthy bottle is reason enough to give it a try. It is one that will definitely be staying in my rotation this season.
If you're looking to try it out for yourself, it retails at €72 EUR (approximately $78 USD) over at Loewe's website.
Share this article