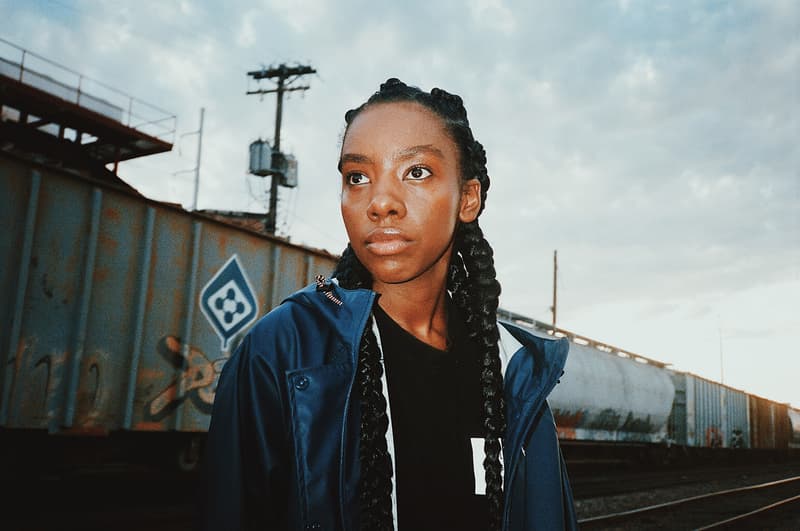 Music
Dua Saleh on Sophomore EP 'ROSETTA' and How Music Saved Their Life
"I'm hoping to offer 'ROSETTA' as a way to radically transfer love into the homes and hearts of my people."
Dua Saleh on Sophomore EP 'ROSETTA' and How Music Saved Their Life
"I'm hoping to offer 'ROSETTA' as a way to radically transfer love into the homes and hearts of my people."
Sudanese-American nonbinary recording artist Dua Saleh released their second EP ROSETTA via Against Giants on June 12. The singer's latest project follows their 2019 EP, Nūr, that was executive produced by Minneapolis-based producer Psymun.
Saleh moved to the U.S. from Sudan at a young age and has had a talent for poetry since they were four years old. While attending university, they began to tap into slam poetry and started performing in front of an audience, which then led them to experiment with music. Since Nūr, Saleh has explored the genres of rap, hip hop, pop and R&B, and ultimately produced their own sound and unique style over the past three years of working in the industry.
The launch of ROSETTA also comes after the release of "body cast," a protest song created with Psymun that centers on police brutality and injustice. The single was intended to drop at a later date. However, in the wake of the tragic deaths of George Floyd and countless others, Saleh decided to release the track earlier this month. 100 percent of the proceeds via Bandcamp will be donated to support Women For Political Change, the Minneapolis-based nonprofit organization dedicated to investing in the leadership and political power of young women, as well as trans and non-binary individuals.
As the Black community continues to combat racial injustice in the U.S., UK and other parts of the world, the artist decided to release ROSETTA in hopes that their fans and new listeners could use it as a source of healing amid these trying times.
We spoke with Saleh on the inspiration behind their new six-track EP, and how poetry has helped them become the musical artist they are today. Read our interview below.
Your debut EP released just last year. What would you say the differences and similarities are between Nūr and ROSETTA?
Nūr and ROSETTA have an infusion of sounds and ideas natural to my environment. I carefully thought about how to share this music with the world alongside Psymun, the executive producer of both EPs. The projects are named in ways that inspect my relationship with myself and music. Nūr is a gender-neutral name that translates to "light" in Arabic. It was my official introduction to the music game and I wanted to share my story through light and introspection.
ROSETTA was inspired by Sister Rosetta Tharpe, a Black queer musician from the '30s and '40s. She was accredited by historical music research experts as the inventor of rock and roll. Her guitar playing style and rock growl were studied by those that came after her such as Little Richard, Chuck Berry, and of course, Elvis.
I would say that Nūr is more R&B and pop while ROSETTA is more indie rock and hip hop. The similarities can be found in the balance between the dynamics. I switch between floating and atmospheric sounds, and assertive and theatrical sounds to tell stories. The differences are in the compositions we chose and the types of stories I want to share. Nūr is about my relationship to light, while ROSETTA is about imagining Black queer love in a radical way.
Can you list out your favorite tracks from your new EP and share with us why those stand out?
My favorite track is "bankrupt" because it is a transformative story about my journey from poverty into financial gain. It's my favorite track because the background vocals were sung by my younger sibling Isra Saleh. It's nice to have family involved.
My second favorite track is "smut," which is about consensual and queer sexual escapades. I sang in Arabic for the first time, which felt natural. I queered the ancient Nubian term "Kandake" (queen) into "Kundaka" (gender nonspecific royalty). I'm excited about the conversations it will bring up with my Sudani, Black and Arabic-speaking listeners.
Finally, my third favorite track "windhymn" was actually one of the first songs I made with Psymun the day we first met, around three years ago. It was a freestyle and it really isn't about anything in particular other than the imagery that came to my mind at that moment. It brings me back to that period of time when creating music was a new beginning for me. It's very special to me because of that.
What made you decide to transition from poetry to music, and how has your background in poetry helped shape your career today?
I've been writing poetry since I was four years old but only started performing at slam poetry events when I was in college. During college, I was dealing with a lot of issues related to family, identity and relationships. It pushed me into a deep depressive state for a long time. I don't know what triggered it but melodies started coming to my mind. Those melodies saved my life a number of times as I was dealing with suicidal ideation. I started performing songs at poetry slams and started getting gigs to sing a capella at non-poetry related events.
After many a capella shows, I started playing with my GarageBand iPhone app during my spare time, which is what I used to record and produce "Sugar Mama." Every time I would make someone hear a song, they responded wide-eyed and shocked. One of the first songs I ever released was called "Black & Blue," uploaded to SoundCloud for 24 hours to see the response. I was flooded with messages and comments to keep the song up, but I deleted it since it was very personal. I never planned on any of this, it all just came about in a peculiar way. I'm still a bit taken aback by it because I never envisioned turning music into my career. I was just a fan of music like most of my friends.
Who are some artists you've always looked up to? What differentiates your music style from theirs?
Some artists include Billie Holiday, Chronixx, Beyoncé and Mohammed Wardi. I love their melodies, and their songs are often poetic or intriguing. All of these artists warp reality from the moment you hear their voices. I aspire to be captivating in that way. I don't sound like any of these artists so it's really easy to differentiate me from them. Oftentimes people tell me that my voice is distinct and that it's hard to compare my voice to any single artist.
I think the thing that makes me stand out is my hip hop and rock-influenced performance style. My theatrical performances often mimic the tenacity of artists like Missy Elliott, Mykki Blanco and Zebra Katz from Black LGBTQ+ communities.
With everything that's happening in the world right now, how does it feel to be releasing ROSETTA at this time?
It's been terrifying to watch police officers murder people like George Floyd simply because of false accusations. It's been scary to watch the National Guard brandish weapons in the face of protesters as they lament the loss of community members. It's haunting that Layleen Polanco (a Black trans woman) can die at Rikers Island jail at the hands of institutional negligence. So much fear runs through my body and soul whenever I think about the prison industrial complex and the ways that Black people are dying as a result of it.
I know that in times of dire distress and emotional unrest, music has quite literally saved my life. I'm hoping to offer the ROSETTA EP as a way to radically transfer love into the homes and hearts of my people. Inshallah (God willing) this project can be used for healing purposes, even if it's only a supplement to larger issues.
Do you have anything else planned for the rest of the year?
I'm featured on a song that's set to drop later this summer which has some notable artists on it, but I'm not able to say much more than that. Maybe another project before the end of the year. I do hope to continue to raise funds for a local organization in my community that is working towards ending police brutality through the proceeds of my single "body cast" (via Women For Political Change). Outside of that, I'm unsure of what's to come — 2020 has taken us all on a wild ride.
---
Share this article