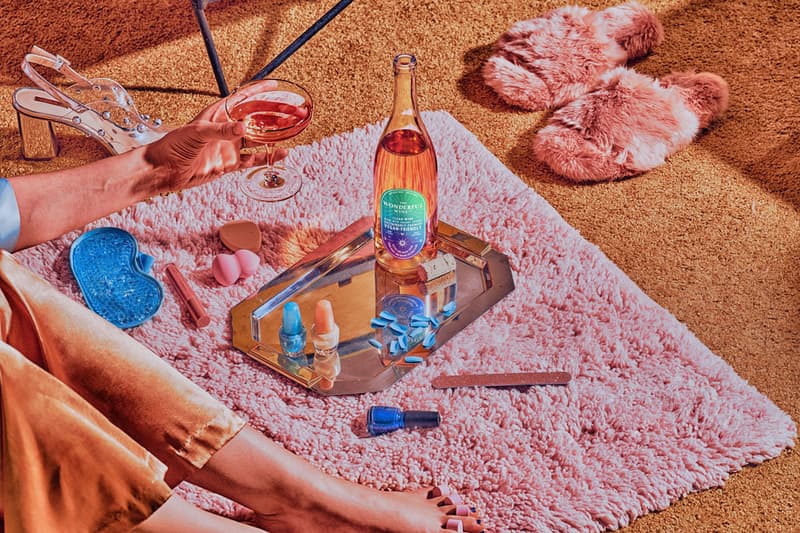 Food
4 Unique Summer Sneaker and Wine Pairings From The Wonderful Wine Co.
Introducing clean wine for better living.
4 Unique Summer Sneaker and Wine Pairings From The Wonderful Wine Co.
Introducing clean wine for better living.
For wine and sneaker enthusiasts looking to try something different this season and up-the-ante on their footwear game, the organic and sustainably-farmed brand, The Wonderful Wine Co. has you covered. Infusing sustainable grape-to-glass practices with clean ingredients, the new vino line is perfecting the art of modern wine-making with an organic twist, catering to paleo people, party people and everyone in between. Aiming to cut through the pretense and inaccessibility of the wellness industry, The Wonderful Wine Co. proudly focuses on balance instead of deprivation and highlights the magic of being alive through its satisfying varieties. 
The new line of wines are vegan-friendly, low sugar, low carb, low sulfite and free of pesticides and added sugars. That's a long way of saying, they're basically as good as wine gets. The Wonderful Wine Co. is revolutionizing the wine industry with its clean-crafted line that includes an Argentinian Malbec, a French white wine, a French Rosé, and a limited-edition Malvasia Bianca.
To mark the arrival of summer in style and to toast to the start of a new season, we've opted for a different type of wine pairing by matching The The Wonderful Wine Co.'s selections with some of summer's top footwear silhouettes. Below, find four unique wine and summer sneaker pairings to put your best foot forward
The Red
For a fresh take on bold summer style, pair this full-bodied Argentinian Malbec with the similarly intentioned Cariuma's "JPOArt" limited-edition. Like the red wine, the sneakers are also vegan friendly. Crafted from premium materials and enhanced with an art-inspired design motif, the footwear brand's signature silhouette combines both fashion and function for a stylish twist.
The White
Evoking the feeling of running through a field of fragrant flowers, this clean, white wine is a refreshing pick-me-up that hails from France. This dry vino features subtle notes of green apple and lemon curd. For best results, pair this effervescent, eco-friendly wine with a sustainable shoe for an equally refreshing take. Rombaut's Protect Hybrid "Sand" sneakers offer a laid back approach on casual, summer style. 
The Rosé
Lift your spirits this summer with The Wonderful Wine Co.'s satisfying French Rosé. Taking cues from the rosé's color and flavorful notes of strawberry, raspberry and rose petal, it pairs best with one of the dreamiest sneaker silhouettes of the season. The Nike Air Jordan 1 "Coral Pink/Chrome" acts as the perfect counterpart and boasts peachy pink and orange panelling matched with swirling blues and greens for a whimsical, marbled effect.
The Orange
Showing up to a party with a bottle of limited-edition, Malvasia Bianca orange wine is a bold statement that requires a striking style to match, like the Nike Air Force 1 Shadow "Total Orange" sneakers. For adventurous wine-drinkers and trendsetting sneakerheads looking to make a splash, this unique pairing is guaranteed to be the life of the party.
Share this article