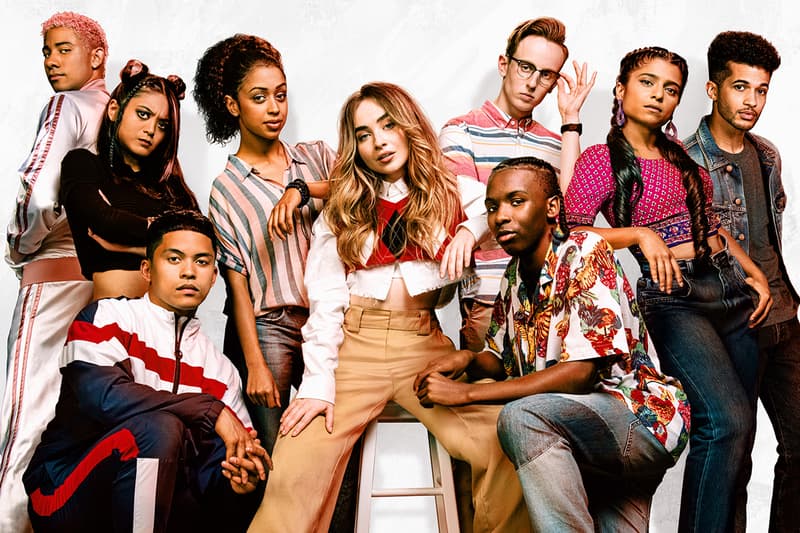 Film & TV
10 Dance Movies to Watch on Netflix Now, From 'Work It' to 'Feel the Beat'
For your binging pleasure.
10 Dance Movies to Watch on Netflix Now, From 'Work It' to 'Feel the Beat'
For your binging pleasure.
Over the years, Hollywood has seen an array of dance movies that either highlight the story of the young underdog trying to break through their shell or a dance crew working hard to make it big in the industry. Whether you know how to or not, dance is a universal language that transcends cultures and can be expressed through different styles like urban, hip hop, ballet, contemporary, tap, jazz and many more. It is a performing art form that many use to convey their creativity and emotions.
Below, we've gathered some of the best dance films on Netflix for your next binging marathon. From the recently released Work It starring Sabrina Carpenter, Jordan Fisher and Liza Koshy, to the '00s classic Step Up: Revolution, scroll down and discover the titles that made our list.
For more movie recommendations, check out our roundup of the best musicals of all time.
Battle
Battle follows the story of a young woman named Amalie (Lisa Teige) who is preparing for a dance competition. However, as Amalie's father goes bankrupt, her life is completely turned upside down. Eventually, she meets Mikael (Fabian Svegaard Tapia), a street dancer who teaches her how to truly live and be herself.
Burlesque
Ali Rose (Christina Aguilera) is a small-town woman who has a passion for singing. After moving to Los Angeles to pursue her dream, she realizes that making it big in Hollywood is harder than she thinks. Instead, she lands a job at a club called the Burlesque Lounge as a waitress, but auditions as a dancer later on after being inspired by the club's proprietor, Tess (Cher).
Dirty Dancing
Dirty Dancing is an '80s classic that tells the story of 17-year-old Frances Houseman, nicknamed Baby, (Jennifer Grey) and 25-year-old Johnny Castle (Patrick Swayze). Baby is enjoying her last few moments of freedom before the summer ends at the Kellerman's resort in the Catskills with her family. During her time there, she meets the resort's dance instructor, Johnny, who she falls for during their sessions. However, Baby's father does not approve of her seeing Johnny, putting both of them in a difficult situation.
Feel the Beat
After disappearing from the Broadway scene, April (Sofia Carson) decides to return to her hometown in Wisconsin and move back in with her dad (Enrico Colantoni). Trying to avoid her past, including her first love Nick (Wolfgang Novogratz), April is on the journey to re-discovering herself by training a group of young dancers for a big competition.
Honey 2
A sequel to the 2003 film Honey starring Jessica Alba, Honey 2 centers around 17-year-old Maria Bennett (Kat Graham) who finally gets released from prison but has to rebuild her image by starting from scratch. With street dance being her forte, Maria joins the HD crew to compete on a TV dance competition show called Dance Battlezone. However, she will have to go up against her ex-crew 718, led by her ex-boyfriend Luis (Christopher Martinez).
Save the Last Dance
Sara Johnson (Julia Stiles) is an aspiring ballet dancer who hopes to get accepted into Juilliard after she graduates from high school. However, after her audition, she learns that her mother dies in a car accident. This forces Sara to move to the south side of Chicago with her father. At her new school, she notices she is one of the few white kids but manages to befriend Chenille (Kerry Washington), who asks her to join a dance club called STEPPS. During her dance sessions, she meets Chenille's brother Derek (Sean Patrick Thomas) The two fall for each other over time but must learn how to face the challenges of an interracial relationship.
Step Sisters
Jamilah Bishop (Megalyn Echikunwoke) is your all-around, perfect student: she's president of her Black sorority, captain of the step dance crew, the dean's liaison and is set to attend Harvard Law School. However, after one of her college's sororities tarnishes the school's name, Jamilah is tasked to teach them how to be disciplined. By doing so, she has to train them how to step as they are forced to enter a competitive dance competition.
Step Up: Revolution
A sequel to 2010's Step Up 3D, Step Up: Revolution is the fourth installment of the Step Up franchise. Based in Miami, Emily Anderson (Kathryn McCormick) dreams of becoming a professional dancer. Emily soon meets Sean Asa (Ryan Guzman), leader of a dance crew called the Mob, who helps break her out of her shell. We later find out that Emily's father, William "Bill" Anderson (Peter Gallagher), plans on developing a historic neighborhood home to thousands of residents. Emily decides to join Sean's crew to help protest against the development, even if she has to go against her own father.
Work It
At a young age, Quinn Ackerman (Sabrina Carpenter) has been determined to get into Duke University to continue her late father's legacy. During her college admissions interview, she is told that her application lacks diversity and that her straight As can only get her so far. Out of sheer panic, Quinn decides to lie and tells her interviewer that she will be competing in a dance competition with her high school's dance team, the Thunderbirds. However, there's one problem Quinn forgets to take into consideration — she can't dance.
Yeh Ballet
Inspired by the true story of two boys from very low-income families in Mumbai, Yeh Ballet centers on dancers Nishu and Asif. Both boys' lives change for the better when a ballet teacher named Saul discovers their talent. Saul takes Nishu and Asif on as his students and teaches the boys a dance style completely foreign to them,  nurturing them to become India's first male ballet dancers.
---
Share this article