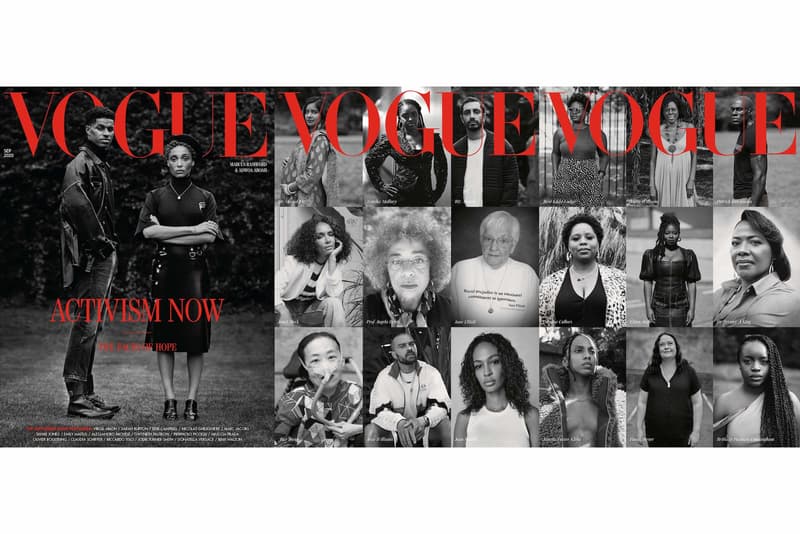 Culture
British 'Vogue's September Issue Celebrates 40 Contemporary Activists
Starring footballer Marcus Rashford and model Adwoa Aboah on the cover.
British 'Vogue's September Issue Celebrates 40 Contemporary Activists
Starring footballer Marcus Rashford and model Adwoa Aboah on the cover.
The September issue of Vogue is undoubtedly one of the biggest releases within the fashion world, and this year, British Vogue has dedicated its cover to footballer Marcus Rashford and model and mental health advocate Adwoa Aboah. Earlier this year, Rashford successfully organized a campaign to stop the British government's decision to end free school meals for underprivileged children, and Aboah has long been recognized for her important work through her community, Gurls Talk.
The cover also features a fold-out section that is emblazoned with portraits of 40 contemporary activists including Munroe Bergdorf, Joan Smalls and Jesse Williams. The September Issue of British Vogue marks the first time in the history of British Vogue that a Black man has photographed the cover. Shot by Misan Harriman, the high-profile cover is the result of Editor-in-Chief Edward Enninful's push to make the heritage title more inclusive and reflective of our times.
"At its core, British Vogue's September Issue is our show of thanks, as well as a rallying cry for the future. When all is said and done, it's clear that 2020 will be remembered as a tough year, but also as a moment of necessary change. One thing is for certain. The future starts now," said Enninful about the cover. The EIC has been praised for his work that recently featured essential workers from London's TFL, the British NHS and a supermarket worker, speaking on their experiences throughout the COVID-19 pandemic.
Take a look at the cover shot by Misan Harriman in the gallery above. British Vogue's September issue is available from this Friday 7th August.
Share this article