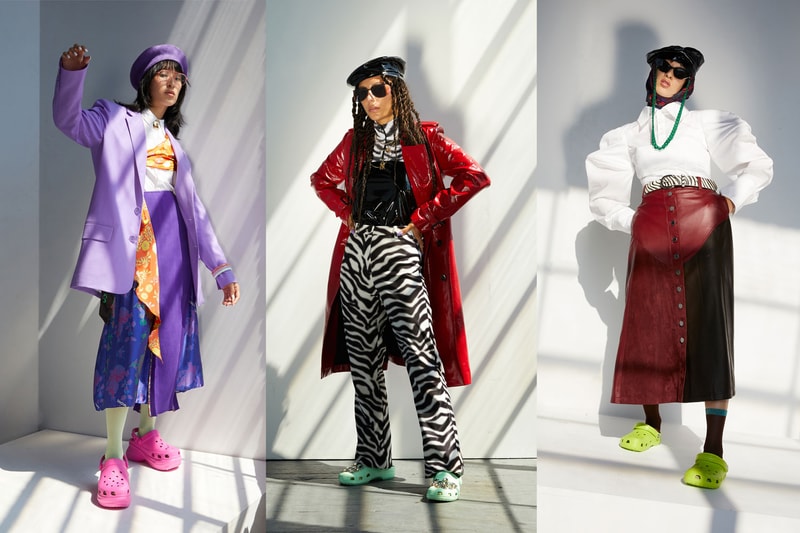 Footwear
10 Fashion-Forward Ways To Make a Statement Wearing Crocs
Translating the dress code from city to city.
10 Fashion-Forward Ways To Make a Statement Wearing Crocs
Translating the dress code from city to city.
Since the footwear brand's inception in 2002, Crocs has been making footwear styles that resonate with industry statement makers on a global scale. This season, Crocs has vamped up its hero silhouette with the trending colors of the season, and taken style to new heights with the addition of the Crocs Classic Bae Clog. Taking inspiration from street style fashion, this design offers height without sacrificing comfort and features an ultra-contoured outsole, which supports the upper of the brand's Classic Clog. For a personal touch, the Crocs Bae also comes equipped with a backstrap that can be personalized with Jibbitz™ charms of your choice
To demonstrate how the alluring art of street style can take shape in many different forms around the world and showcase fresh, inventive ways to wear Crocs' offering of footwear, we've devised a series of hard-hitting looks that interpret the dress code in cities like New York, London, Shanghai, Tokyo and Berlin.
New York
In the city that never sleeps, the style scene is defined by its unapologetic approach to fashion and risk-taking styles that are influenced by New York's five distinct boroughs and various subcultures that span from skateboarders to club kids to slam poets. This comes through in statement-making outfits like acid-wash, denim overalls worn with a coordinating, neon-green denim vest and a brightly-hued sweater paired with Crocs Classic Lined Clog in white. Another iteration of bold New York style can be seen in the second look which masterfully mixes Crocs Classic Clog in "Neo Mint" with tie-dye socks along with an acid-wash denim jacket and coordinating jeans in a subtle wash of purple.
Shanghai
Shanghai is known for its eclectic street style scene that fuses the old with the new. This can be seen in polished yet playful outfits that artfully clash an oversized menswear blazer in plaid with a multi-patterned, asymmetrical-hem dress and a fisherman's cap paired with Crocs Classic Bae Clog in "Electric Pink" for an added pop of color. Another example of Shanghai's art-derived approach to style can be seen in the next look, which marries Crocs Classic Bae Clog in white with a menswear-inspired suit fashioned in demure florals and a neutral-tone plaid. The third look instantly transforms a classic white button-down when worn with an ankle-length, leather skirt in contrasting hues, eclectic accessories like a zebra-printed belt and Crocs Classic Clog in "Lime Punch."
Tokyo
Tokyo's street style scene is known for its daring and outlandish approach to dressing that is largely influenced by Harajuku's bustling city streets brimming with fashion-forward youths. Enhancing through personalization is key as trendsetters further look to authenticate their style. This comes through in bold, off-the-cuff outfits like an oversized plaid suit expertly paired with a contrasting striped turtleneck and Crocs Classic Clog in white adorned with Jibbitz™ charms. With an emphasis on layering, the next look pairs Crocs Classic Bae Clog in white with oversized separates like a menswear-inspired shirt, a classic khaki bomber and more charms for personalization.
London
In London, where it tends to be gray, the street style scene is quirky, sophisticated and alive with color. The city's unconventional approach to style comes through in color-soaked outfits like a brightly tinged dress cast in shades of red and pink, a faux-fur pink denim jacket paired with slime green tights and Crocs Classic Bae Clog in white. Another iteration of the city's posh take on colorful dressing can be seen in the second look, which pairs Crocs Classic Bae Clog in "Electric Pink" with an oversized blazer in a shocking shade of purple, a coordinating skirt fashioned in soft florals and a matching purple beret.
Berlin
In Berlin, street style is all about attitude and serving up confident, sexy looks that fuse elements of both the avant-garde and the practical. The city's distinct dress code can be seen in edgy outfits like a zebra-printed turtleneck layered with a glossy, vinyl bra over it, coordinating zebra pants and a slick, red trench coat paired with Crocs Classic Clog in "Neo Mint."
Check out each city's distinct take on wearing Crocs in the galleries above and shop the new Crocs Bae along with other footwear styles on the brand's website.
Photographer

Michael Kusumadjaja
Stylist

Maleeka Moss
Style Assistant

Dominique Upshaw
Clothing

S.r. Studio.la.ca, Forties & Shorties, Mykita, Iceberg, Tibi, Snow Xue Gao, Kangol, Demarson, Mounser, We Love Colors, Pushbutton, Christian Wijnants, Asos, Nanushka, Natasha Zinko, Ellery, Clyde, Pamela Love, Daily Paper, Stand Studio, Happy Socks
Writer

Danielle Combs
---
Share this article