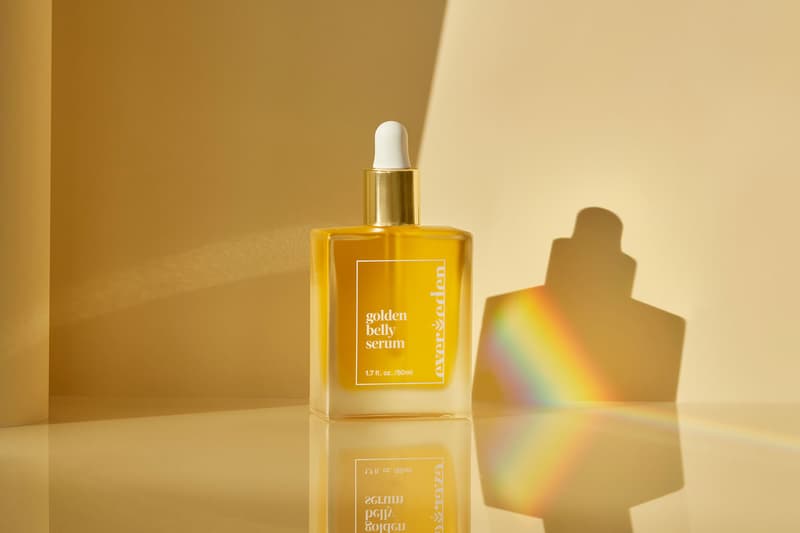 Beauty
Natural Skincare Brand Evereden Launches Golden Belly Serum for Moms-to-Be
The label leaves out over 2,000 questionable ingredients in all of its products.
Natural Skincare Brand Evereden Launches Golden Belly Serum for Moms-to-Be
The label leaves out over 2,000 questionable ingredients in all of its products.
While skincare has now taken a significant portion of the beauty industry, the market is behind when it comes to offerings focused on pregnant women's needs. Enter Evereden, a label created by a team of leading dermatologists aiming to provide moms-to-be with luxe skincare goods. For its latest release, the brand is introducing the Golden Belly Serum, a reparative treatment oil packed with natural and essential ingredients to use on sensitive skin during pregnancy.
Kimberley Ho, an investment banker-turned-entrepreneur, teamed up with a group of acclaimed dermatologists after realizing that the market lacked options for moms and their babies. Focusing on keeping her products 100 percent clean, non-toxic and plant-derived, Ho leaves out over 2,000 harmful ingredients to ensure that the brand's formulas will help improve skin health.
The new Golden Belly Serum focuses on six key goals to help create the healthiest skin possible even under stress: reduce stretch marks, soothe and heal, repair skin and stimulate collagen growth, provide antioxidant and anti-inflammatory protection, strengthen the skin barrier, and hydrate. The resulting formula is comprised of 13 sustainably-sourced botanical oils and extracts including marula oil, rosehip, avocado oil and coconut oil that were selected for their therapeutic properties. Helping the skin regain elasticity and its natural glow, the dermatologist-tested Golden Belly Serum can also be used on sensitive and eczema-prone skin.
Priced at $32 USD, the Golden Belly Serum is available now over at Evereden's web store. To better understand the process behind the latest release, we caught up with Evereden's founder Kimberley on inspirations and how the product was developed. Read our conversation below.
What motivated you to get into maternity skincare? What did you feel the market lacked?
Mothers are responsible for roughly 85 percent of household purchases, yet the skincare offered to them at their most vulnerable time, when pregnant or a new mother, was severely limited and lacking innovation. We've seen great strides in women's skincare – a $17 billion USD market in the United States alone as of 2019 – but those technologies and innovations in ingredients had yet to be applied to maternity skincare. And yet it is well known that there are specific needs for women during pregnancy or postpartum – doctors advise women during pregnancy or nursing to avoid retinol, Benzoyl peroxide and certain acids like thioglycolic and Salicylic acid, to name a few. To add to the confusion, certain ingredients may be used but only below a certain concentration level.
In short, the market lacked clear skincare offerings for women and mothers in their most vulnerable and confusing, yet crucial, period of their lives. Evereden is here to change that. I decided to replace unsafe ingredients like Retin-A with the science-backed, high-performing ingredients that you see in luxury women's facial serums and moisturizers. The main goal was to offer moms a comprehensive maternity skincare line that was not only safe and efficacious, but also something that they would be excited to use.
The response from our community has been overwhelmingly positive, showing a shift in the market and what women want for themselves and their skincare. I believe the current shift in how we think about maternity or postpartum care is because our generation places growing importance on the concept of self-care and wellness in general. While self-care as a mother was something that was almost deemphasized in the past, women are beginning to be more vocal about our own mental health and wellness needs.
How does the Golden Belly Serum differ in terms of effects or results in comparison to the Nourishing Stretch Mark Cream and Lifting and Firming Lotion?
The Golden Belly Serum is meant to be a target multi-reparative, multi-correctional treatment oil for expecting and new mothers. Its comprehensive blend of 13 sustainably-sourced botanical oils comes with six multi-reparative benefits, such as repairing and reducing stretch marks, strengthening the skin barrier and providing the skin with antioxidants and anti-inflammatory properties. Some of the ingredients used include rosehip, marula oil and oat ceramides, as well as a proprietary bio-based smart hydrating compound that draws water to the skin's surface to hydrate, while the other actives repair, nourish, heal and provide anti-aging benefits. The goal of this formula is to treat your belly and body like your face with actives that are as potent as those of any luxury face serum. We recommend using it after our Nourishing Stretch Mark Cream, just as you would your facial oil after your moisturizer, to maximize results.
Our Lifting and Firming Lotion is a multi-tasking body treatment that lifts and tones the skin with natural marine collagen, seaweed extract and enhanced green coffee bean extract. This is meant to be used on areas that specifically need a little lift and firming – such as the bust and tummy area – but again, our Golden Belly Serum can be followed after its use on those areas or the entire body.
What inspired you to create the Golden Belly Serum?
Because pregnant skin is under so much stress and is at risk of breaking down, we were inspired by the combined nourishing and reparative qualities of treatment oil serums that were so precisely formulated for women's faces. We knew that the skin on a woman's pregnant body undergoes as much, if not more, stress than the skin on her face, and we thought to apply those same principles of facial product formulation to her body by paying close attention to the increased sensitivity of this area and the heightened safety standards we would also need to meet.
What was the development process behind the serum like, considering there is a big list of do-not-use ingredients at Evereden?
Because we ban over 2,000 questionable ingredients, our team of formulating dermatologists must identify and select natural and clean ingredients that can provide equally efficacious results as what may be synthesized in a lab. This process takes quite a few trials, and we spent nearly two years developing this formula with over 60 iterations, testing our samples with pregnant and postpartum women to make improvements with real feedback. It's been a long journey from the inception of Golden Belly Serum's concept to launch, but what sets Evereden apart is our obsessiveness to provide mothers and their families with formulas that are uncompromised in our standards of safety, quality and care.
Share this article