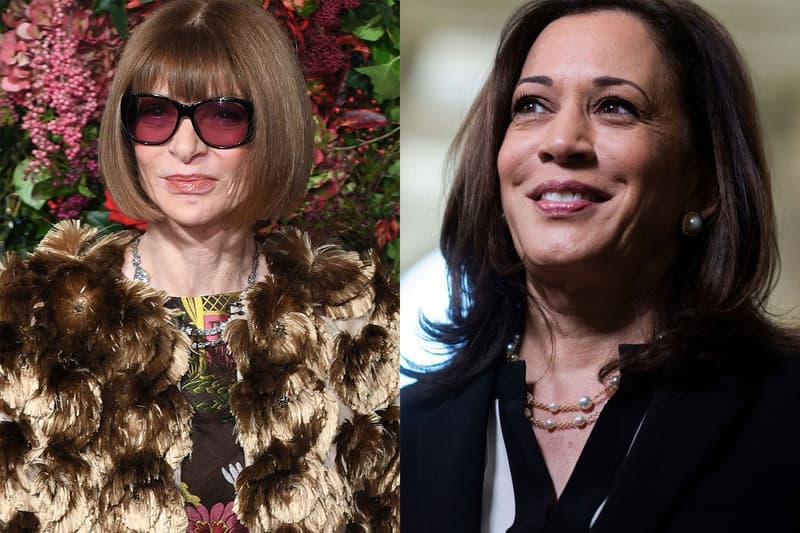 Culture
Anna Wintour Speaks Up on Controversial Kamala Harris 'Vogue' Cover
"It was absolutely not our intention to diminish the importance of the Vice President-elect's incredible victory."
Anna Wintour Speaks Up on Controversial Kamala Harris 'Vogue' Cover
"It was absolutely not our intention to diminish the importance of the Vice President-elect's incredible victory."
Earlier this week, Vogue's February cover was leaked, starring Vice President-elect Kamala Harris. The main image caused quite the controversy and the publication's editor-in-chief Anna Wintour has now addressed the issue.
Speaking to The New York Times, Wintour stated that there was "no formal agreement" about which image was going to be the main cover. For those who haven't seen the visuals, one features Harris in front of a pink and green backdrop dressed in a suit with her signature low-top Converse sneakers. One netizen quickly criticized the photo, calling it a "washed-out mess of a cover." The other image, which was allegedly intended to be the cover, spotlights Harris in a light blue suit in front of a gold background.
"It was absolutely not our intention to in any way diminish the importance of the Vice President-elect's incredible victory," Wintour explained. According to the EIC, Vogue's creative team preferred the casual look, "making a connection to the pandemic and tumultuous state of the country," as per CNN.
"When the two images arrived at Vogue, all of us felt very, very strongly that the less formal portrait of the Vice President-elect really reflected the moment that we were living in," Wintour added. "We are in the midst… of the most appalling pandemic that is taking lives by the minute, and we felt to reflect this tragic moment in global history, a much less formal picture, something that was very, very accessible, and approachable, and really reflected the hallmark of the Biden-Harris campaign…"
André Leon Talley, former editor-at-large of American Vogue, also expressed his opinion on Instagram: "[Harris'] work uniform with her ubiquitous Converse sneakers is aspirational. I predict it's going to set a trend for all young women all over the world, are going to dress like Kamala Harris."
Head over to Vogue's Instagram account for a closer look at its February issue.
Share this article