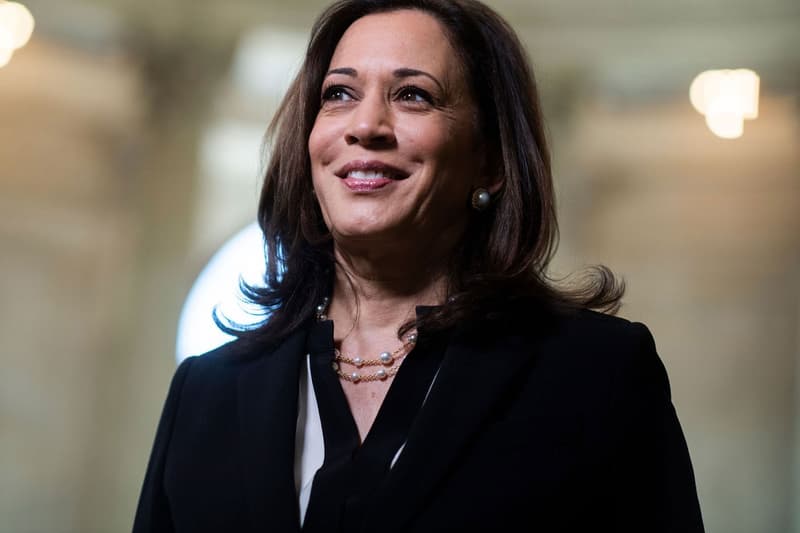 Culture
Kamala Harris' First-Ever 'Vogue' Cover Sparks Controversy
Criticized for being a "washed-out mess of a cover."
Kamala Harris' First-Ever 'Vogue' Cover Sparks Controversy
Criticized for being a "washed-out mess of a cover."
On Saturday, a leaked image of Vogue's February 2021 cover featuring Kamala Harris surfaced on social media, sparking controversy for its disappointing styling and creative direction. Later, the publication officially announced its Vice President-elect cover star, along with an additional image.
In the visual, Harris is pictured in front of a pink and green backdrop (a reference to her sorority Alpha Kappa Alpha), wearing a suit with her signature Converse sneakers. "[She] is about as light-skinned as women of color come and Vogue still f*cked up her lighting. WTF is this washed-out mess of a cover?" one Twitter user comments. Another adds that the image is "the least dignified and greatest insult to a remarkable woman who shattered multiple glass ceilings and is now the most powerful woman in the U.S."
CBS News reports that according to a close source, only the additional blue suit/gold background photo was agreed to be featured as the cover. "Without telling Harris' team, Vogue changed it to the pink/green photo, which the Vice President-elect's team did not agree to," the source shares. Another insider has revealed that the image with the Converse sneakers was initially intended to be used as a smaller photo within the cover story.
Both images were lensed by Tyler Mitchell, the first Black photographer to have shot a Vogue cover back in 2018 featuring Beyoncé. The crew behind the shoot involves more creatives of color, including editor Gabriella Karefa-Johnson, author Alexis Okeowo, makeup artist Marquia James and hairstylist Bre Jaggers.
"The team at Vogue loved the images Tyler Mitchell shot and felt the more informal image captured Vice President-elect Harris's authentic, approachable nature — which we feel is one of the hallmarks of the Biden/Harris administration," Vogue's spokesperson told CBS News. "To respond to the seriousness of this moment in history, and the role she has to play leading our country forward, we're celebrating both images of her as covers digitally."
You can head over to Twitter for more on Vogue's February 2021 cover featuring Kamala Harris.
Share this article