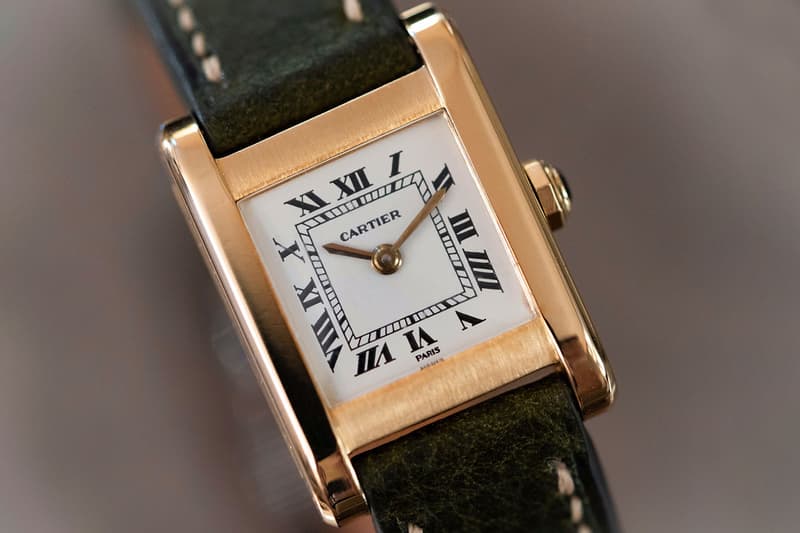 Fashion
Entry-Level Watches That Are Worth Investing in, According to an Expert
Collector Jaclyn Li shares tips on acquiring timepieces from Rolex, Cartier and Audemars Piguet.
Entry-Level Watches That Are Worth Investing in, According to an Expert
Collector Jaclyn Li shares tips on acquiring timepieces from Rolex, Cartier and Audemars Piguet.
Once deemed an industry catering to an older demographic, luxury watches have become an increasingly hot topic among millennial and Gen-Z consumers over recent years. Not only are young buyers interested in wearing and collecting timepieces, but many are looking at watches as a form of investment. For those looking to purchase pieces for the purpose of reselling them in the future, an expert shares with HYPEBAE all of her tips, along with recommendations of entry-level models that are great for beginners to start with.
Jaclyn Li, who goes by the handle @a.dose.of.time on Instagram, began collecting timepieces about a year ago during her final year of university. Throughout her watch journey, she has spoken to different watch experts and other collectors to learn more about the world of timepieces. With her experience, she hopes to share everything she has learned about the art of buying, selling and trading watches with others.
Continue reading to learn about investing in watches. For more on Jaclyn's collecting journey, listen to her episode of The Waiting List Podcast.
What does it mean to "invest" in watches?
Over the past year that I've been collecting watches, I realized that there isn't just a singular definition to the word "investment." While on paper, investing in watches may mean diversifying one's portfolio, most enthusiasts within the community will agree on the fact that they invest in their passion first, which just so turns out to be watches.
Through talking with more seasoned collectors, I learned that the word "investment" used to be associated with a rather negative connotation in the past — as if selling a watch for more than what one bought for is taboo and disproves one's interest in watches. However, this notion has drastically changed over the last five to 10 years. As information became more readily available and online communities have become larger and yet more close-knit, it is convenient for collectors to share their collecting philosophies with like-minded enthusiasts, and even buying, selling and trading within these communities.
What gives a watch more value over time?
A combination of components like design, brand value, history, complications, movement, condition and so on. But if I had to choose one, I would say condition matters the most. Just because when it comes to vintage watches no two pieces are alike, each watch will age in its own distinct way, resulting in patinas on the dial and case. So, to find a truly exceptional watch in pristine condition (or beautifully patinated condition), you know that the watch has lived a well-cared-for life.
Oftentimes collectors are willing to pay top dollar for a watch because they believe it is worth paying tomorrow's price on a piece that is in pristine condition. And they are absolutely right. Odds are that finding another piece in the same or similar condition will be highly unlikely again. And in the off-chance it is found, the price would have probably increased too.
Which brands tend to have higher resale prices?
The top three brands that constantly perform the best in auctions and on gray markets are Audemars Piguet, Patek Philippe and Rolex. We have also seen brands such as Cartier, Roger Dubuis and Philippe Dufour become rather coveted during the past year, breaking records in several auctions.
Should I look to unique and obscure models vs. classic designs? 
I think it is good to do either one, or both. As a beginner collector, you really can't go wrong with the classic Rolex Datejust or the Cartier Tank Louis. Or even an Omega Constellation and many vintage Seikos. The Saxonia from A. Lange & Sohne is another great option. However, if you're one for not wanting to play safe and want to have a bit more fun, you'll do exactly that by exploring smaller independents such as MING, anOrdain and Atelier de Chronométrie.
Should a vintage watch be repaired if I'm purchasing them for investment purposes? 
You should always service your watch regardless of any intentions of selling it in the future. As for replacing parts, laser welding the case or repainting dials, these are some big red lights when it comes to vintage watches since originality is key. However, with that said, if you absolutely want to replace parts or refinish the case (at the end of the day, it is all up to personal preference), you should disclose these details to the buyer when selling the watch.
The same goes for when you are the buyer. Always do the due diligence and ask detailed questions and pictures before buying a watch.
After purchasing a vintage watch, how would one know when to sell it?
One good way to keep tabs on the current market trends is to watch out for auctions. Houses such as Phillips, Sotheby's and Christie's have regular seasonal watch auctions featuring many different timepieces. If you own watches that belong to a particular brand or collection, odds are you might find similar pieces there. Pay close attention to how they perform and decide if you want to sell it if the price is satisfactory. Another way is to sign up for newsletters from dealers to see if they are offering watches that you also have and study the patterns of sales.
A good saying to keep in mind is, "One is a sale, two is a pattern, three is a market." In other words, just because a watch sold for an X amount of money doesn't mean it is worth X on the market. Look for patterns and study the changing trends over time.
From what I have observed, the market is stronger than ever when it comes to vintage watches despite this recent pandemic. More and more people have time on their hands to actually learn about the horological significance of timepieces, therefore sprouting interest in purchasing their first new (old) watch.
Any additional words of advice for first-time buyers?
1. Always do research on the watch you want to buy before actually purchasing it. Buy from trusted collectors and dealers, and ask for service history.
2. Getting to know your taste is a process and it takes time. Don't be scared to sell or trade watches because many collectors do that to keep collecting.
3. Always watch out for potential fraudulent buyers or scammers when transitioning.
4. While having a full-set is nice, don't over-emphasize the importance of boxes and papers. Look for originality in watches and those in good condition, NOS (new old stock) watches are true gems.
5. Believe in your own taste and buy what you like. The increases in prices are an added bonus but at the end of the day, buy what you truly will enjoy wearing.
The Best Beginner-Friendly Watches to Invest In
Audemars Piguet Royal Oak 56175
Average Price Range: $6,000 to $15,000 USD
Audemars Piguet Quantieme Perpetual 25657
Average Price Range: $8,000 to $15,000 USD
Patek Philippe Calatrava 96
Average Price Range: $7,000 to $20,000 USD
Any Vintage Cartier Tank (i.e. Tank Louis, Tank Normale, Tank Basculante) from the 1950s to 1980s
Average Price Range: $2,000 to $10,000 USD
Rolex Bubbleback
Average Price Range: $2,000 to $5,000 USD
Rolex Oysters 34mm
Average Price Range: $1,800 to $5,000 USD
Rolex 1600/1601 Datejust
Average Price Range: $3,000 to $5,000 USD
Share this article