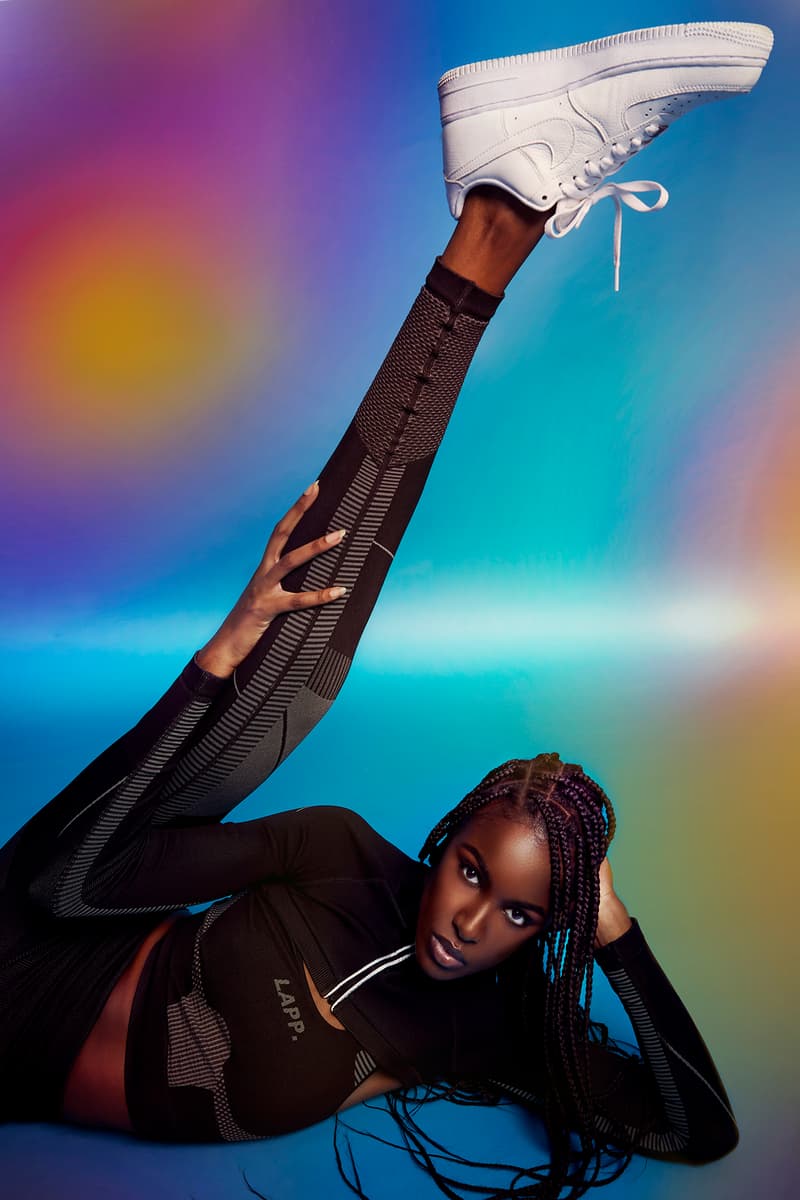 Model Leomie Anderson on Reinventing Her Athleisure Brand, LAPP
We talk to the runway darling, designer and women's advocate about her apparel business and digital platform.
Fashion
Model Leomie Anderson on Reinventing Her Athleisure Brand, LAPP
We talk to the runway darling, designer and women's advocate about her apparel business and digital platform.
From the polychrome-colored hair that has complemented her Coachella 'fits every year, to the extravagant frocks she's sported to swanky, exclusive industry events and red carpet affairs, Leomie Anderson has always garnered attention at every hip happening she's attended. The top model is a prerequisite at Fashion Month's biggest shows — she's walked for reputable designers such as Tom Ford, Moschino, Marc Jacobs, Burberry, Ralph Lauren and Oscar de la Renta. The 28-year-old is also featured in campaigns for some of the most notable beauty brands, musing for both Pat McGrath Labs and Fenty Beauty. Even more impressive, Leomie currently has two TEDx talks under her belt and was recently featured on 2020's Forbes 30 Under 30 list within the Art & Culture category. Adding to her list of many accolades is her induction as the sixth Black model into the Victoria's Secret Angels, receiving her wings in April 2019.
Leomie is also the creative director of a digital platform and clothing line called LAPP that she launched in 2016 — the brand name stands for "Leomie Anderson The Project The Purpose." Her first apparel showcase was entitled the "Consent Collection," which was composed of vintage-style tees scribbled with phrases such as "lol nah" and "error.jpg," expressing the rejection of a request for an explicit picture from the opposite sex during a text conversation. Also included in this collection was a hoodie with text asserting "This P***y Grabs Back," which Rihanna has also been spotted wearing.
Since its inception, LAPP has taken on a more athleisure approach, offering an assortment of sports bras, tops, leggings and tracksuits. LAPP apparel has also been worn by celebrity muses such as Gabrielle Union and models Winnie Harlow and Jasmine Sanders.
Aside from making athleisure-wear made of impeccably sourced materials, and that embodies the 21st century girl who is stylish and confident, the primary mission of LAPP is to provide insight and awareness about women's mental health and rights, body consciousness and ultimately promoting female empowerment. The magazine portion of LAPP's platform includes contribution from all demographics of women who discuss self-love, sex and relationships, fashion, beauty, politics and so much more.
Leomie acknowledges that utilizing one's platform and audience reach to spread positivity and awareness, especially to young girls and women, is imperative. "Everybody's story has the ability to ignite change, but it can never be heard if it is never told," Leomie declares during her second TEDx speech. She has spoken at various conferences and panels regarding woman-centric topics and racial discrimination in the modeling industry, continuously keeping the content of these conversations authentic and uncensored. Leomie also understands that sometimes you must be willing to step outside of your comfort zone if you truly desire to make a difference. That's precisely how she's persevered through hardships within the industry — by utilizing her voice, creating an independent narrative, and thus evolving into the distinguished and inspirational figure that she is now.
We recently got the chance to chat with Leomie about her modeling career, the ups-and-downs of running a business, and even discussing some of the intersections between the two.
You have been modeling since you were 14 years old. How did you get discovered as a model? Has this always been a dream job of yours?
I was scouted coming home from school, but before that moment and even after, I didn't think I could be a model. Whenever people suggested it, I assumed it was simply because I was tall, not because it was an actual job that I had a chance of doing. I wanted to write about fashion, not necessarily be a visible part of the industry.
How was it difficult breaking into the industry as a woman of color? What hardships and struggles when booking an agent, attending castings, musing for campaigns, etc. did you face?
There were many hardships that I've spoken about a lot over the years, most recently in my latest TED talk. But I think the moments that stuck were being embarrassed in front of a room full of people and being asked, "why do you think you should have different hair or makeup products? What's so special about you?", when you're literally just asking for foundation that's your shade or products that are for Black hair. That was always very hurtful because no one defended you and you were made to feel like you were being difficult or ungrateful.
How were you able to remain optimistic despite being faced with racial prejudices within the modeling industry?
I had to learn that my value was not based on other people's perceptions and ideas of me. Once I stopped being scared of being labelled with the usual microaggressions that are applied to Black women, I found my voice and that helped me enjoy being a model so much more.
From being inducted into the Victoria's Secret Angels to fronting many beauty campaigns and walking dozens of shows for designers, what has ultimately been your favorite project that you've worked on?
Walking for the Victoria's Secret shows will always be a memory I look back fondly on, because it's genuinely the most fun a model will have on stage and backstage of a show like ever. Of course working with amazing people like Rihanna and Kanye on their various projects has been so inspiring, but the job I cherish the most was working with hat designer Philip Treacy. I worked with him for two weeks leading up to the show and watched all his creations come to life, but the real crazy part was the fact that all the looks from the shows were original Michael Jackson looks and I got to try every single one on — from his signed "Thriller" jacket to his diamond gloves. I genuinely think I'm one of the only people in the world who can say that.
How has the pandemic affected modeling? Have you been able to book work despite the circumstances, and how have the experiences on the set of these projects been different to pre-COVID times?
To be honest with you, I've been working a lot, but it's less of the fun jobs like events where you get to get dressed up and have fun with your friends. Doing home shoots and Zooms and lives have really taken a lot of the joy I would get from working, but by the same token it has allowed me to get more creative and explore other avenues. I'm starting a podcast this year called Role Model, and I doubt I would've had time to start this pre-COVID.
Following LAPP's initial launch in 2016, you've conducted a re-launch in summer 2020. What was this process like and how has the brand ultimately transformed?
I went through literal hell with my brand when someone came along saying they wanted to help me grow the brand. This person owns two quite big brands, so I believed him when he said he could help, but ultimately it slowed my brand's progress. And when I tried to leave on good terms, he tried to blackmail me into paying to get the stock I had already paid for back. I had to start again and at the time it was horrible — my hair literally fell out, but it was what I needed to be able to elevate the brand to where it's at now.
I spent a year traveling to find the best factories, learn about the newest technologies and fabrications, and transformed the quality of my brand from a more fast fashion direction to a luxury athleisure brand with pieces that really last, which was really important to me.
Being a model is like being your own brand essentially. How have you applied what you learned in the modeling industry to the development of LAPP?
The first thing I think I applied from modeling was how I treated people I worked with on set. I didn't want to repeat the same environments I had worked in where I felt undervalued.
The next thing definitely has to be with the blog side of my brand. It was important to me that every woman who writes for the LAPP Magazine platform was being paid, even in the early days when I was literally paying out of my own pocket.
Lastly, I would say modeling taught me that perseverance and consistency is the key to success. You never know when things will turn around, so I keep that in mind on my down days when things aren't always their best.
Can you tell us how you juggle modeling, advocating for women, as well as managing LAPP? Describe a typical day in the life of Leomie.
It's actually too much sometimes (laughs) and with lockdown it's been very hard to create a structured routine for myself, because you kind of feel like… what's the point? Some days I wake up early, read, work out and feel super productive. Other days, I'm stuck on WhatsApp talking to someone in China about production and stay in bed whilst doing it. I don't really have a set routine. I'm not super organized but that's why it's important to work on things you genuinely love, because then it all feels more worthwhile.
The pandemic has temporarily put a hold on many IRL events. How have you utilized LAPP as well as social media to maximize engagement with your audience, while still effectively providing that feeling of community?
During the first lockdown, I worked for six weeks alone on my first virtual festival LAPP Fest on IGTV and had guests like Gabrielle Union, Hailey Bieber, Jackie Aina and more giving such great advice and information. It was great, but nothing beats face-to-face.
You're working on a new cropped black bomber jacket coming out soon that looks so dope. Do you also plan to expand LAPP's merchandise assortment to shoes, accessories, or possibly even ready-to-wear garments eventually?
My jacket is so fire, I can't wait to see it on my faves! I'm definitely going to do more gym-based accessories, but I think I'd rather do a collaboration for trainers. And I'm really not pressed to create yet another ready-to-wear brand — that's not my bag. I literally wake up with entire sportswear collections designed in my head and it makes me so happy, I'm not going to force creating products I don't love like that.
What recent or upcoming collaborations and projects for LAPP are you excited about?
LAPP has just launched exclusively with SoulCycle in the U.S. and Flannels and ASOS in the UK, which is super exciting for me. I'll be doing some exclusive pieces for those retailers throughout the year.
Overall, what is the biggest lesson you've learned from starting your own business?
No one is going to go harder for you than you, so you can't place your value on what other people think. Also, the business part is basically more important than the product, so don't try and neglect it.
While launching a business has been possible during the pandemic because of the ongoing success of e-commerce, do you think becoming a breakout model is possible as well with such limited and highly coveted opportunities IRL?
To be honest, if you're not working already as a model, I wouldn't make it my dream or focus to become a breakout model during this time. I don't even see how it's possible, and it's quite likely that you could be taken advantage of by brands blaming COVID for not having money to pay you. The biggest success stories of this time online have been people who have been authentically themselves and consistent with their content, so I'd say focus on those two points as opposed to yearning to be a model right now, most of the fun from modeling comes from travel and meeting people.
What advice would you give to women desiring to start a business while being occupied with a full-time job and/or other responsibilities?
A small step every day is better than trying to do the most at once. Be patient with yourself and don't reveal what you're working on until it's 100 percent ready. Don't give yourself unnecessary pressure by telling people to look out for something that you're still not ready to debut.
---
Tiffany Harrison is a multifaceted creative who is skilled in visual storytelling. She immerses herself in artful endeavors within photography, prop styling, product design and creative writing. Tiffany's work is very conceptual and is inspired by contemporary art, which she is truly passionate about. You can connect with Tiffany on her website and Instagram.
Share this article