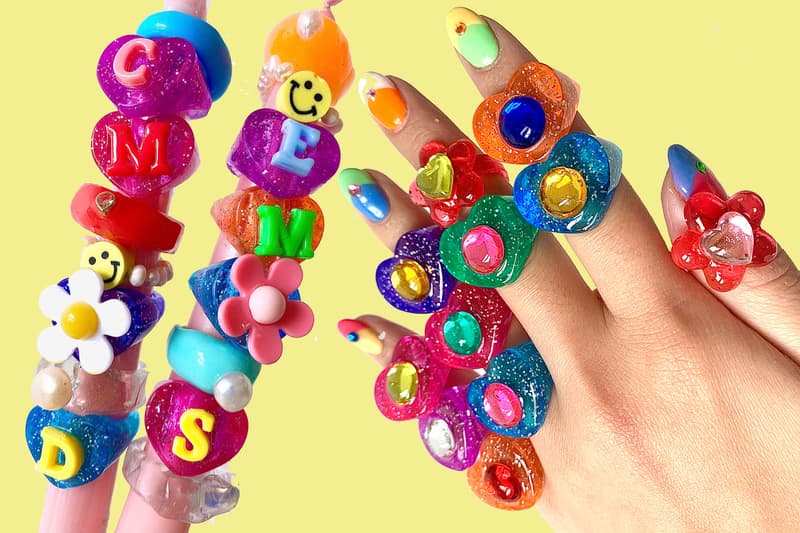 Fashion
Ditch Your Minimal Jewelry Because Colorful Rings Are This Season's Biggest Trend
Meet the labels taking the style to the next level.
Ditch Your Minimal Jewelry Because Colorful Rings Are This Season's Biggest Trend
Meet the labels taking the style to the next level.
It is time to say goodbye to dainty jewelry and sleek silver and gold pieces, it is now time for maximalism – the brighter, the better. If you're someone who spends a significant amount of time on Instagram, there's no doubt you've caught a glimpse of this season's biggest trend. Whether you've spotted bold color combinations or fun shapes, colorful chunky rings are everywhere right now.
"I know it's not going anywhere soon. I think people are starting to get sick of the dime-of-the-dozen minimal, chic gold jewelry and wanting something more exciting – especially during this trying time when everyone wants to remain positive and hopeful," said BONBONWHIMS founder and designer Clare Ngai. "The idea has always been there when I was making funky jewelry for myself and friends – but the pandemic really provided this pivotal opportunity to launch officially on Instagram and as an avenue to raise donations for BIPOC organizations that I care deeply about," she continued, adding that 100% of proceeds from the label's Lucky Charm Ring was donated to GirlTrek in February.
BONBONWHIMS is one of the many Instagram-led labels that are taking the spotlight right now. UK-based Blackcurrantpop is another brand that is blowing up across social media. "I had been working as a footwear designer but always felt that it wasn't my forever job! I started making jewellery in the evenings and experimenting with different mediums," said founder Bethany Roberts, adding that she took a chance and quit her job to move back to wales and pursue jewelry as her main career. "I think you have to be brave. If there's something you really want to do or something you want to change then you need to go for it and at least say you gave it a try."
Bethany also tells us about her favorite piece, the Charm Bracelet. "[It's] that nostalgic, eclectic piece that reminds you of happy times, your favourite tasting treat or a memory you shared with someone special," she tells us, "
The idea that you can mix and match, wear more or less on different days depending on your mood.
I'm also a sucker for a bubble ring, my fingers are pretty chubby so it's been great to design the rings in larger sizes so I can actually wear them myself too!"
We've put together a handful of brands below that are paving the way for the colorful and fun jewelry, including BONBONWHIMS and Blackcurrant pop. Take a look below, and let us know whether you'll be jumping on.
BONBONWHIMS
View this post on Instagram
Blackcurrantpop
View this post on Instagram
Julychildjewellery
View this post on Instagram
Monchermoi
View this post on Instagram
La Manso
View this post on Instagram
Share this article