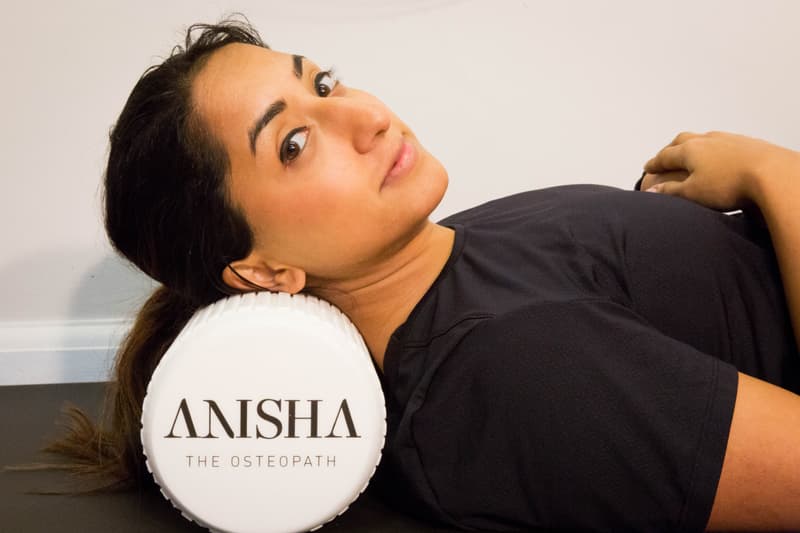 Health
Here's How To Improve Your Posture Whilst Working From Home
As told by celebrity Osteopath Anisha Joshi.
Here's How To Improve Your Posture Whilst Working From Home
As told by celebrity Osteopath Anisha Joshi.
If your body has been feeling the impact of working from home, you're not alone. Most of us have worked from home for nearly a year now, and if you've been spending time in the sofa, around the kitchen table or even in bed, there's no doubt your back may feel a bit sore.
We spoke to London-based celebrity Osteopath Anisha Joshi about easy fixes for "bad posture," as well as her best tricks and exercises to improve your posture and feel better.
View this post on Instagram
A Quick Overview of Posture:
"Bad posture" is when your shoulders roll forwards, and you're slumping from your mid back in your chair, or at your desk or standing in the queue at the train station. It looks like your head is so heavy that you can't possibly hold it up with your neck muscles and so therefore you must look down into your lap when you use your phone or read a book," explains Anisha. "Your spine is a funny thing though, because it's not actually straight. There is a curve in the neck, mid-back and lower back and it is built like this to shock absorb like a spring," she adds.
"From the time we are in school and studying we get used to this 'desk culture'. We are sitting at a desk from four years old! When we study or look down whether it is colouring, revising on our laptop our muscles get tighter in our chest. So when you hit your teenage years, your muscles are already so tight that your posture is doomed. No matter what anyone says, you're trying to sit up straight but, nope – it just won't happen. The average weight of a head is between 10-12lbs, you want to keep it as close to where it should be as possible. Imagine holding a bowling ball out in front of you all day, your arms are going to start to shake and ache and that is going to cause you immense amounts of pain. When we slump forward and put our head into an anterior position it is taking our very own bowling ball away from its core and that is why more people are getting headaches and neck tension than years gone by."
View this post on Instagram
Boobs:
"If you have large breasts, then it does predispose you to more upper back and neck issues. Boobs are really heavy and they can place strain on the muscles on the front of your chest and rib cage which in turn will predispose you to slumping. It also changes your center of gravity so when you're working out or moving your posterior muscles are working harder to keep you balanced," Anisha tells us. As women and people with large boobs, a lot of us struggle with the back pain and troubles it can cause. "A proper bra measurement and supportive bra are really important to enable you to provide proper support to your chest muscles and ribs," says Anisha. It is without a doubt worth splurging on a good and comfortable bra to wear, especially whilst working from home, since it can impact your body a lot more than we think.
View this post on Instagram
3 Tips to HelpYour Posture and Upper Back:
Chin Tuck and Nod
Stand against a wall with your heels and shoulders touching the wall.
Keep your head straight, and gently bring your head back so that it is touching the wall.
20 times. 3 second hold. 5 sets.
Whilst in the same position against the wall, slowly nod your head, keeping your head touching the wall at all times.
Keep your shoulders relaxed and breath. (2 second tempo). 10 times. 3 sets.
Seated Neck Stretch (can be done at your desk!)
Sit on one of your hands, and then with the other arm gently place it on your head.
Tilt your neck first and then gently pull your head to the side. 20 times. 10 each side.
Hold for 5 seconds. 1 set.
Chest outs
Interlace your fingers behind your back.
Push your chest out and draw your arms down.
Squeeze your shoulder blades together. 10 times. 10 second hold. 2 sets.
If you're looking to get a further consultation, you can book a video session with Anisha Joshi and her Osteo Anisha team to create a more tailored exercise plan.
Disclaimer: Anisha Joshi and Osteoanisha Limited will not be liable in anyway for any injury or aggravation of
a condition which you sustain by following this advice.
Share this article