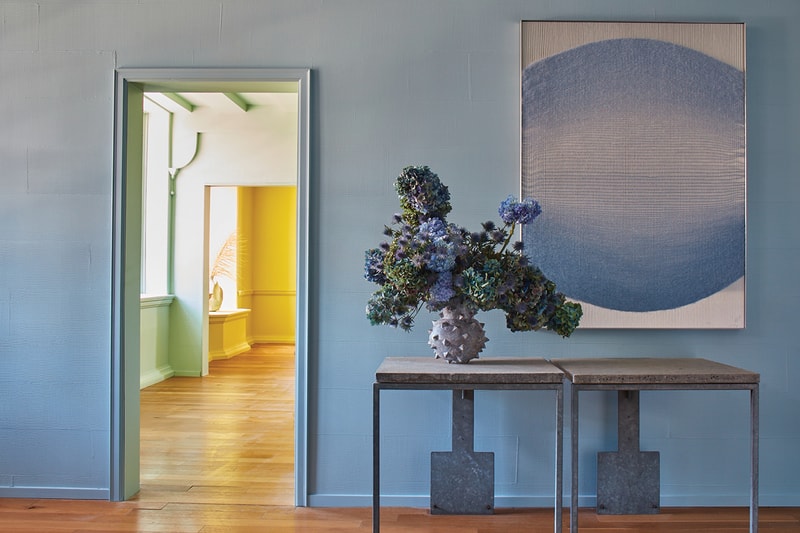 Art & Design
10 Living Room Paint Color Ideas for the Modern Home
A guide to creating a cozy, welcoming space with color.
10 Living Room Paint Color Ideas for the Modern Home
A guide to creating a cozy, welcoming space with color.
Considering that the living room is the most popular space in the house where family members gather for quality time, it requires careful interior design decisions — including the choice of paint color for its walls and ceiling — to create a cozy and relaxing environment.
To help you determine the perfect hue for your home, HYPEBAE consulted Charlotte Cosby, Head of Creative at premium paint and wallpaper manufacturer Farrow & Ball, about the key things to consider when planning a living room renovation project. For those looking specifically for color inspirations to pin to their mood boards, Cosby also breaks down 10 amazing color ideas for the living room, including shades from the brand's new California Collection launched in collaboration with Hollywood's favorite designer Kelly Wearstler.
"Kelly has been using Farrow & Ball paints in her projects for decades, and has such a fantastic aesthetic and taste," Cosby speaks of the famed designer. "We started a conversation with her a few years ago about the possibility of a collaboration that brought her style and sense of California to life as a paint collection. She visited the factory and color labs at our Dorset headquarters [in the UK], and it really developed from there." The result is a cheerful and calming color palette that references the Californian landscape — think off-black Tar, "a wonderful dark tone inspired by the highways of Los Angeles" and Hazy, "emblematic of the gray-blue light off of the coast, but also of British skies."
Continue reading for her living room makeover tips and top paint color picks.
Tips for Choosing Paint Colors for the Living Room
With the living area being a space that often serves multiple purposes ranging from family get-togethers to dining and entertainment, Cosby recommends going with a paint color that can easily transition between the room's different functions. Here are a few pointers on how to choose the right color.
1. Evaluate the natural light available and architecture of the space.
"You can use color to visually open a room up or make it more cozy," Cosby says. "For example, spaces with small ceilings can be opened up by using the same color on the walls as the ceiling. There is no line of contrast for the eye to be drawn to, giving the illusion the space is higher than it is."
2. Think about what you use the space for, and what time of day you use it.
Depending on how you use the room, you may choose a different paint color to set the mood. "Cooler colors like Farrow & Ball's Mizzle and Hazy are restful. Warmer colors like Charlotte's Locks and Citrona have a bit more energy and as a result are quite invigorating," Cosby explains.
Similarly, ask yourself what hour of the day you'll most likely be spending time in the living room and consider the lighting conditions. "You may prefer to be cosseted with dark colors in the evening, or lighter colors if used in the day." Cosby adds, "Darker colors like Preference Red, Tar and Tanner's Brown create a gorgeous cocooning escape to retreat to, whilst softer shades like Palm, Light Blue and Calamine are more uplifting in their feel."
3. Take existing pieces of furniture, art or fabrics into account.
When selecting paint colors for the living room, it is important to consider the color scheme of your furniture as well as other objects in the space. "Are there things you would like to make a feature of or hide? For example, if you have a beautiful orange sofa, putting it with Railings or Stiffkey Blue will make it the star of the room," Cosby advises. "Conversely, if you want to hide the built-in cupboard in the corner, then painting it the same color as your walls will draw much less attention to it."
4. Consider any rooms that are visible from the space.
The wall color of the living area should work in harmony with that of its neighboring rooms. As Cosby notes, "a significant jump in color will distract the eye away from the room you are in." To create a smooth flow through the home, she recommends using paint colors from the same family (such as Purbeck Stone, Worsted, Mole's Breath), or colors of the same weight (all pastels or all dark colors).
5. Examine the location and view of the space.
Another great tip for picking paint colors is to assess the view and the location of the room within your home. "If your view is of your garden, consider picking up on colors from the plants. Or if you are bathed in light, you can afford to be stronger with your colors as the light will take it down a tone or two," Cosby shares.
The Best Paint Colors for a Cozy Living Room
South-Facing Rooms
Salt (Crisp White)
"A bright, crisp white, ideal for those who prefer a cleaner aesthetic and a space that feels ultra-modern. This tone will be enhanced by the all-day sun, which is perfect if this room has become a multi-purpose space as a daytime office."
Hazy (Muted Blue-Gray)
"This muted blue-gray creates a dreamy surrounding. It's perfect for those earlier morning risers who enjoy their first cup of coffee in the comfort of their living room, with a fresh intake of calming blue."
Citrona (Soft Lemon Yellow)
"South-facing rooms can pretty much take any color, and the light it provides has a warm glow all day. Using a yellow tone will enhance this feeling and create a cozy atmosphere in the evening. Citrona is slightly earthy in tone, so it won't feel too bright either."
North-Facing Rooms
"An olive-colored green, a perfect hue for those who want to embrace a stronger color with a mid-century modern feel, but still stay in touch with nature and the benefit of evoking calmness and serenity."
"Faded Terracotta has the right balance of warmth to lift your mood, and provides a relaxing and cozy hug at the end of a long day."
"The deep warm tone of this color will look effortlessly chic during the day, but also create a snug area at night for the family to gather."
West-Facing Rooms
"Mouse's Back will provide a more muted tone in the morning, brown in the day and a rich hue in the evening."
"Card Room Green will come alive in the west light. It will neutralize the warm afternoon glow ever so slightly and create a room that feels relaxing and calm. This is an ideal backdrop for a multitude of furnishings."
East-Facing Rooms
Sand (Caramel-Hued Neutral)
"A brilliant warm neutral that is incredibly versatile and oozes sophistication, especially when layered with natural materials of similar tones."
"The earthy tones of Dead Salmon make the hue easy to live with, and strikes a certain familiarity within the space by connecting to the colors that you see throughout landscapes and natural light. This shade will also provide warmth in the afternoon when the light has moved."
---
Share this article