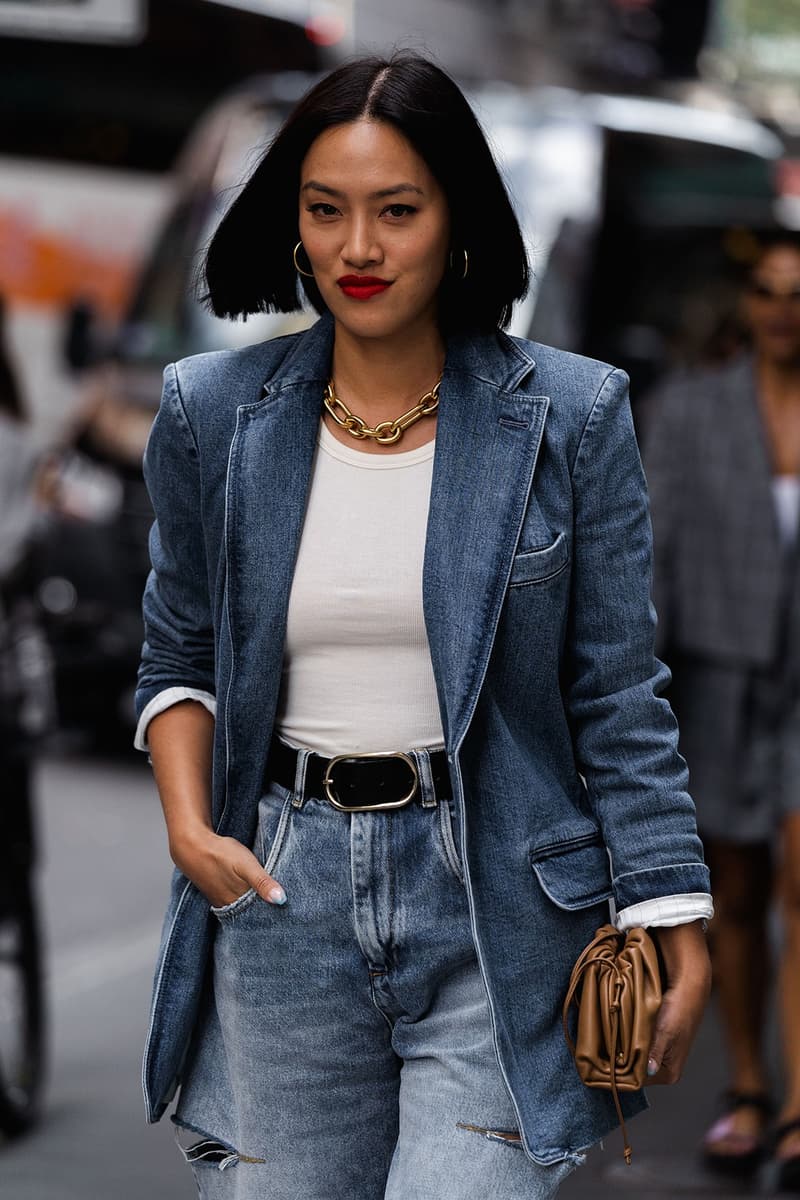 Tiffany Hsu Talks Building Her Fashion Career, Digital Shows and Instagram
We chat to the Mytheresa Fashion Buying Director about how she got her start in the industry, as well as how she's navigating the COVID-19 pandemic.
Fashion
Tiffany Hsu Talks Building Her Fashion Career, Digital Shows and Instagram
We chat to the Mytheresa Fashion Buying Director about how she got her start in the industry, as well as how she's navigating the COVID-19 pandemic.
When I call Tiffany Hsu we're both in London, navigating the COVID-19 lockdown and a snowy day in February. The past year has been a whirlwind for anyone, and the pandemic has deeply impacted many industries – including fashion. As we gear up for another few months in lockdown, and fashion has been forced to go digital, we chat about how the industry has changed, Tiffany's journey to becoming the Fashion Buying Director at luxury online retailer Mytheresa, and the biggest challenge with going digital.
Tiffany Hsu is someone that is always at the forefront of fashion, both through her job as well as through her Instagram account, where she's amassed almost 200K followers. Read our interview below, and make sure to give Tiffany a follow, as well.
View this post on Instagram
How did you get into fashion in the first place?
When I was in high school, I wasn't sure what I wanted to do, I always knew I wanted to go to art school. I never knew that I wanted to do fashion. I think I wasn't particularly interested in clothes. I just like, I guess all teenage girls, liked clubs. And then I saw John Galliano's collection in a book and I remember very clearly it was the Oriental collection and I thought that was the most amazing thing I'd ever seen. I bought a book, I think I was living in the countryside at the time in my boarding school, so then I went to Birmingham and bought a book about John Galliano and I read about him and I found out he went to Central St. Martins and then basically just told my parents, okay, that's what I'm going to do. I'm going to go to Central St. Martins and study fashion because this guy that I like went to school there. So that's how it started, really. I never studied business.
How did that journey happen from when you studied to the role you're in now?
I was working at a boutique that no longer exists. It was a designer boutique, similar to Browns. You know, they sold designer clothes and it was called Feathers. The funny thing is that I actually didn't know about the store, I actually ended up finding it because I went inside to ask for directions to the Matchesfashion store. I was a student at the time, and was looking for a part-time job as a shop assistant, so I went into the tore and asked, and got hired on the spot. That's kind of how I started in retail.
I never really thought I wanted to be a buyer, it just happened. There was an offer on the table and I couldn't work anywhere else because of my visa. So I kind of just took it on, and I really enjoyed it. I liked the interactions with customers, worked in the stock room, did the POS – I did kind of everything. So I understood retail and thought it was kind of interesting.
I then thought if I wanted to progress within my career, I'd probably need to work for something bigger so I moved to Hong Kong and worked for Lane Crawford before later coming back to the UK and eventually started at Mytheresa.
So as someone who's worked in both physical retail as well as online, what is the main difference?
First of all, you don't have direct feedback from your customer [online]. With not being able to see the physical product sometimes the shopping experience lacks a bit of emotion. So you know, you won't be walking into a store and seeing this beautiful embroidery floating around thinking, I must have that. You don't get that experience. However, the pros of that is that you also don't see if something looks bad on a hanger, or if a store is busy and you get bad service, you don't get those bad experiences online. So I think it's kind of a mixture, and I think the biggest difference with online is that there's really no limit of how many styles you can stock and how many pieces the customer can see.
The service part gets taken out [with online], and we obviously have to buy more visual product in that sense. We have to think about how everything translates online, whereas in store, you never really have to think about that. Another thing is that there's no store opening or closing time online, we're trading 24/7. I think that's really exciting because a website really has no limits in terms of what can be done as long as the technology is there. We don't really have a limit to how much the business can grow, whereas in brick-and-mortar, there are a lot of limitations.
View this post on Instagram
Since everything has now been forced to go digital due to COVID-19, what are the biggest impacts and changes you've seen in the industry?
In terms of our day-to-day business, there's not been a big surprise. I think we're obviously seeing an increased interest in loungewear and things that are a little bit more comfortable and a little more timeless. Customers are also investing in more luxurious items, like buying better but buying less. The emotional buy is a little less, and there's more conscious decisions behind the purchases.
We've also seen a big increase in fine jewelry. I think because it is luxury and craftsmanship, and something that you don't throw away. That's definitely been one of the biggest changes. Occasion wear is obviously a bit difficult at the moment, but I think once things start to reopen, that will change drastically.
How has digital fashion week been for you as a buyer? What has your experience been like not being able to physically see collections?
Not being able to see things physically has been a challenge because it just lacks emotion a little bit. I think you get a lot of inspiration being at a show or seeing something, talking to someone and some of the shows are really big experiences. They're just so special. So I think that's the biggest difference. And obviously screaming at the screen telling everyone they're on mute is really painful.
When you're on Zoom you spend so much time concentrating because you blink and the model has already walked away, whereas when you're physically in a room you can always walk over and look at something yourself at the re-see. It takes much longer to do an appointment online, and you also can't really feel the fabric or see it properly, and not every brand provides the best imagery, unfortunately. So that's the biggest challenge.
A good thing is that I obviously don't have to travel, so I have more time to review compared to travelling for fashion week and being in three different cities for three weeks. But Zoom calls also take a lot longer. In a showroom I can see 10 brands quickly and flick through the rows, whereas now seeing 10 brands will take me all day doing it virtually.
View this post on Instagram
What are some of the brands that you're finding really exciting now? Are there any upcoming designers and trends you're personally into?
One of the new brands that we're launching is Toteme. I know we're kind of late to the game, but we launched an exclusive capsule which them which is very exciting. It actually couldn't have come at a better time for us because the minimalist aesthetic is kind of a trend right now, and they offer good pieces at an accessible price point. Of course we all want to wear The Row, but that's not always possible. Toteme brings in a bit of a younger energy to that minimalist aesthetic.
My favorite in the summer is always Jacquemus. The color is somewhat minimal and it is all about cut-outs. I feel like that's the only thing I ever buy in summer. Although the minimalist trend is very big right now, I'm kind of leaning towards things that are very colorful. Anything that is vibrant with a very exaggerated silhouette.
In terms of newer brands I'm very excited about Nensi Dojaka that we're launching for spring. I think it is super on trend, very nineties minimalistic but also with a complex construction. It's exciting because we usually don't pick up new and smaller designers so quickly.
Lastly, what advice you would give to young creatives looking to break in to the fashion industry or looking to pursue a career similar to yours?
I know it's very cliché to say, but you really have to make sure you have a passion for fasion because it is not all glitz and glamor. I don't just go to runway shows, I spend a lot of time doing administrative work and reading reports. Of course you have the creative parts, but buying is very much about data and numbers. It is more business than just fashion, I guess, and I think a lot of times when people join a buying office they don't realize what's involved in getting a product online, system monitoring, trade etc. My best advice is to do an internship, because a job is quite a mystery to many people. Every time when I interview someone, I say 'please ignore my Instagram. That is not real life. That's not what I do.' I think fashion is so glamorized that people don't see the hard work that has to go into producing something. So yeah, my best advice is to make sure you really have the passion for fashion.
---
Share this article