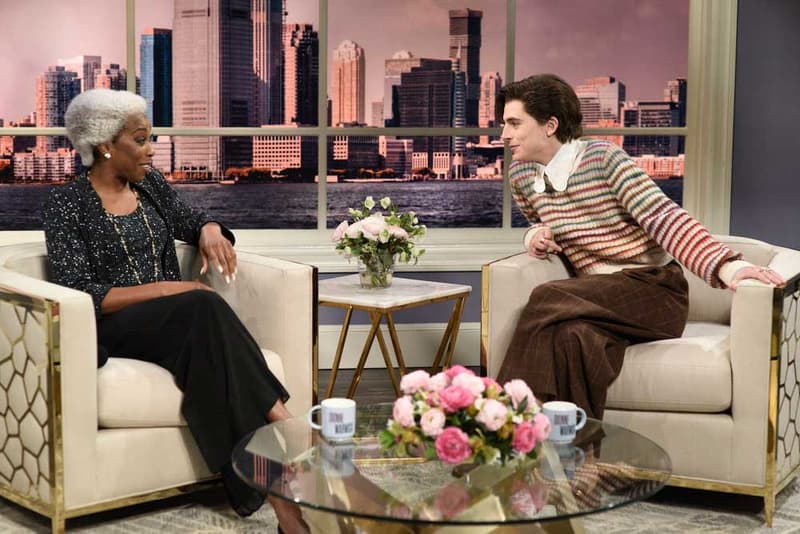 Fashion
Timothée Chalamet's Harry Styles Costume From 'SNL' Is Up for Auction
Timmy stans, activate.
Timothée Chalamet's Harry Styles Costume From 'SNL' Is Up for Auction
Timmy stans, activate.
Back in December, Timothée Chalamet set teenage hearts aflutter with his Harry Styles impersonation, performed on Saturday Night Live. The actor, who hosted the late night comedy show for his very first time, dressed up in full Styles regalia — a colorful Gucci sweater, lace-collared shirt and checked trousers — to play the singer in a sketch riffing on Dionne Warwick.
Now, the outfit is being auctioned off alongside a range of stage and screen memorabilia including a custom dress worn by Dolly Parton, an Alexander McQueen suit worn by RuPaul Charles and a bedazzled Burberry trench worn by Cher. The auction is being held by Doyle, which will donate 100 percent of proceeds to The Actors Fund. Surprisingly, the auctioneer estimates Chalamet's outfit will fetch only $300 to $500 USD, a seemingly low price for a full Gucci ensemble.
Bid on Timothée Chalamet's Gucci costume at Doyle's Stage & Screen auction, which is live now.
Share this article