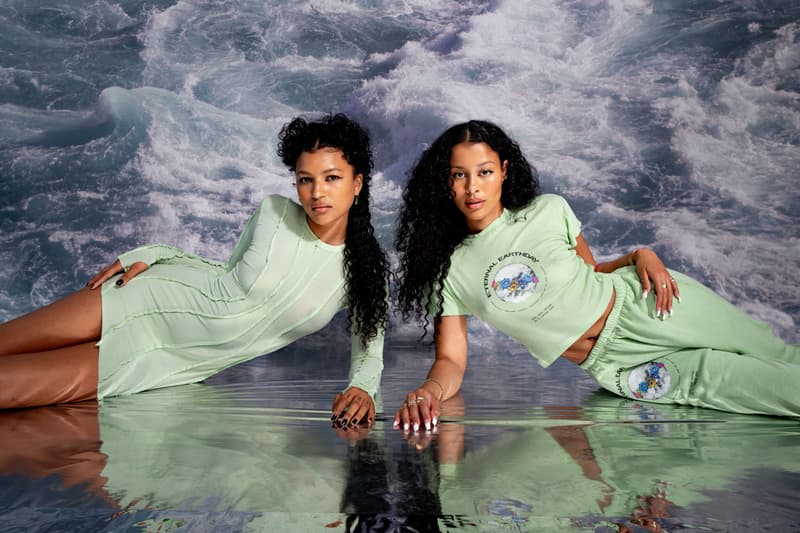 Fashion
Sami Miro Vintage Launches First of Six Eternal Earthday Capsule Collections
Drawing inspiration from the endless beauty of Mother Nature.
Sami Miro Vintage Launches First of Six Eternal Earthday Capsule Collections
Drawing inspiration from the endless beauty of Mother Nature.
Around the world, the slow fashion movement and its dedication to consume and create fashion consciously and with integrity is being led by a rising collective of designers whose craft pays tribute to the beauty of planet Earth. Among this growing number of visionary creatives is Sami Miro, a Los Angeles-based designer breathing new life into deadstock and eco-conscious materials as part of her eponymous brand, Sami Miro Vintage. 
As a way to honor the planet all year round, the environmentally-minded fashion label has released the first of six, ongoing capsule collections titled, Eternal Earthday with each drop focusing on a specific color that is named after an organic part of the planet. The first drop of the limited-run collection features the color "Seafoam" and boasts a range of stylish garments that includes a mini tee, mini sweat shorts, a loose hoodie, loose sweatpants and an asymmetric dress crafted from organic cotton and hemp fabrics that have each been hand-printed with graphic-forward imagery. 
Continuing to stress the importance of preserving the planet, Sami Miro Vintage has partnered with Stephanie Shepard's educational charity, Future Earth and will be donating a portion of the profits from the ongoing capsules to support educational research on the environment. "Sami and I are good friends and we have conversations offline all the time about sustainability in the fashion industry, so it seemed like a natural collaboration to support each other in advocating for the environment. I think younger generations are already doing the work and walking the walk. Everyone and anyone can be an environmental advocate with their voice, their dollar and most importantly their vote," says Stephanie Shepard and Future Earth. 
To get to know the designer, HYPEBAE sat down with the designer to discuss the inspiration behind her newest collection, ways she uses fashion to spotlight ongoing issues surrounding sustainability in the fashion industry and why consumers need to stop shopping from fast fashion brands. 
What inspired you to launch an eco-conscious line that places emphasis on sustainability without sacrificing style? 
I grew up in San Francisco in a family that is eco-conscious so upon launching a clothing line I knew that had to be the foundation [of the brand] in order to remain authentically myself. At the time, sacrificing styling is not something I would ever do either so although I had yet to see a label that was conscious and stylish in 2016, it was a natural amalgamation for me to figure out how to have both. 
Talk to me about the reasoning behind launching a series of Eternal Earthday capsule collections. What inspired you to focus on releasing varying collections that correlate and celebrate the many facets of the Earth?  
At Sami Miro Vintage, we celebrate Mother Earth 365 days a year. Eternal Earthday is how we will re-instill the importance of her celebration beyond the single calendar day of earth day. Each season, we will be releasing small-batch conscious collections made in Los Angeles from people who earn living wages by sewing our signature organic and upcycled fabrics. As always, we aim to be responsible through our entire supply chain. This is our first Eternal Earthday release. 
How do you use your fashion line to spotlight ongoing issues and conversations surrounding sustainability? 
My clothing line is the catalyst to exactly that. The experience that I have gained through starting a company and now scaling a company with eco-consciousness at its core is what gives me the expertise to share my experience (good and bad) and what I have learned in the process.
What was the creative and design process behind the range of silhouettes you devised for this first capsule collection? 
I like to say that we are really good at making creative staples. Think your favorite tee, tank, sweatpants, hoodie, but done differently with new construction details (like our open seam lines) and made with the thought of the female figure at the forefront. Our silhouettes are unique to Sami Miro Vintage and they are easily recognizable as such. 
What was the process like when determining what materials or fabrics you wanted to incorporate as part of your collection? And how did the logo you devised come into play? 
The French Terry we used for the Mini Hoodie, Loose Hoodie, Mini Sweatshirts and Sweatpants is one of our signature, organic hemp and cotton blends that we use throughout our other popular collection. It's a beautiful weight and has the feel of the perfect vintage sweatshirt/sweatpants material. Our new mini tee and loose tee fabrics are also made from organic hemp and cotton. The [pieces] are so insanely soft and truly feel like the perfect vintage tee. 
The logo came about because I wanted to depict a black and white earth that represents human damage with a ring of bright and beautiful metallic flowers that represent both the earth reclaiming herself and the incorporation of technology and what that has done to her. 
How can young people as well as those in the fashion industry learn to be climate activists and invoke change? 
You can invoke change by supporting brands that take the conscious approach and you can educate yourself on the aspects of the fashion supply chain that are detrimental to the planet. Stop giving money to companies that have major adverse effects on [the planet] (Oh Polly, Zara, Missguided, Forever 21, etc.) and you can also support bills in progress like the Garments Worker Protection Act that help enforce a minimum living wage for the people who are working tirelessly to construct the clothing you buy.
In the gallery above, check out the Eternal Earthday capsule collection and head to the brand's site to purchase the featured pieces seen here.
Share this article