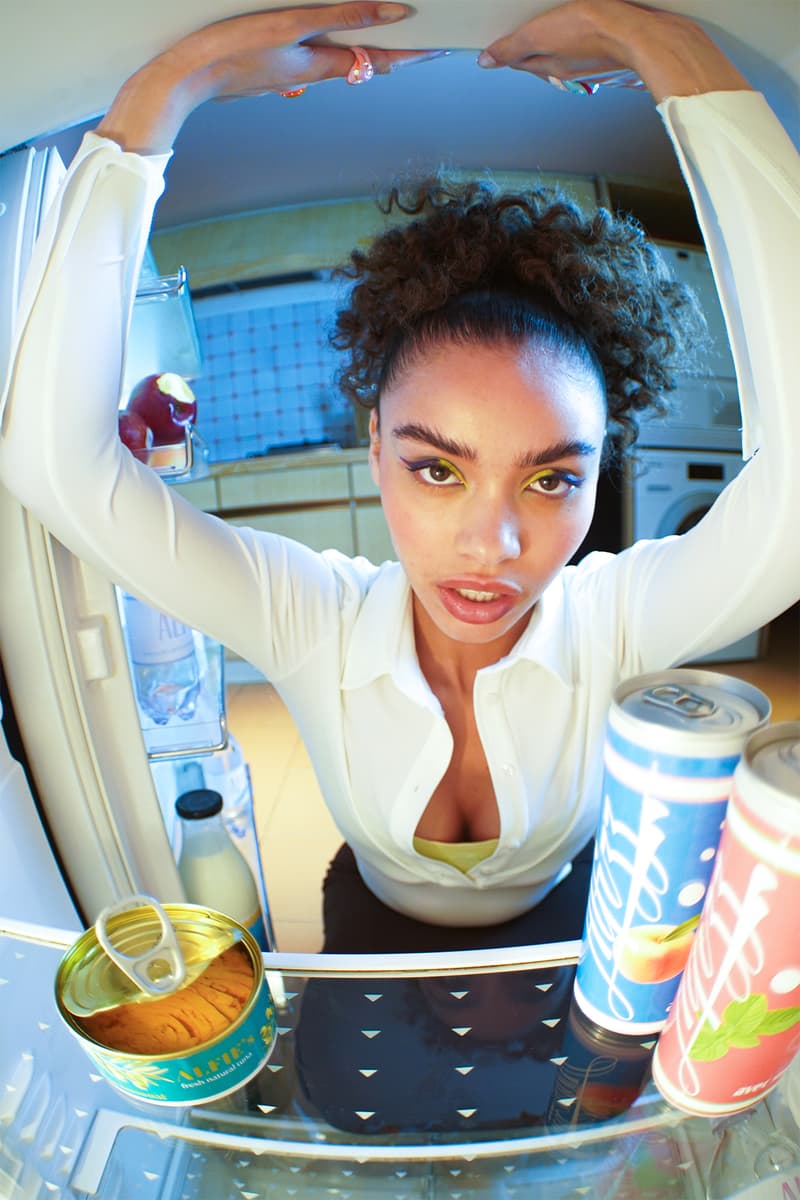 Alfie Is the Parisian Label Repurposing Deadstock Fabrics From Luxury Houses
With its '90s-inspired designs, the sustainably minded brand is quickly becoming a cool-girl favorite.
Fashion
Alfie Is the Parisian Label Repurposing Deadstock Fabrics From Luxury Houses
With its '90s-inspired designs, the sustainably minded brand is quickly becoming a cool-girl favorite.
For many young designers like Alice Fresnel of Parisian label Alfie, having sustainable design and manufacturing practices are prerequisites for building a truly impactful fashion brand. Launched a little over a year ago, Alfie prides itself on using only deadstock fabrics that are sourced locally — including leftover materials from French luxury houses — to craft timeless pieces that are meant to be worn and treasured for years to come. From workwear-influenced cargo pants to borrowed-from-the-boys boxer shorts, the brand's designs are inherently relaxed and effortless, imbued with a je ne sais quoi attitude. It is not surprising then that cool girls like Belgian singer Angèle and Parisienne model Jenn Abey have been spotted wearing Alfie.
The brand's latest drop, aptly dubbed Summer Collectibles, is filled with classic silhouettes with familiar nods to '90s minimalism and Y2K nostalgia. Le Tight Polo, a comfortably fitted top, features extra-long sleeves with a chic slit detail. A spin on the design, the ankle-length La Polo Dress is understated and elegant. Another favorite of ours, the mid-calf La Tube Skirt, comes with a slinky, detachable belt that inspires endless styling opportunities. As the limited-edition pieces become available for pre-order online (now through May 14), HYPEBAE talks to Fresnel about her latest designs, the core values of her brand and its slow-fashion philosophy.
Tell us a bit about your background and what led to the creation of the brand.
I got my BBA in strategic design and management at Parsons, then graduated last year with a master's degree in luxury management at Bocconi University in Milan. I have always been drawn by creative industries. However, the reason why I decided to launch my own fashion label is because I was spending way too much time in my brother's closet until I realized I was not necessarily looking for oversized clothes, but simply comfortable ones. It is quite impossible to find a brand that makes elegant designs while also caring about how practical they are to wear. My goal when I launched Alfie was to make versatile designs that are comfortable enough to wear during the day, and elegant enough for going straight to a dinner party.
About the name, Alfie is my surname. Since my brand is such an extension of my personal style and mindset, it felt natural to call it Alfie.
Walk us through your design and manufacturing processes. How did you come up with the idea of working with deadstock fabrics from luxury designer houses?
We like to call our Alfie designs "Collectibles" because we see them as pieces you invest in and collect for years to come. Naturally, I decided to use leftovers only to preserve the one-of-a-kind nature of our creations. We are dedicated to it — 100 percent of Alfie products are made from leftovers fabrics sourced from suppliers in Paris. More than often, we stumble upon surplus coming from couture houses, and this is the part of the design process I cherish the most.
All our pieces are manufactured in Paris in a traditional atelier. Being so close to our studios allows us to limit our carbon footprint to almost zero during our production process. We are aware that it is impossible to be completely sustainable because we create new products, but we challenge ourselves daily to be the next best alternative and encourage others to do the same.
Who is the Alfie girl? Is there anyone you hope to see wearing your designs one day?
She is a girl and a woman at the same time. She has no age but a young state of mind — always chooses comfort before anything yet stays elegant; naturally blurs the line between masculinity and femininity. And as Yohji Yamamoto once said, "The more [a woman] hides and abandons her femininity, the more it emerges from the very heart of her existence." That woman has to be Christy Turlington.
Talk to us about Alfie's Summer Collectibles. What serves as inspiration for the new pieces and campaign?
My Summer Collectibles are slightly different from what you might have seen until now. They are another facet of the Alfie girl — some may say more feminine-looking, but to me it's all in the attitude. This collection is made to be worn barefoot during summer, with no makeup, and not a care in the world. The clothes say it all. The campaign was shot at home in a fridge to reflect the situation we are all in together and turning it into a creative moment. We decided not to have a shoot at a dreamy destination, just because it is what everyone is dreaming about right now. [The campaign] instead stays true to who the Alfie girl is, who is comfortable to be herself at all times, which is what we wish for all the women in the world.
What's it like to navigate the pandemic as a small business and emerging brand? And what are your hopes for the future of Alfie?
Not being able to travel for a while reassured me in my decision to source and produce everything locally, while not being able to communicate as easily showed me the importance to interact maybe less but in a more meaningful way. I feel like it was a great time to deliver the real message behind Alfie, let women be feminine the way they want and allow them to seek for more than what social norms consider to be feminine. Fashion is only the beginning for Alfie, more is yet to come.
Share this article