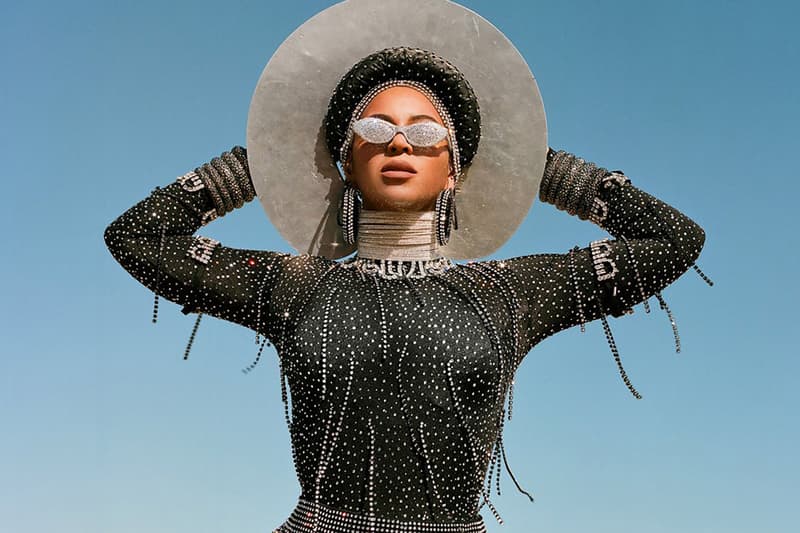 Music
10 Songs To Honor Black Music Appreciation Month
A playlist featuring Beyoncé, Rihanna, Missy Elliott and more.
10 Songs To Honor Black Music Appreciation Month
A playlist featuring Beyoncé, Rihanna, Missy Elliott and more.
First declared by former President Jimmy Carter in 1979, June is Black Music Appreciation Month, an annual event in the United States that honors African-American music. To celebrate, we've compiled a list of songs that highlights some of the industry's most legendary Black artists and influential names. From Tina Turner's robust vocals in "Proud Mary," to Beyoncé's empowering track "Freedom" featuring Kendrick Lamar, scroll down to browse our selection and save the playlist on Spotify.
While you are here, check out our Pride Month playlist.
"Rise Up" – Andra Day
As part of her first studio album Cheers to the Fall, Andra Day's "Rise Up" was nominated for Best R&B Performance at the 58th Grammy Awards in 2016. With Day's raw emotion and wide vocal range, the track inspires listeners to keep on going no matter what life throws at them
"Freedom" – Beyoncé ft. Kendrick Lamar
Beyoncé made waves in the industry with her 2016 record Lemonade. One of the standout songs on the album is "Freedom," featuring Grammy Award-winning rapper Kendrick Lamar. Written by Jonny Coffer, Beyoncé, Carla Marie Williams, Dean McIntosh and Lamar, the track features samples of "Let Me Try" by Kaleidoscope, "Collection Speech/Unidentified Lining Hymn" recorded by Alan Lomax in 1959 and performed by Reverend R.C. Crenshaw, and "Stewball" recorded by Alan Lomax and John Lomax, Sr. in 1947. ​​
"Don't Touch My Hair" – Solange ft. Sampha
Prior to the release of her third studio album A Seat at the Table, Solange wrote a few personal essays on her Saint Heron website​ breaking down the messages of her project. One of them, titled "And Do You Belong? I Do," explains the concept behind Solange's song "Don't Touch My Hair": "You and your friends have been called the N-word, been approached as prostitutes, and have had your hair touched in a predominately white bar just around the corner from the same venue."
"Proud Mary" – Tina Turner
An iconic song that still gets everyone up on their feet, "Proud Mary" was the cover that made Tina Turner a household name. Initially released in 1969. the song was written by John Fogerty and was first recorded by his band Creedence Clearwater Revival. Turner and her partner Ike created their own rendition in 1971, which they included on their album Workin' Together. The track made it to No. 4 on the Billboard Hot 100 chart two months after its debut.
"I Can't Breathe" – H.E.R.
In the wake of George Floyd's murder and the sweeping Black Lives Matter protests that followed, H.E.R. released a track titled "I Can't Breathe" in June 2020. The single was accompanied by the release of a music video featuring footage from global demonstrations. "Starting a war, screaming 'Peace' at the same time/All the corruption, injustice, the same crimes," the artist sings.
"We Found Love" – Rihanna ft. Calvin Harris
While fans patiently wait for Rihanna to drop new singles, her old music is still as impactful as when it's first released. Written and produced by Calvin Harris, "We Found Love" is one of the artist's best works as it combines elements of dance-pop, techno and Europop.
"On & On" – Erykah Badu
Neo-soul singer Erykah Badu's "On & On" held the first spot on the U.S. Billboard Hot R&B/Hip-Hop Songs chart for two weeks upon its release in 1997. On the song, the artist combines elements of African culture and Middle-Eastern influences, while still maintaining her soulful aura.
"Gossip Folks" – Missy Elliott ft. Ludacris
Missy Elliott wrote "Gossip Folks" as a response to rumors about her personal life. Sticking to the theme of the song, the Dave Meyers-directed music video stars Elliott as a high school student walking through the hallway while the other kids talk behind her back.
"Girl On Fire" – Alicia Keys 
"Girl On Fire," one of Alicia Keys' signature songs, is an R&B ballad like no other. While the track received two popular remixes, including the Inferno Remix featuring Nicki Minaj and a Bluelight Remix, the original edition demonstrates Key's soothing yet powerful vocals.
"Strange Fruit" – Billie Holiday
Written and composed by Abel Meeropol and recorded by the legendary jazz and swing artist Billie Holiday in 1939, "Strange Fruit" protests the lynching of Black people in America. "Southern trees bear a strange fruit/Blood on the leaves and blood at the root/Black bodies swingin' in the Southern breeze/Strange fruit hangin' from the poplar trees," Holiday sings, comparing the victims to the fruit of trees.
HYPEBAE's Black Music Appreciation Month Playlist:
Share this article