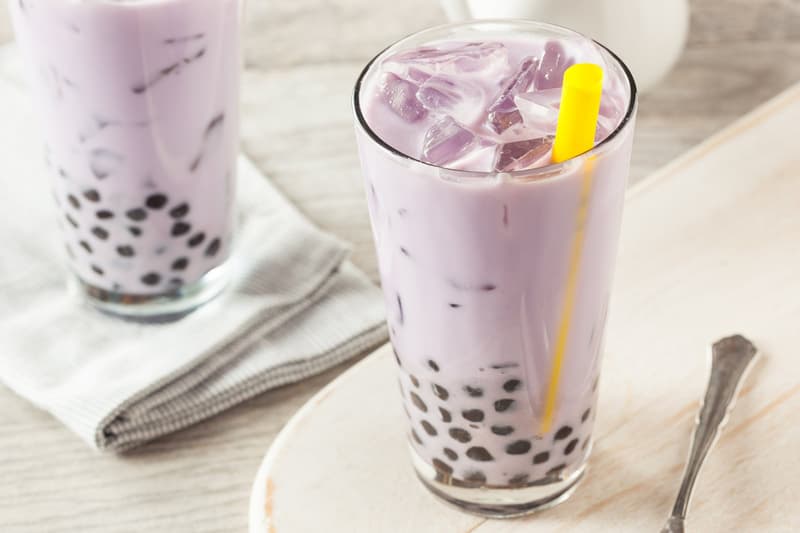 Here's How To Make Taro Milk Tea at Home
Follow this simple four-step recipe by Talk Boba.
Originated from Taiwan in the late '80s, taro milk tea is the perfect beverage to indulge in to keep you feeling refreshed during the hot summer days. A starchy root vegetable mainly found in Southeast Asia, taro has a mildly sweet taste and features a light purple hue, hence the purple color of the beverage. Similar to a potato, the tropical plant is packed with nutrients such as magnesium and potassium.
The taro milk tea drink itself is made with three main ingredients: milk, organic taro blend or taro powder, as well as organic tea. Just like any other flavored bubble tea, taro milk tea can be prepared in many different ways. If you'd like to try making the drink yourself at home, Talk Boba has shared its simple four-step recipe with HYPEBAE.
Read on for the full list of ingredients and a preparation guide. While you're at it, here's how to make the ultimate glass of matcha latte.
Ingredients
2 tbs. taro powder
Authentic black tea or green tea leaves
1/2 cup of preferred dairy or creamer
A handful of ice cubes
1/2 cup of water
1-2 tbs. honey
Preparation
1. Gather all of your ingredients and start by brewing your preferred tea. Once your pot of water is at a rumbling boil, lower the heat to medium-high heat. Add your green tea leaves or tea bags of choice into the pot of water. Continue to boil the pot of water and tea leaves for another 3 to 5 minutes. Once you've found the right taste and depth of flavor you like in your tea, strain it and pour it into your preferred cup.
2. While your tea is still hot, add the rest of your ingredients to your cup. Add 2 tablespoons of taro powder into your cup and stir well until every bit is dissolved.
3. Begin to add your sweetener of choice — we recommend 1 to 2 tablespoons of honey. Shortly after, you may add your creamer of choice. Generally, we'll add 1/2 cup of our favorite almond milk into our taro milk tea. You can also use sweetened condensed milk if you prefer a creamier texture. If you use sweetened condensed milk, you don't need to add honey or another sweetener. The sweetened condensed milk will be enough. Be sure to stir thoroughly.
4. Add your handful of ice cubes (the amount may differ depending on how much ice you prefer) into the taro milk tea. Give it one last stir and enjoy.
Share this article