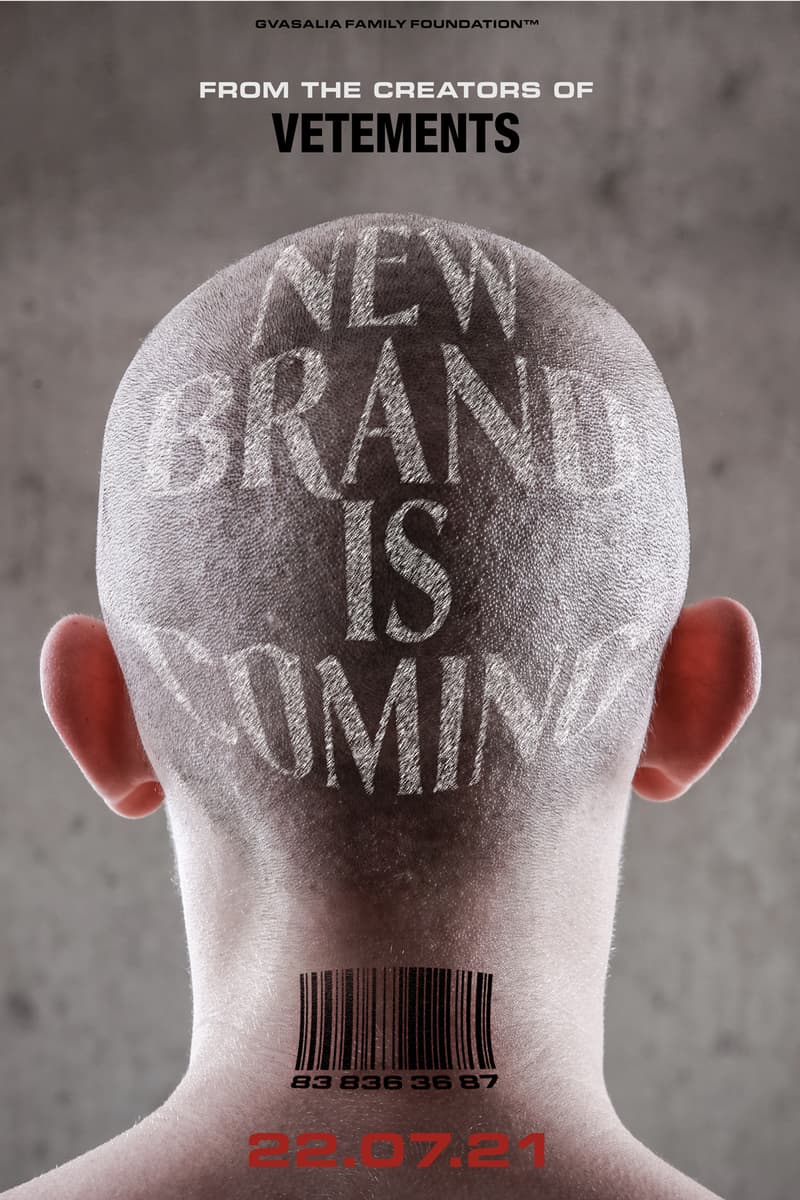 Vetements' New Brand Launches This Week in Paris
Everything we know about the "secret project."
Fashion
Vetements' New Brand Launches This Week in Paris
Everything we know about the "secret project."
UPDATE (July 20, 2021): A new brand from Vetements co-founder Guram Gvasalia and the Gvasalia Family Foundation will launch in Paris later this week.
The line, which Vetements describes as a "secret project," was initially announced in June via a mysterious teaser video and private Instagram account under a rather to-the-point username: @vetements_secret_project. The brand's first collection, titled "XXX," will be presented on July 22 — details regarding a possible runway show or presentation remain under wraps, though a press release specifies that images of the range will be unveiled to the public on the brand's aforementioned Instagram. ("Follow now to see it first!" the press release adds.)
Stay tuned for a first look at Vetements's new brand, scheduled to debut on July 22 at 7:30 p.m. in Paris. Keep reading for more details on the project.
---
ORIGINAL STORY (June 25, 2021): "A NEW BRAND IS COMING," Vetements announced in a press release distributed this afternoon. The subversive label has unveiled a mysterious video and Instagram account teasing the so-called "secret project," set to launch next month.
"Gvasalia Family Foundation is starting a new experimental laboratory, a multi-dimensional platform for young talent," the press release reads, suggesting that Vetements's new endeavor will double as a talent incubator. The announcement specifies that the Gvasalia Family Foundation — an apparent foray into charity — will provide mentoring and financial support to emerging creatives. "This way the new brands can stay true to their own aesthetic and not be forced to chase market trends, or worse, having to sell their souls to the devils of the industry," Vetements explains.
The release continues: "As the first milestone, the creators of Vetements will premiere a new brand on the 22nd of July, 2021. A brand to cater to all genders, heavily inspired by traditional menswear clothing and sartorial tailoring."
In typical Vetements fashion, the label launches into a rather esoteric description of what to expect from the upcoming project. "A brand without a logo, but recognizable from far away. A brand that doesn't exist, but is missed already," it details, continuing, "A brand from tomorrow, that is based on yesterday, on today. A brand that wears something old, something new, something borrowed, something blue!"
The new brand could be connected to some recently uncovered trademark filings registered by Vetements. In April, The Fashion Law dug up documents suggesting that the Guram and Demna Gvsalia-founded house was looking to rebrand under the name VTMTS (sans vowels). Now, it seems the label wasn't looking to change its name, but rather trademark a second entity.
Stay tuned for more details on Vetements's new brand, scheduled to launch on July 22.
Share this article