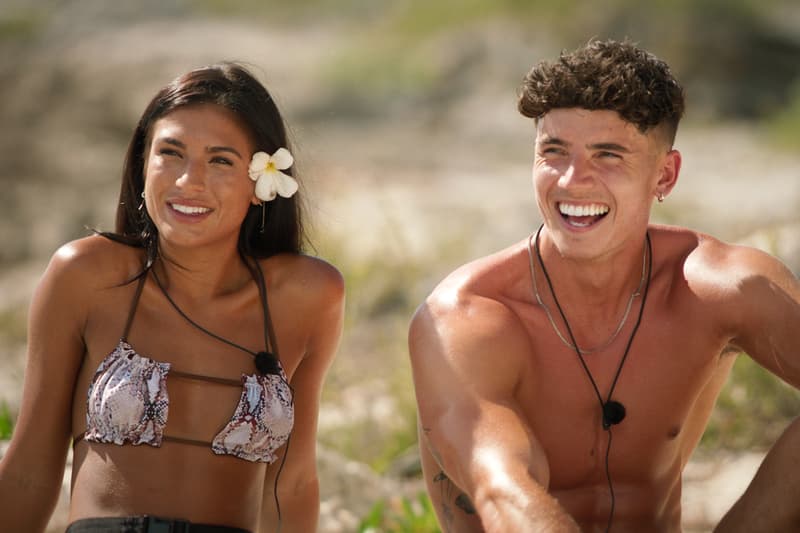 Film & TV
8 Reality Dating Shows on Netflix, Ranked From Worst to Best
Guilty pleasure series from 'Love Is Blind' to 'Sexy Beasts.'
8 Reality Dating Shows on Netflix, Ranked From Worst to Best
Guilty pleasure series from 'Love Is Blind' to 'Sexy Beasts.'
Whether you'd like to admit it or not, you've probably got a couple of guilty pleasures you like to indulge in — watching reality dating shows on Netflix is probably one of them. If you've already binged your way through the streaming platform's recently released Sexy Beasts, we've compiled a list of similar series, ranked from our least favorite to our most favorite. Scroll down for our picks, including buzzy titles like Love Is Blind, Too Hot To Handle and more.
For more film and TV recommendations, here are five action-thrillers to watch after Gunpowder Milkshake.
8. Dating Around
In each episode of Dating Around, a different single gets to know five strangers on separate dates. Once they've gone on all their dates, the individual must choose the person they like best to go on an off-screen second date with.
7. Back with the Ex
Back with the Ex is an Australian series that stars four former couples — Jeremy and Meg, Diane and Peter, Cam and Kate, and Erik and Lauren — who are willing to give their relationship another try. "New beginnings or old baggage? Four singles have one chance to reignite romance with an ex — or leave the past behind for good," Netflix's synopsis reads.
6. Indian Matchmaking
Elite Indian matchmaker Sima Taparia is on a mission to find her clients their perfect match by learning about their interests and ambitions. In this show, singles based in Houston, Chicago and Mumbai go on a number of dates with different candidates in order to find "the one."
5. Sexy Beasts
Sexy Beasts is not your typical reality dating show. Narrated by actor and comedian Rob Delaney, this bizarre six-episode series features participants in animal prosthetics in order "to put true blind date chemistry to the test." Each episode stars different singles who are searching for true love, and they have to choose their preferred match once their dates are over. Only then will everyone's real faces be revealed.
4. Are You The One?
Originally released in 2014, MTV's Are You The One is now finally available on Netflix. The show features a group of men and women who are paired into couples by the show's producers via a matchmaking algorithm. In order to win the $1 million USD grand prize, the contestants must figure out who their perfect match is by getting to know them on an emotional level.
3. Love On the Spectrum
Love On the Spectrum follows young adults with autism in search of their ideal partner. The four-part show aims to shed light on the dating life of an autistic individual, and to dismantle the idea that autistic people aren't capable of forming meaningful relationships.
2. Too Hot To Handle
Too Hot To Handle gathers 10 hot singles who are afraid of commitment and are only accustomed to one-night-stands or summer flings. Upon arrival, the contestants think they signed up for a four-week "sexcation." However, they are eventually told that they aren't allowed to kiss each other, engage in self-gratification or have sex if they want to win the $100,000 USD prize. You may ask, who monitors their every move? The answer is a virtual assistant, named Lana, who can see everything.
1. Love Is Blind
Love Is Blind was the talk of the town when it premiered on Netflix in 2020. Hosted by Nick and Vanessa Lachey, the 10-part series takes an unconventional approach to modern dating. For 10 days, 30 singles, who all have the same goal of settling down, have to go through several speed dates in enclosed "pods" where they can talk to their dates but not see them. Once the man is ready, he can propose to a woman and see her for the first time after she says "yes." Each couple will then prepare for their wedding in a couple of weeks, but either party still has the choice of saying "I do" or "I don't."
Share this article