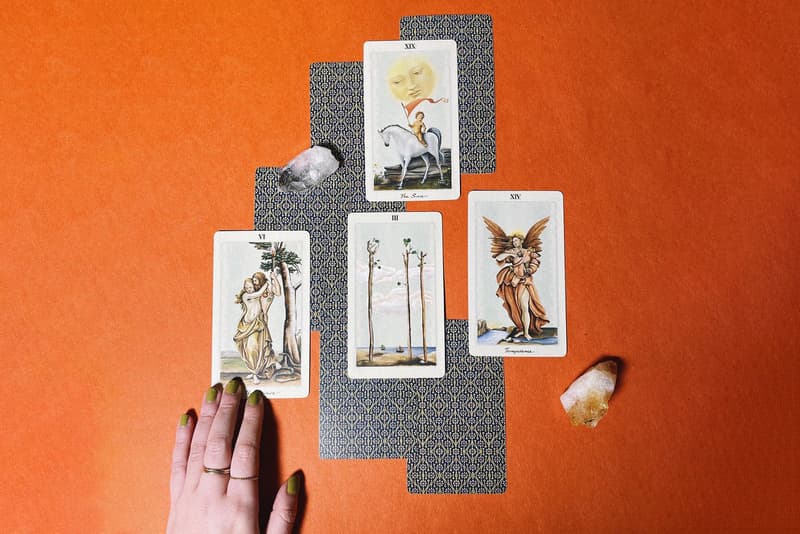 Culture
A Beginner's Guide to Tarot Cards
A tarot and numerology reader shares her expert knowledge of the esoteric practice.
A Beginner's Guide to Tarot Cards
A tarot and numerology reader shares her expert knowledge of the esoteric practice.
While tarot mainly functioned as playing cards in Europe in the mid-15th century, by the 18th century, predictions were made through tarot decks under the practice of tarot reading. Fast forward to present day, tarot cards are now used as a self-reflection tool for spirituality. "It can be used to gain perspective on complicated situations and to help you get clarity before making decisions," says Audrey Tsang, founder of Hong Kong-based tarot shop Little Little.
But how, you may ask, are tarot cards different from astrology? Well, tarot cards are utilized as tools by psychics and spiritual mediums, while astrology reading uses data to interpret or forecast a situation. However, both can be linked with the four elements (Air, Water, Earth and Fire), the seven classical planets (the moon, Mercury, Venus, the sun, Mars, Jupiter and Saturn) and the three modern planets (Uranus, Neptune and Pluto).
Whether you're getting your first tarot reading or you've been keen on learning about the practice, below, Tsang explains the different types of decks, the dos and don'ts before a reading and more. Read on for a beginner's guide to tarot cards.
What Are Spreads?
A tarot spread refers to the pattern of cards chosen from a deck during a reading. With the right spread, it provides different information for deeper insights. Each tarot spread is unique as the position it contains may interpret different meanings.
The three-card tarot spread is simple and easy to use — it's adaptable to many questions. Pull three cards, which represent the past, present and future, from the deck. The first card represents elements from the past affecting the present, the middle card shows the nature or the querent's current position, and the third card represents the likely outcome.
Different Types of Arcanas
The first 22 cards make up the Major Arcana, which is Latin for "greater secrets." Every card in the series depicts a milestone in the journey through life — it begins when the Fool takes a leap of faith from the cliff and ends when he's experienced everything the world has to offer. The remaining 56 cards are Minor Arcana, which describe everyday experiences. The Mini Arcana is divided into four suits like a standard deck of playing cards. The suits are called Wands, Cups, Swords and Pentacles, representing Fire, Water, Air and Earth elements. Each suit has 10 number cards and four court cards — the number cards signify stages of development, while the court cards represent people and personality traits.
Different Types of Decks and Designs
The Rider Waite Smith Tarot: First published in 1910, created by Arthur Waite and illustrated by Pamela. It is one of the most popular decks of all time.
The Thoth Tarot: Created by Aleister Crowley and painted by Lady Frieda Harris. The biggest difference between Rider Waite Smith and Thoth is that the former deck was intentionally drawn to avoid strong astrological and Kabbalistic associations, while the latter is full of references to astrology, the Kabbalah and alchemy.
The Tarot de Marseille: The oldest surviving tarot card pattern that exists today. This deck uses pip cards where the minor arcana are represented not with the story-driven illustrations. The Arcana Suit name and Court Card name are different in these three systems. The order of Major Arcana is also different in each system.
Other than tarot systems, there are various designs of tarot cards that can be found on the market. For hundreds of years, artists and designers love to produce their own tarot cards as a medium to express their creativity, but the symbolic meaning of each card has largely remained the same. Only the visual interpretations of the symbols have been adapted or reworked. Some collectors see tarot decks as art and love to collect tarot decks with different designs and illustrations.
Dos and Don'ts Before a Tarot Reading
Before doing a tarot reading, you should address questions or concerns with the tarot reader first. Specific questions get specific answers. Don't only focus on "Yes" or "No" questions, ask more open-ended ones. After communicating the questions with the reader, relax and center yourself to get messages. Be open-minded and embrace the unknown.
As the tarot reader, I usually meditate with incense or crystals before doing tarot reading for my clients. It heightens awareness and strengthens intuition. Meditation helps me truly connect with my client and that helps them get messages from the universe.
How To Set Up a Space for Tarot Reading
A space with privacy to do tarot reading is incredibly important. A quiet and comfy space with incense, crystals and music allows the reader and querent to feel relaxed and calm, as well as allows energy to flow freely throughout the reading for insights.
What You Need To Know About Tarot Card Predictions
Most of the people doing a tarot reading only want to know the outcome and future predictions, but nobody can truly and accurately predict anyone's future. The predictions are totally based on what people are thinking in the moment. If they are not happy with the outcome, they can change their mind and adjust their attitude, then they can change their future. Free will is very important. Make sure you don't give away your own power, autonomy, wisdom and insight. Contemporary tarot reading helps us reconnect with our higher self and find our own way to explore possibilities.
Share this article