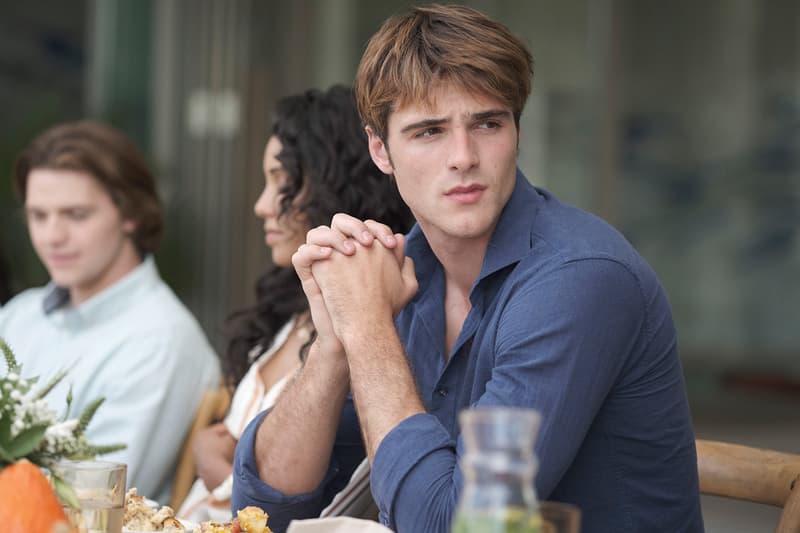 Film & TV
5 Things You Didn't Know About 'The Kissing Booth' Star Jacob Elordi
The 24-year-old Australian actor is also known for his role in 'Euphoria.'
5 Things You Didn't Know About 'The Kissing Booth' Star Jacob Elordi
The 24-year-old Australian actor is also known for his role in 'Euphoria.'
The third and final installment of The Kissing Booth franchise is set to release this week on Netflix. Ahead of the premiere, we've gathered five facts you probably didn't know about one of the movie's lead actors, Jacob Elordi, who plays Noah Flynn.
Part three picks up moments after where the second one left off. Elle (Joey King), Noah (Elordi) and Lee (Joel Courtney) are all off to college, but before they go their separate ways, they spend their last summer together at the Flynns' beach house. However, the fun won't last forever as Elle still has an important decision to make. She has to choose to either go to Harvard with the love of her life, or keep her childhood promise with Lee and go to the University of California, Berkeley with him.
We'll find out soon enough who Elle chooses when The Kissing Booth 3 releases on August 11. While we wait, continue reading to find out more about Elordi, a 24-year-old Australian actor whose Hollywood career is just getting started.
He stars in HBO's Euphoria.
For those who don't already know, Jacob Elordi stars alongside Zendaya, Hunter Schafer, Barbie Ferreira, Alexa Demie and more in HBO's Euphoria. This is the Australian actor's first role in a U.S. TV show. He plays Maddy Perez's (Demie) boyfriend Nate Jacobs, a high school jock who Elordi describes as an "emotional terrorist."
He idolizes Heath Ledger. 
Known for his Oscar-winning role as the Joker in the 2008 film The Dark Knight, Heath Ledger is one of Elordi's idols. Seeing him portray the Joker made Elordi realize that "somebody was actually doing something quite important and special," as he expressed in an interview. Coincidentally, 10 Things I Hate About You, which stars Ledger as Patrick Verona, is Elordi's all-time favorite rom-com.
He learned how to do an American accent by imitating Eminem.
At the age of 14, Elordi established that he didn't want to accept American acting roles unless he got the accent right, as per his interview with Entertainment Tonight Canada. The actor practiced by mainly listening to Eminem's music via an international radio station. Elordi revealed that he started to sound "really aggressive" like the way the Grammy Award-winning artist would rap, so he had to slightly modify the way he spoke.
His role on The Kissing Booth made him learn how to ride a motorbike.
In the first two parts of The Kissing Booth, we see that Noah knows how to ride a motorcycle. But did you know that Elordi only learned how to ride one when he got the part as Noah? Since acquiring his new skill, he's been "obsessed" with it, according to his interview with GQ. To his dismay, his mother unfortunately won't allow him to own his own bike at home.
He and Joey King used to date.
Shortly after meeting on The Kissing Booth set in 2017, Elordi and King started to date. By 2019, the couple split. "It was a wild experience, but honestly, it was a really beautiful time because I learned a lot about myself and I grew as an actor, I grew as a person," King commented on their breakup.
After their split, Elordi was rumored to be dating his Euphoria co-star Zendaya. Now, the actor is in a relationship with model Kaia Gerber, while King has been a couple with film director Steven Piet since 2019.
Share this article