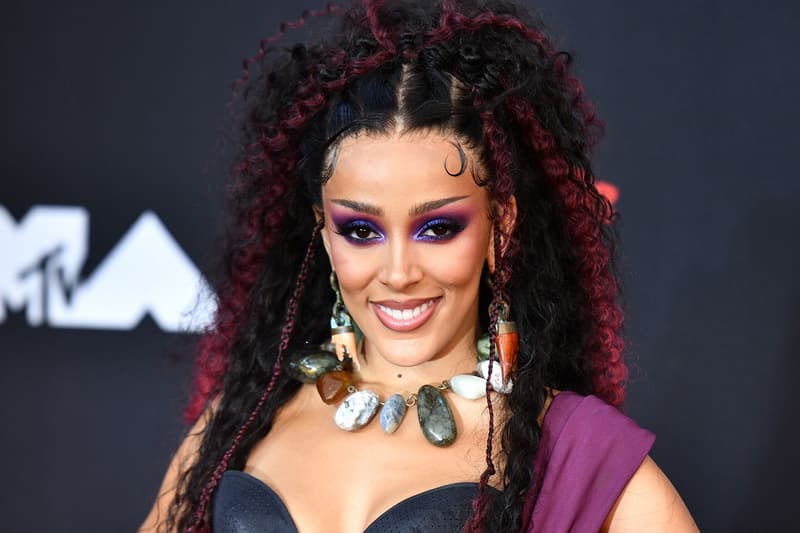 Beauty
The Secret Behind Doja Cat's "London Alley Chic" Hairstyle for the 2021 MTV VMAs
Her personal hairstylist, J Stay Ready, breaks down all her looks from the awards show.
The Secret Behind Doja Cat's "London Alley Chic" Hairstyle for the 2021 MTV VMAs
Her personal hairstylist, J Stay Ready, breaks down all her looks from the awards show.
Hosted by Doja Cat, the 2021 MTV VMAs took place on September 12 at the Barclays Center in New York City. Other than the statement outfits we spotted on the red carpet, beauty looks did not fail to impress this year.
Throughout the evening, Doja wore three different hair looks created by her personal hairstylist J Stay Ready, who was assisted by Devante Turnbull. Her red carpet look — named "London Alley Chic" by J — was styled using Joico's JoiWhip Design Foam to enhance the curls. Pops of red were added to the look for a bit of "razzle dazzle," according to the hairstylist.
For her first stage look, the "Say So" artist appeared in straight long platinum blonde hair. Her second hairdo arrived in the form of a textured bob, which featured a wet look thanks to the Joico Luster Lock Spray. To tame flyaways, J applied mousse on Doja's hair and finished it off with the Joico JoiMist Medium Protective Finishing Spray.
Read on to find out more about Doja's hairstyles. In case you missed it, check out the best celebrity looks from the 2021 MTV VMAs.
You've worked with Doja on quite a number of memorable events and projects. How did the opportunity to become her personal hairstylist come to be?
It's crazy! I was actually brought on at the last minute as her hairstylist for the "Say So" music video shoot when the original stylist canceled. I showed up, killed it, we fell in love and the rest is history.
Can you share with us the creative process behind Doja's hairdos? How did her personality, outfits and makeup inspire your concepts?
She loves to look different, cool and stand out from what the norm is when it comes to glam. So it was super fun to create [these looks].
What name would you give the hairstyle she wore on the VMAs red carpet?
"London Alley Chic."
Did Doja have to prep her hair the night before or the day of the VMAs?
Yes. I freshly braided her natural hair so that the wigs we used for the show would lay as flat as possible. My Joico Defy Damage Protective Shampoo and Conditioner really helped with that process.
Can you share with us what products you used to create her looks?
During her performances, how did you manage to keep her hair intact throughout each set?
The Joico Power Spray Fast-Dry Finishing Spray helped me to be super mobile behind the stage.
Share this article