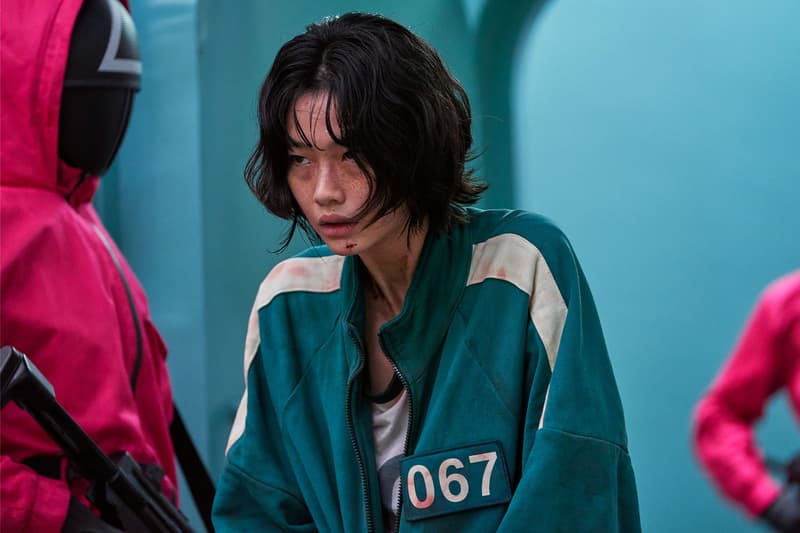 Film & TV
5 Things To Know About Hoyeon Jung of Netflix Korean Drama, 'Squid Game'
The top model makes her acting debut in the hit series.
5 Things To Know About Hoyeon Jung of Netflix Korean Drama, 'Squid Game'
The top model makes her acting debut in the hit series.
Since hitting Netflix on September 17, Squid Game has become one of the most talked about titles on the streaming platform. Featuring a star-studded cast, the dystopian survival TV series marks a breakthrough moment for Hoyeon Jung, who plays Saebyeok, or No. 67, a North Korean refugee whose ultimate goal is to reunite with her family. Here, we've gathered five facts about the rookie actor and her career as a fashion model.
For those who have yet to watch Squid Game, the Netflix-produced K-drama explores the characters' true desires through a mysterious game with a grand prize of ₩45.6 billion KRW (approximately $41 million USD). The story opens in the perspective of Kihoon (Lee Jungjae), or No. 456, who struggles with debt. After losing money from betting at a horse race, he is approached by a stranger, who invites him to participate in the "Squid Game." He then joins 455 other people, including Saebyeok, to compete against one another to survive and win the final prize.
If you loved Jung's performance in Squid Game, read on for five things to know about the model-turned-actor.
She is a fashion model.
Jung's modeling career took off in 2013 when she participated in the fourth season of Korea's Next Top Model, on which she won third place. She then walked in runway shows at Seoul Fashion Week before bursting onto the global fashion scene, appearing on the catwalks of brands from Chanel to Jacquemus.
She made her global catwalk debut in 2016 as an exclusive for Louis Vuitton.
For her first overseas runway gig, Jung was selected by Louis Vuitton creative director Nicolas Ghesquière as an exclusive model for the house's Fall/Winter 2017 show. The then red haired model would continue to take over Fashion Weeks, walking for brands like Gucci, Marc Jacobs and more.
Squid Game marks her acting debut.
Having established herself as one of the most influential Korean models, Jung, now 27, decided to press pause on modeling and returned to South Korea to kickstart her acting career. After signing with Saram Entertainment in early 2020, the star took on her first acting gig as Saebyeok for Squid Game. "I was preparing for New York Fashion Week when my agency asked me to send over an audition video. All I did during that time other than eat was to read the script," she shared at a press conference. "Later, the director wanted to meet me in person, so I flew back to Korea."
She has been dating actor Lee Donghwi.
Jung and Lee have been a couple since 2016. The actor, known for his role in the TV series Reply 1988, recently surprised fans with his singing on the show Hanging Out With Yoo. He has since joined a project R&B group dubbed MSG Wannabe alongside Simon D and Kim Jungmin.
Jung is one of BLACKPINK member Jennie's close friends. The two often show support for one another on social media, and often share goofy selfies of them together. The model has also worn items from NIEEH, the brand rumored to be co-owned by the K-pop star.
Share this article