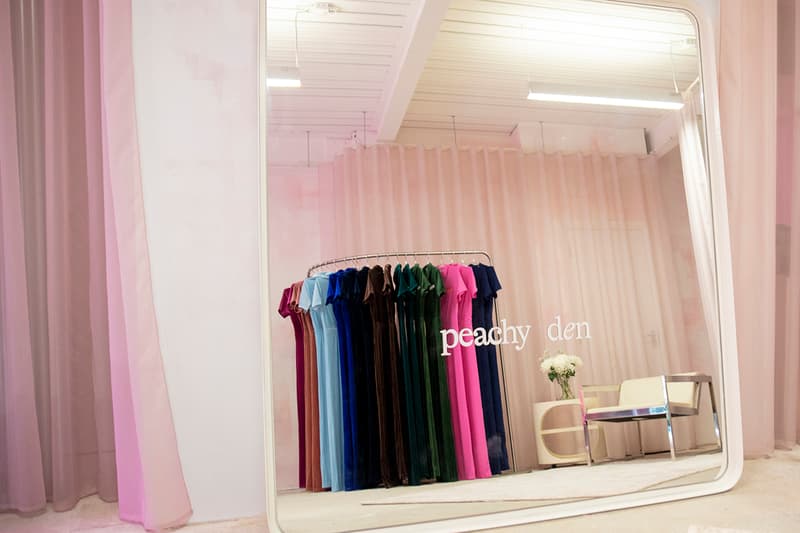 1 of 3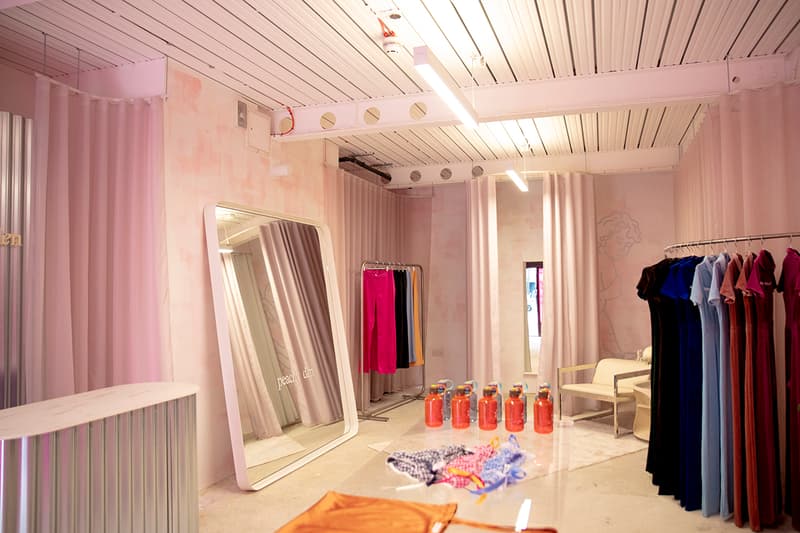 2 of 3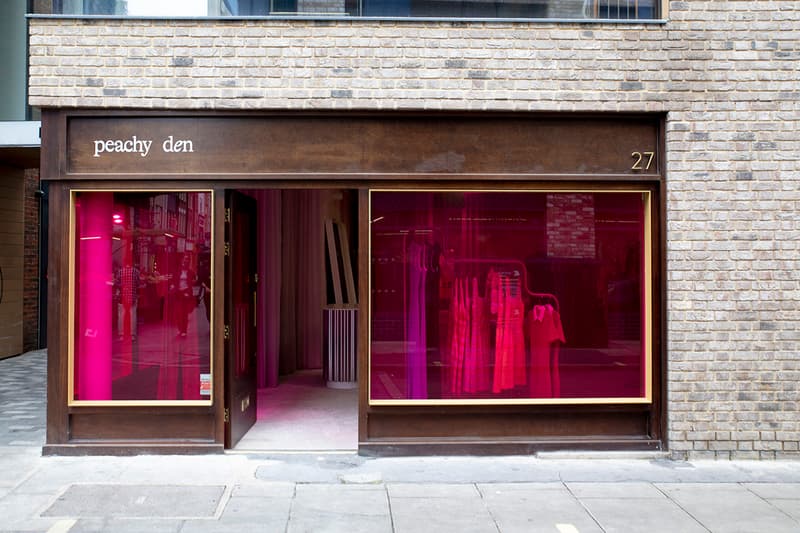 3 of 3
Fashion
Peachy Den Opens First Pop-Up Shop in London
Offering limited-edition products, on-site manicures and tooth gem application to boot.
Peachy Den Opens First Pop-Up Shop in London
Offering limited-edition products, on-site manicures and tooth gem application to boot.
Peachy Den, the British cult brand beloved by It models like Bella Hadid, Kaia Gerber and Alva Claire, is going IRL with the launch of its first-ever pop-up in London.
Opening on Saturday, the space — awash with cotton candy pink curtains and featuring hand-painted walls adorned with the brand's angel motif — will stock two pop-up-exclusive colorways of Peachy Den's popular Kernel Jumpsuit, namely in "Midnight Blue" and deep fuchsia "Cerise." Shoppers will also be able to purchase limited-edition merch, including Peachy Den-branded Nalgene water bottles as well as gingham knickers, with the opportunity to customize the lingerie pieces with embroidery.
Other community events and activations that will be held at the pop-up include on-site manicures by Pheebs Nails, bouquet arrangements courtesy of Pink Gold Peach and even tooth gem application by Oona Beauty.
"We're so excited to meet our customers for the first time and give them a true insight into who we are as a brand. We can't wait to bring the community together," Isabella Weatherby, founder of Peachy Den, told us over email.
She added, "We want the store to be a hub for our peachy people to hang out and get to know each other. We have also planned a series of activations in the space — these are only £5 GBP and will be a charity donation to Women for Afghan Women — to give back to our customers as we are so grateful for their constant support."
On how the brand has grown over the last year, Weatherby said, "We are now a strong, tight-knit team of 10 based in a beautiful little studio in South London. We introduced new product categories this year such as knit and prints. We have such an exciting drop later this month which we can't wait to reveal." She also hinted at potential future pop-ups in other cities: "We have the pop-up bug now, so next on the cards for Peachy Den is Paris."
The pop-up will open to the public from September 11 through October 11. Find more details at the Peachy Den website.
Peachy Den Pop-Up Shop
27 Peter St
London W1F 0AJ
Share this article