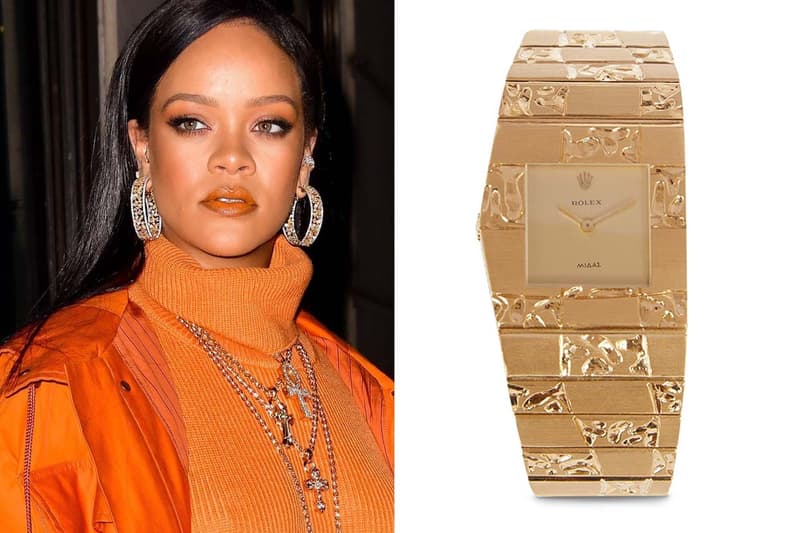 Rihanna Steps Out in Custom Rolex King Midas Watch
The singer has the Midas touch.
Always one to be ahead of trends, Rihanna has debuted a customized Rolex King Midas watch, while out on the town with her equally stylish beau A$AP Rocky.
The Fenty Beauty mogul is never shy about adorning herself with icy diamonds and jewels alike, so her timepieces should be no different. Rihanna paired the 18 karat yellow gold watch with a monogrammed, oversized puffer vest and a Y2K-inspired wrap skirt. The monochromatic brown look was topped off with a silk scarf worn as a balaclava, amber-tinted aviator shades and strappy gold heels.
Designed by esteemed jeweler Patcharavipa Bodiratnangkura, the custom watch boasts an innovative self-winding movement and glass crystal from the '70s. Beginning her career at the young age of 13, Patcharavipa established her brand in 2016, continuing a legacy of Thai entrepreneurs and inventors as she draws inspiration from her family's heirlooms.
Each tenderly made piece demonstrates Patcharavipa's highly-skilled craftsmanship and artistic reverence for her designs. The one-of-a-kind watch retails for approximately $42,000 USD.
Take a look at how Rihanna wears the blinding timepiece below.
View this post on Instagram
Share this article