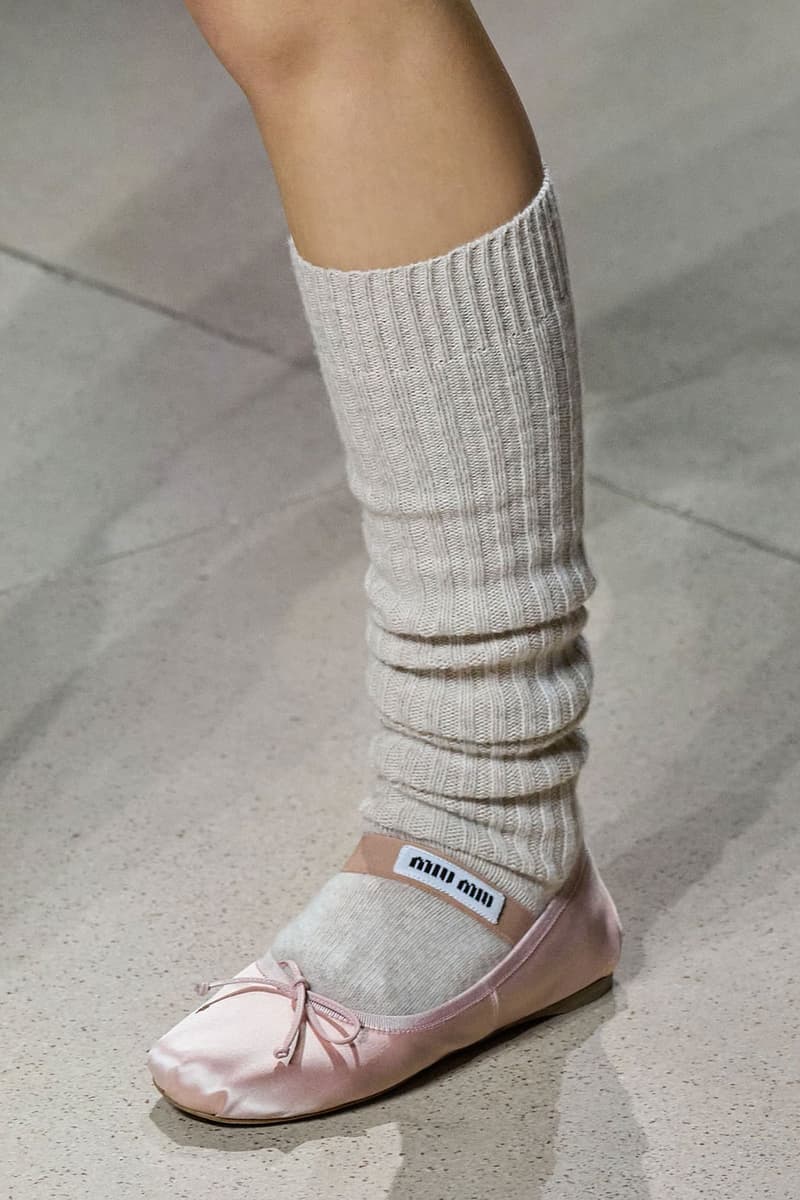 En Pointe: Inside the Balletcore Footwear Trend
'Gossip Girl' would be proud.
Imagine this — it's a crisp, fall day in New York and all you can see are ballet flats hitting the pavement as far as the eye can see. While we haven't traveled back in time to 2007, ballet flats have become as popular as they were when Blair Waldorf was ruling the steps of The Met. The humble shoe has even made its way to the runways as several luxury fashion brands embraced round-toed, low-heeled shoes and leg-warmers as accessories during Paris Fashion Week.
Miu Miu paired its iconic micro mini-skirts with primary-colored slouchy socks and flat Mary Jane ballet slippers. Meanwhile, Dior took a gothic approach to its Spring/Summer 2023 collection as the brand paired ethereal and romantic moody lace gowns with fishnet thigh-highs and dainty black ballerina flats. Although a wide swath of fashion trends from the early aughts have been coming back into style — from ultra-low waists to dad-approved sunglasses — balletcore taps into a timeless longing for the simultaneous ease and elegance dancers evoke.
"Cores" or fashion niches have assumed a recent chokehold on our post-pandemic society and balletcore is an unsurprising one as many have adopted a slower pace of living during the many months of social isolation and quarantine. Ballet flats' comfortable silhouette and style immediately calls forth a relaxed approach to life's otherwise rigorous and tedious everyday tasks. Prior to our global indoors mandate, women were compelled to squish their toes into uncomfortable pointy-toed heels for eight hours in frigid cubicles. While heels, worn without hesitance and for personal expression, can truly elevate an outfit and the wearer's sense of confidence, the balletcore trend exudes a sense of well-earned and subtle luxury through its deliberately leisurely and effortless shape.
The intoxicating marriage between elegance and effortlessness is what draws many to the balletcore aesthetic as pulling on a leotard, bolero sweater and ballet flats instantly create a cohesive and extremely cozy look, obviously adding to its mass appeal. If you're a fan of the balletcore footwear trend, keep scrolling to find our favorite flats.
GANNI Scrunchie Ballerinas
Jil Sander Ballerina
Maison Margiela Tabi Leather Ballerina Pumps
Miu Miu Satin Ballerina Flats
---
Share this article