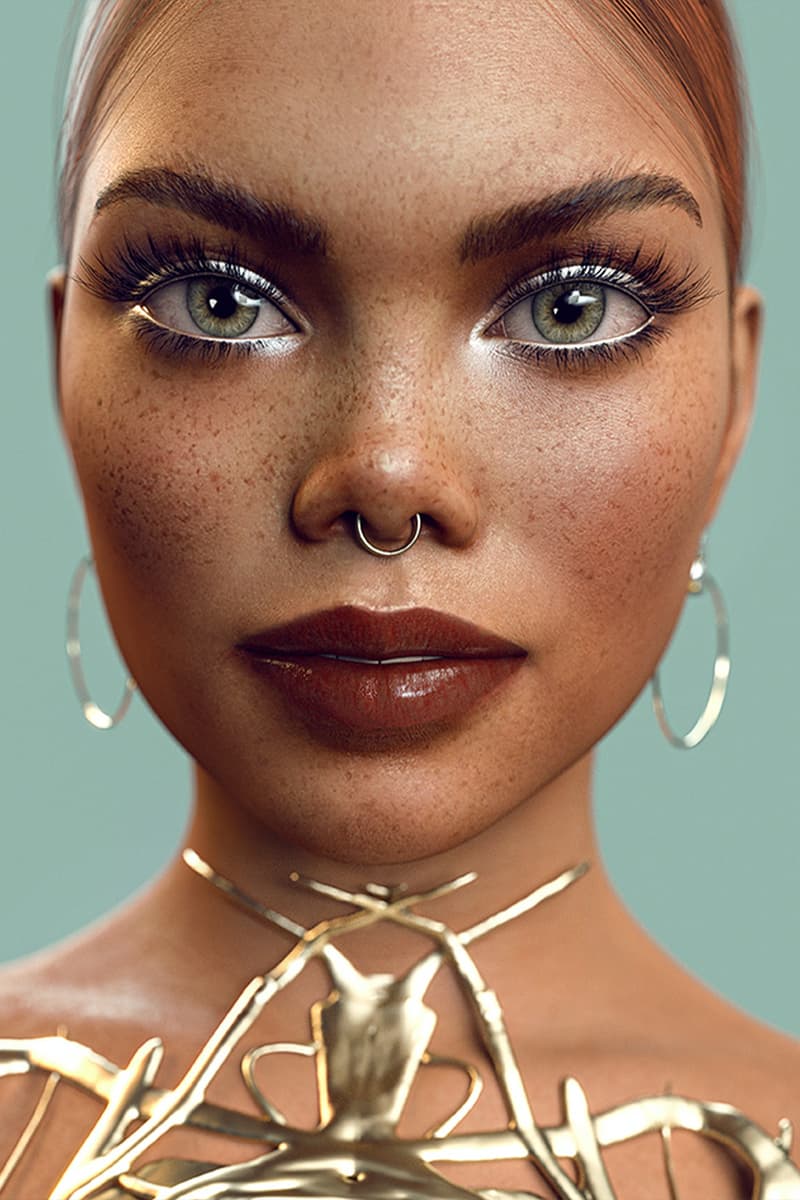 Diving Into Digital: Our Favorite Fashion NFT and Web3 Projects of Fall 2022
From Starbucks NFTs, to digital Build-A-Bears.
Fashion
Diving Into Digital: Our Favorite Fashion NFT and Web3 Projects of Fall 2022
From Starbucks NFTs, to digital Build-A-Bears.
Between screen interfaces and emerging cyberspaces, NFTs and Web3 projects are propelling real human connections in digital platforms that transcend technology, consumer relationships and intangible touch points. A new phygital reality is continuing to emerge and we're here to keep you informed on key players in the space.
This month, we saw Starbucks announce Starbucks Odyssey, a new Web3 rewards experience, while Balmain collaborated with minting studio and marketplace MINTNFT to develop a luxury NFT-based membership scheme. Elsewhere, model agency PHOTO/GENICS launched a new division for avatars and Puma debuted in the Metaverse upon its return to New York Fashion Week.
Continue scrolling to see our favorite cyber collections and Web3 initiatives this fall.
Barbie joined forces with Boss Beauties for a female-focused NFT project.
View this post on Instagram
Boss Beauties and Mattel's iconic Barbie franchise rejoined forces to release a new range of NFTs focused on promoting female empowerment. The NFT collection, unveiled during International Day of the Girl, included 15,000 exclusive digital assets that merged Boss Beauties' signature artistic style with the iconic Barbie look. In a bid to celebrate Barbie representing over 250 different vocations to date, the NFTs included a variety of career traits, such as astronauts, archeologists, beekeepers and corporate trailblazers — demonstrating that any career path is possible for today's girls. The collaboration also involved $250,000 USD of collectively raised funds from Barbie and Boss Beauties for Foundation schemes to provide skills development, leadership opportunities and mentorship programs for girls around the world.
HUGO partnered with Imaginary Ones to launch exclusive NFT collection.
View this post on Instagram
Global fashion brand HUGO joined forces with renowned Web3 company, Imaginary Ones on a holistic, 360-degree Metaverse experience. With the partnership, HUGO continues to take major steps forward in its exploration of digital ecosystems. The launch of its first-ever NFT collection served as another significant milestone in the global refresh of the brand in 2022. Dubbed "Embrace Your Emotions," the range sought to encourage its younger consumers to connect with their feelings. The NFT collection comprised 1,001 3D animations — one special NFT, encapsulating the overarching theme of the collection, was auctioned off in honor of World Mental Health Day, with 100 percent of proceeds sent to Youth Aware of Mental Health.
Model agency PHOTO/GENICS launched a new division for avatars.
View this post on Instagram
Art-driven talent agency PHOTO/GENICS announced the launch of its very own avatar model division. Signed PHOTO/GENICS models can now opt to display "avant-garde, photorealistic avatars" of themselves in their portfolios. Nina Hawkins of Lilium Labs along with 3D filmmaker Sage Morei of Horizon Lab, represent the technology powering the creation of these 3D avatars. The Photogenics' avatar division will begin its journey by releasing thirteen 3D avatars of models. To discover the virtual faces, check out Photogenics' website.
Lacoste unveiled "UNDW3: The Emerge," an experiential and collaboration universe in Web3.
View this post on Instagram
After successfully launching "UNDW3 Genesis Pass" earlier this year, Lacoste continues to push the boundaries of consumer ownership with a new, creative NFT range. The latest release consists of an exclusive profile picture assortment available for the brand's UNDW3 members. Dubbed "The Emerge," Lacoste is the first brand to launch an avatar collection in which its community could actively participate in defining the artistic direction, graphics and traits of the PFPs. The iconic crocodile shirt label is an active participant of Discord, boasting over 60,000 members and growing, facilitating its community to develop meaningful connections and stay informed on new innovations. The Emerge avatars grant collectors the opportunity to have meetings with the brand's athlete ambassadors, privileged access to private sales, exclusive offers and more. To join the initiative and discover more, check out Lacoste's UNDW3 website.
Balmain expanded haute couture with "Non-Fungible Thread" partnership.
View this post on Instagram
Luxury French brand Balmain collaborated with minting studio and marketplace MINTNFT to develop a new NFT-based membership scheme. "The Balmain Thread," first introduced during Paris Fashion Week, will launch later this year and represents the luxury industry's first NFT rewards initiative. The program also serves as Balmain's take on MINTNFT's latest offering — "The Club," which assists brands to build their own membership, loyalty, and reward strategies through Web3 technologies. Balmain's membership will offer a series of exclusive NFTs that provide holders, known as the "Balmain Army," with access to VIP in-person events, specially curated house collections, dynamic digital experiences and community voting power. The third annual Balmain Festival, celebrated last month, granted token-gated access to early Balmain Thread members.
Prada continued to define Web3 community curation with October time-capsule NFT drop.
View this post on Instagram
Prada unveiled the release of its fifth Timecapsule NFT collection. The latest #34 shirt iteration, available in both physical and digital forms, is emblazoned with the calendar month of "October" and displays beach prints combined with flower motifs and a contrasting topstitching pattern — all inspired by previous Prada collections. A key design element of the latest Timecapsule is the use of upcycled fabric from the Prada archives, highlighting the luxury label's persistent emphasis on sustainability. Collectors of the NFT will have the chance to attend the upcoming "Prada Extends" celebration in Miami, as well as other unique benefits and exclusive experiences. Since June 2022, Prada's Timecapsule collections have existed as a 24-hour-long online event on the first Thursday of every month, successfully building out its fashionable Web3 community.
MCM launched global MCM'etaverse with Web3 partner Inverse.
MCM startet im Metaverse durch https://t.co/ZVwptn0bPY pic.twitter.com/RwdcHWaxEI

— FashionNetwork DE (@FNW_DE) October 18, 2022
MCM has created its own virtual space titled "MCM'etaverse." The immersive experience seamlessly integrates the digital and physical worlds, allowing fans to shop new collection styles, try on products and engage with friends. Having launched into virtual experiences and gaming with Zepeto and Animal Crossing in the past, the MCM'etaverse is part of MCM's rapid approach towards becoming one of the leading digital-first luxury fashion brands. In partnership with Web3 tech startup Inverse, MCM'etaverse allows guests to shop for their favorite pieces and discover items both digitized and with real product imagery displayed. The larger-than-life flagship also includes giant MCM Ultra Fragrances. MCM plans to unveil special virtual pop-ups and grant guests benefits such as digital collectibles, unique gifts and more. Elsewhere, options for gender-neutral hairstyles, colors, skin tones and MCM clothing are available.
Starbucks brewed a rewards program experience with "Odyssey."
Starbucks unveiled Starbucks Odyssey, a new Web3-enabled experience launching later this year that will offer Starbucks Rewards members the ability to earn and buy digital collectibles (NFTs) and unlock access to new benefits. Check out how Twitter reacted https://t.co/uyXyVlwPQh

— Starbucks News (@StarbucksNews) September 12, 2022
Starbucks announced a new Web3 rewards experience, dubbed Starbucks Odyssey, for customers and employees in the United States. The scheme is an extension of the coffee chain's leading Starbucks Rewards program, which members can access through an exclusive app. Members of the rewards program can engage in Odyssey "journeys" — a series of immersive activities to deepen their knowledge of coffee and the company itself, including playing interactive games or taking on fun challenges. Upon the completion of these journeys, members are rewarded with special NFTs. Starbucks is one of the first companies to integrate NFTs into an industry-leading rewards program. To learn more, visit Starbucks' website.
Puma debuted in the Metaverse upon return to NYFW.
View this post on Instagram
Sports brand Puma unveiled its own Web3 website ahead of its 75th anniversary. The new space, "Black Station," serves as its own "3D spatial playground" inside the Metaverse. The release also came with new limited-edition sneakers for NitroPass holders, the Nitro "NFRNO" and Nitro "Fastroid." The Nitropass is an evolution of Puma's experiences, the beginning to the next frontier of Puma products. NitroPass holders could redeem a physical sneaker and a personalized experience directly linked to the selected shoe. The immersive experience also allows users to interact with the pieces from the latest collection and explore the brand through custom experiences. The project represents Puma's next step in merging the brand's in-house digital designs with real-life products.
Build-A-Bear celebrated its past and Web3 future with NFT program.
View this post on Instagram
Build-A-Bear Workshop unveiled its first collection of NFT bears and physical plush twins. The multi-generational global brand collaborated with Sweet, a platform and marketplace for NFT programs and experiences, to release three phases of NFT collections as part of its 25th-anniversary celebration. The campaign began with an auction for Build-A-Bear's first digital asset on the blockchain – featuring a one-of-one NFT with its matching physical Swarovski Crystals-encrusted stuffed bear. BABW will debut its second stage of NFTs in early November with the auction of five limited edition silver gala-themed bears consisting of physical and digital pairs. In December, the brand will release 5,000 final Generative Bear digital collectibles for mint.
Claire's entered the Metaverse with a vibrant town in Roblox.
View this post on Instagram
Claire's channeled the influence of Roblox to invite its Gen "Zalpha" into its new metaverse, a space to spark creativity with the immersive, engagement-rich environment. The space is a community where guests can build, decorate and personalize homes; purchase fun vehicles to cruise the town in and gain access to special events and partner experiences. The experience serves as a unique economy where visitors can earn digital currency through fun retail jobs, playing a number of mini-games, or just spending time in the experience. At launch, the virtual universe will offer 15 colorful, playful and expressive pet companions, each with unique styles and personalities. More endless opportunities to accessorize avatars and interactive gameplay experiences are yet to come.
---
Share this article