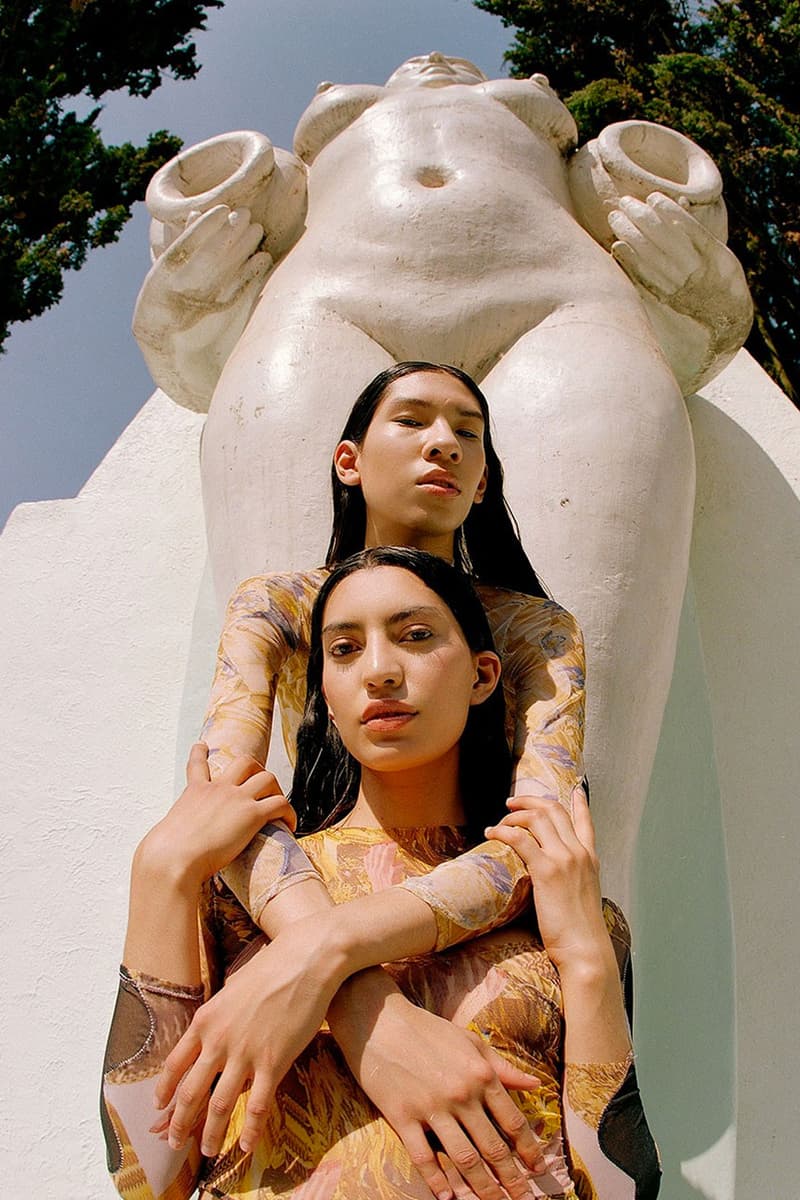 10 Hispanic-Owned Brands We Live By
Spanning ready-to-wear, accessories, footwear and more.
There is something special about looking at your wardrobe and knowing the stories behind the pieces you wear during your day-to-day life. Growing up wearing Hot Topic and hand-me-down Abercrombie & Fitch, I never saw any representation of my body type, nor any representation of the women I was surrounded by. This made it difficult for me to feel confident in my own skin and develop my own sense of style as a Latina. However, that has shifted over the last few years as I've decided to follow more women who shared similar body types to mine, as well as Hispanic and Latina brands and creators to bring more meaning and confidence to my own wardrobe.
In honor of Hispanic Heritage Month, we've rounded up 10 Hispanic-owned brands along with an insight into their stories that have brought so much joy to this editor's wardrobe. For more on these incredible brands, follow them and keep up to date with the beauty they have and will continue to create, and let's support beyond Hispanic Heritage Month.
Romé is a Los Angeles-based brand founded by Falize Rome, a Mexican and Puerto Rican designer who draws her inspiration from her desire to create bright and beautiful pieces that makes people of every body type and skin tone feel sexy.
From a young age, Falize knew that she wanted to work in fashion. Falize's mother and sister, Alexa Demie encouraged her love of fashion, and inspired her to start Romé at 18 in the midst of the pandemic in her bedroom. She began creating and giving away masks which prompted her to design her first swim collection shortly after, which has been featured in shows like Euphoria.
When asked about her brand, Falize describes it as "a teenage girl's dream." She adds, "I was so intimidated to pursue my dream but I learned that you have to go after the things you want even if you don't know what the outcome will be." Years later, Romé's light green bikini, which was the collection's first bikini, is still being restocked. This piece alone has motivated the designer to keep going and truly believe in herself, continuing to create pieces that people resonated with.
Since Annaiss was a child, she was acutely aware of the lack of diversity in the fashion industry in Peru and has made it her mission to change that. Yucra knew what truly differentiated her from others was her heritage and that's what she wanted to showcase — the authenticity of Peru envisioned through a contemporary lens, demonstrating what her homeland really represents.
Everything she creates truly comes from a space of learning and practicing self-acceptance. Annaiss recalls, "Being a third-generation indigenous woman, I grew up dealing with the difficulties accepting not only my skin color and black hair, but also my last name Yucra. In Aymara language, it means the Guardian. So for me, putting my last name as the shield of my brand represents that I am the guardian of the new generations of women growing with the same struggles that I did, knowing that now they have a representation and a voice."
The crochet pieces in the latest collection stood out to me the most — all of them made by her elderly aunts Panchita and Maria in Juliaca, Puno, symbolizing legacy, family and matriarchy.
Luiny is a one-woman-operated Latina jewelry line created by self-taught designer Luiny Rivera, a Puerto Rican native now based in New York. The brand invokes an organic design process inspired by a variety of forms, ornaments and textures that are connected to her travels and lifestyle.
She creates contemporary metal jewelry pieces that are both sculptural and wearable. From her casa, Luiny designs elevated conversation pieces that are timeless and display a sense of bold minimalism for those who appreciate everyday statement jewelry.
When asked how her culture impacts her creativity, Luiny says, "It's the colors of my island for me. We Caribbean women love to wear jewelry, we are very coquette-ish and colorful. I'm not bragging when I say that Puerto Rican women are some of the most beautiful women in the world, so my island and its women are my inspiration. Every time I visit the island, I come back to New York feeling rejuvenated and ready to design something new."
Garmette is a Mexican-Peruvian brand founded by Elliette Saavedra in 2019. Having grown up in a Hispanic household, Elliette describes the experience as being exposed to an endless amount of flavor. Every piece and campaign she has created is inspired by the many mental images she has taken throughout the years. From color palettes to textures and even hairstyles. Everywhere she turns she finds something new to be inspired by. "My culture is precious — and it's tailoring my entire future."
Garmette's V-Maxi is the label's most sought item worn by the likes of Jorja Smith. Saavedra describes the piece as a design that lives for the body, and makes us feel godly for all the times we just didn't. The dress is "a reliable staple to always fall back on and remind us who we are. This creation is particularly important to me because of the energy that exudes from the women who wear it," Saavedra shares. The piece was one of my first designs under Garmette, and seeing all the different countries and people that it's made its way to today is an absolute dream. We're just getting started."
Saavedra highlights her mother's involvement as an integral piece to the brand's success. Saavedra's mother is a self-taught seamstress and her number-one teammate throughout her entire life. Elliette brought tears to my eyes when she revealed, "when you see Garmette, know that's my mama."
This Mexico City-based jewelry brand was founded by Aaron Changpo, who accidentally followed in his grandfather's footsteps in his profession as a jeweler and designer, making him a fourth-generation jeweler.
Varon is not just a cool or edgy brand. The brand rarely communicates all the labor and minds involved in making one piece, while achieving the quality that they provide. The quality means more to them than just the final piece — it expands to quality of life. At the forefront of Changpo's mind is making sure that the team is seen and paid fairly while having the entire collection be produced in Mexico from beginning to end and still maintaining a global perspective, which is alone, incredibly special.
When asked how his culture impacts the way he creates and builds his brand, Aaron says, "I love being Mexican, we have such a rich and strong cultural heritage, particularly with objects, symbolism, stones and jewelry. Being Latino/Mexican permeates every aspect of the creation of my brand, I believe in the power of creation, how objects can relate to your persona beyond style and have real meaning."
Willy Chavarria is a conceptual fashion label with a cinematic approach to design and presentation. The clothing is intended to be empowering and expressive in its approach to silhouette and fabrication. The emotion behind art and modern politics are infused into a reactionary story of the human will, often partnering with organizations to promote social justice and equity.
Chavarria was born in Fresno, California, and draws his inspiration from his family and upbringing. His work has shined a light on those who have felt unseen, showing the world just how beautiful their stories truly are.
"Fashion is the vehicle, but the message of human dignity and the power of good in all people is really what it's all about. We often partner with organizations that align with our belief in social justice."
Chavarria has also been able to translate that passion for storytelling in his role as the Senior Vice President of Design at Calvin Klein. His most recent collection was another example — the Spring/Summer 2022 collection defined the space marginalized people occupy in modern spaces. Showing the beauty behind the people who deserve to be seen and treated as such.
"Fashion evolves with time. There was a time when it was important to put khakis and a Charlie Brown stripe on the runway. But now I move on. The brand spans a range of collaborations with brands like Pro Club and FB County which are Chicano staples as well as made-to-order fine garments. Fashion can often feel like a desperate attempt to be those privileged people in The Hunger Games. That's so tiring. It's dated. We make it more interesting by elevating without excluding the people who have influenced style."
Krystal Panigua's knitwear is grounded in community, often visually inspired by her Puerto Rican roots. Krystal goes on to add, "My Puerto Rican upbringing has trained me to be curious, brave, and humble. I think my experience has given me the drive to constantly challenge my perspectives and adapt to my environment. I have lived in multiple cities which undoubtedly has helped me refine and evolve my work. The ethos of the brand is about the alternation of perspectives on one's reality based on experience, the adaptation of self to those realities, and the state of uncertainty we are all experiencing today and how we manage it. It's about being able to express ourselves in a way that reflects the changes in mental states. Our garments are transformable, adaptable to your mood, and allow for a change of expression that one experiences throughout the day."
The garments carry immense meaning, creating a relationship between the designer and wearer through cultural exchange and the freedom to redefine one's clothing each time it is worn. The common thread between her collections is irregularity, allowing for interpretation and creativity by the wearer and cementing a relationship between the item, wearer and designer. Her work is a form of exchange with her previous collection featuring printed knitwear with scenes of her hometown, transferring an awareness of heritage.
Panigua's brand is made even more special by the fact that the collection directly includes the consumer in its creation. Their pieces are fully fashioned, meaning there is no cutting involved in the process, making all the garments shaped while knitted, while also using natural and recycled fibers handmade in-house on a made-to-order basis.
Cueva is a fashion project led by women in Mexico City. The brand prides itself in being no waste, making each piece in-house in their atelier in La Condesa in CDMX, and dyes every piece and sources its fabrics and materials locally.
The label was founded by Tatiana Cueva, who graduated with a fashion design degree and went on to begin her journey in the industry by working production in clothing factories in the garment industry working with brands like Proenza Schouler to becoming a stylist in Mexico City. From that diverse experience, Cueva was born.
When asked what pieces are special to her, Tatiana says, "All our dyed pieces are very special and literally unique. We love to transform and manipulate fabrics, we understand that being based in Mexico we have limited access to certain resources so we get creative with locally-made fabrics we transform them into something really special. From the materials, we have access to the blooming art and design scene in Mexico and the electronic music scene, these things all shape our pieces."
Hija De Tu Madre is a lifestyle brand for girls who are proud of their culture. When asked about their origin story, Patty Delgado says, "I founded Hija De Tu Madre in 2016 with $500 USD in my parents' living room. I felt very inspired to create a space that authentically celebrates Latinx culture. I wanted to create a brand that understands how beautifully complicated it is to be Latinx, and that's what I did. My first product was our Virgencita Jacket, a denim jacket with a sequin embellishment of La Virgen De Guadalupe. To me, there's nothing more American than denim, and nothing more Mexican than La Virgen. So, when you put these two elements together, you have the perfect composite of my own identity. Hija De Tu Madre is committed to exploring these intersections and nuances through fashion."
Hija De Tu Madre's upcoming drop "Latina Enough" will explore a common feeling amongst Latinx living in the U.S. Patty adds, "In my case, I grew up feeling too Mexican for my American friends, and too American for my Mexican family. Growing up multicultural or living in a diaspora can come with a lot of shame, I was never Latina enough or my Spanish wasn't good enough. So, I'm thrilled to unpack all of that with this collection."
Patty describes her culture as her superpower. "I live, speak, think, love and create in two languages. I grew up feeling embarrassed of my parents' accents, our foods, our music, and now I reclaim it. I use my love for my identity and culture in every single part of Hija De Tu Madre. Culture is how I connect with our community. There is no Hija De Tu Madre without culture."
Cruda is a shoe brand that supports and drives artisanal processes and responsible production and curates handmade, leather and wood upcycling pieces. The brand was founded by Pamela Hernández, a Costa Rican artist and designer.
Cruda's focus is to give a second life to materials they find. The brand is committed to making its production as responsible as possible, having 100% of the materials used completely recycled. From second-hand leather garments to certified wood, or from old demolished houses and leftover furniture. All transformed to give new life to unique and unrepeatable objects, with an end product that reveals the manual work of their collaborators.
Pamela adds that her passion for sustainability is heavily inspired by her country. "Costa Rica is a country deeply concerned with maintaining a sustainability culture. Since a few decades ago, the country has been betting on natural conservation and renewable energies. The importance that is given to recycling, reusing and giving a new purpose to objects, technologies and already existing materials, as to try and not generate contamination, is something that most definitely influences what we do at Cruda."
---
Share this article