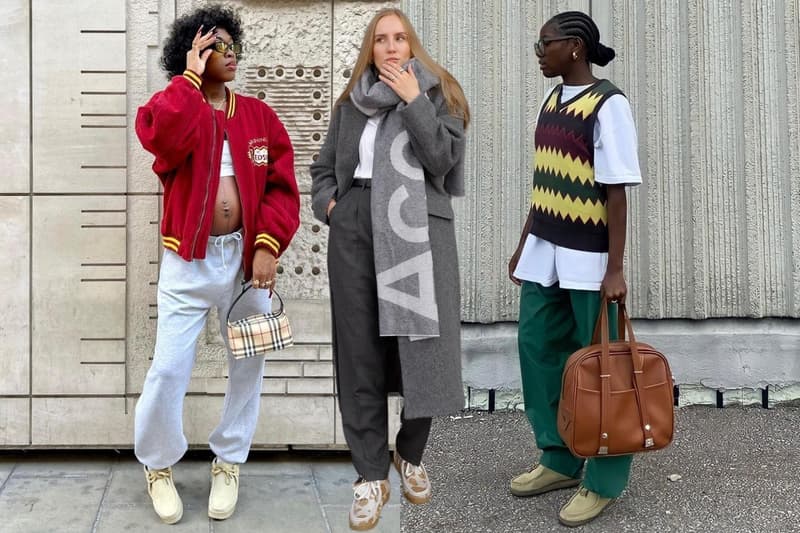 Footwear
How 6 Real People Style Clarks Wallabees
There's no wrong way to flex the classic silhouette.
How 6 Real People Style Clarks Wallabees
There's no wrong way to flex the classic silhouette.
Fall and winter season are synonymous with a handful of footwear styles, namely classic "Wheat" Timberland boots, all things UGG and Clarks Originals Wallabees.
Released in 1967, the Wallabee found its first surge in popularity in Kingston, Jamaica among "rude boys," — a slang term for teenagers in the ska and rocksteady music scenes, although the term has also been used to describe criminals and delinquents as well.
As many Jamaicans migrated to the United States in the early 1980s, they brought their Wallabees with them, and the model soon became an integral part of hip-hop fashion. The Wallabee boot has been name-dropped by the likes of GZA, Raekwon, Scarface, Slick Rick, and LL Cool J, yet remains an on-trend style that pairs well with sweatpants, maxi skirts and cargos alike.
For this week's Instagram style roundup we're highlighting how members of our Hypebae community style Clarks Originals Wallabees. Keep scrolling for outfit inspiration straight from IG and shop Clarks Originals Wallabees in a varity of colorways from the Clarks webstore.
View this post on Instagram
View this post on Instagram
View this post on Instagram
View this post on Instagram
View this post on Instagram
View this post on Instagram
---
Share this article