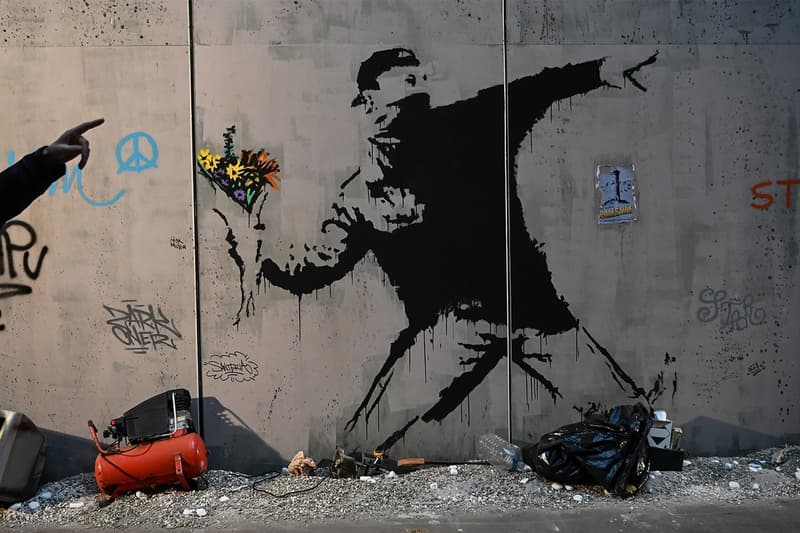 Art & Design
Banksy Instructs Shoplifters to Target GUESS
After the brand reportedly used his artwork without permission.
Banksy Instructs Shoplifters to Target GUESS
After the brand reportedly used his artwork without permission.
Anonymous British artist Banksy recently took to Instagram to shed light on the fact that GUESS has been utilizing his art work without his permission. It's been said that as Banksy has yet to reveal his official name, that he's unable to file any form of copyright regarding his work, meaning that brands and entities technically are able to use his images.
The artist shared an image of the brand's Regent Street store in London, showcasing its window display featuring a mural of one of his most popular works, Love Is In The Air (Flower Thrower.) Banksy shared the image with his 11.6 million followers, encouraging shoplifters to target the store.
"Attention all shoplifters," Banksy's post began. He continued, "Please go to GUESS on Regent Street. They've helped themselves to my artwork without asking, how can it be wrong for you to do the same to their clothes?"
The collection in reference is GUESS's recent collaboration with BRANDALISED, described as a graffiti license who aims to offer Banksy fans affordable graffiti collectibles. Prior to Banksy's post, GUESS's chief creative officer Marciano spoke about the collection, saying that "The graffiti of Banksy has had a phenomenal influence that resonates throughout popular culture. This new capsule collection with Brandalised is a way for fashion to show its gratitude."
As a result of Banksy's post, GUESS reportedly closed the store and covered up the display.
Take a look at the artist's post below. In other news, Ye is selling Balenciaga hoodies for $20 USD.
View this post on Instagram
---
Share this article