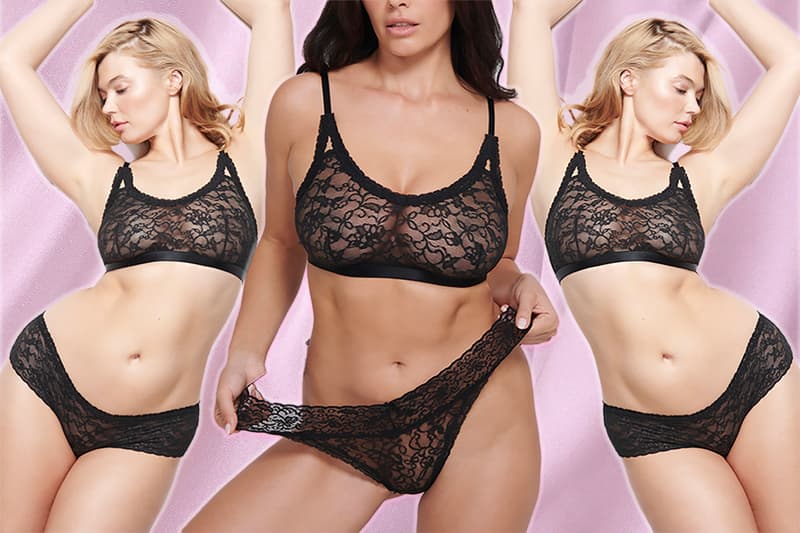 Fashion
Find Out Why Men Love Wearing This Brand's Women's Lingerie
Inside LoveSuze, the brand rewriting what lingerie can be.
Find Out Why Men Love Wearing This Brand's Women's Lingerie
Inside LoveSuze, the brand rewriting what lingerie can be.
Innovative American lingerie brand LoveSuze has gained an unexpected new demographic and it might signal a new trend on the way.
The lines between feminine and masculine lingerie have been blurred in the name of the inclusive fashion trend — which we adore. LoveSuze, which created Flex-Sizing®, has also tapped the trend of inclusivity. Its Flex-Sizing® has attracted all types of people from trans women learning how to tap into their true sexiness for the first time and now, men, too.
Flex-Sizing® is the brand's signature, a sizing method that "the lingerie line designed with the everchanging body in mind." Think of your body type during the pandemic — now think of your current body type. Some changes have probably taken place and that's completely normal. Yet, not all lingerie companies create garments that evolve with the body of the wearer. Although this is the norm within the industry — it probably shouldn't be.
In response to this realization, LoveSuze created its signature sizing method tailored to fit "every person's unique body type no matter what." And now, it's been found by the men in the chat, too.
View this post on Instagram
Curious about the brand's unique sizing? Feeling seen? Keep reading for the full story from LoveSuze's founder and CEO, Suzanne Macbale.
How would you describe Flex-Sizing®?
Flex-Sizing® is our signature sizing method that embraces the natural fluctuations of a woman's body. Our Flex-Sizing® materials stretch and recover for a perfect fit with every wear, delivering long-lasting support and comfort, all without compromising style.
Why is flex-sizing important for those who identify within the gender binary, and those who do not?
Flex-Sizing® has completely rewritten the rules of what lingerie can be. Flex-Sizing® doesn't try to box you into one size; it recognizes that your weight and your shape change on a regular basis. Our styles benefit from a deep understanding of how design and flexible materials work together to fit and flatter every body, no matter how it changes. Everyone wants to feel comfortable, and everyone wants to wear what makes them feel good, inside and out. Flex-Sizing® gives them this and more: style, support, and the perfect touch of sexy for everyday confidence.
Why do you believe men have gravitated toward the brand although you don't directly market to them?
I think it all comes down to the flexibility of our materials. I believe men like to feel sexy, but many lingerie brands either use cheap fabrics or don't use high-stretch materials that fit and flatter the male body the way men want them to. Because we exclusively design our lingerie in dual sizes, there's this guarantee that the bra, panty, or bodysuit will stretch beyond the "normal" size and deliver a great fit.
How can lingerie brands be more inclusive outside of gender and sizing—while keeping representation sexy?
I know for our brand, we try to be more inclusive in the way we speak about our products. Whether on our website, social media, or responding to customer inquiries. We try not to assume one's gender identity and speak about how our products can serve to benefit every body. I think other lingerie brands can do — and have done — this, too. While visual representation matters, I think preaching what you practice also makes an impact on customers.
---
Share this article