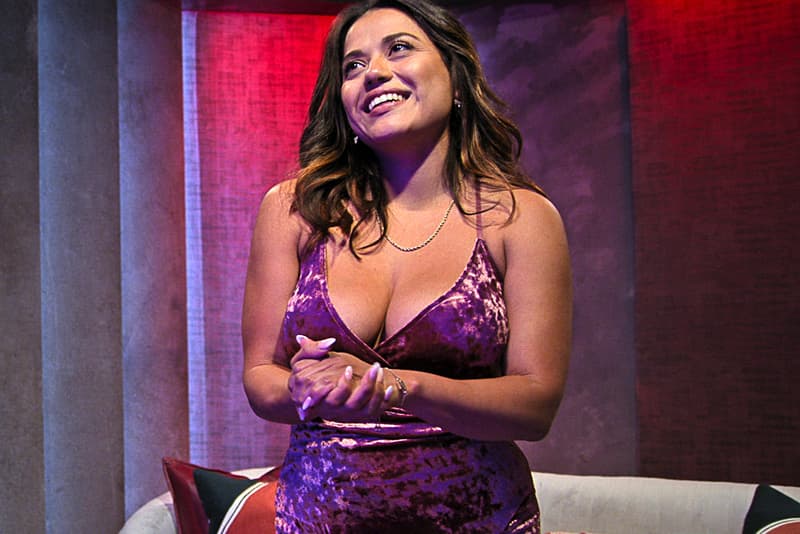 Sex & Dating
'Love Is Blind' Season 3: Nancy's Family Catches Bartise Outside, As She Pulls Power Move
And it goes *horribly.*
'Love Is Blind' Season 3: Nancy's Family Catches Bartise Outside, As She Pulls Power Move
And it goes *horribly.*
Netflix's Love Is Blind has had fans in a chokehold this season — even SZA — and the weddings absolutely delivered the drama we'd been waiting for.
This post contains spoilers.
We reported Bartise and Nancy wouldn't get married after spotting a spoiler in the season trailer, and not only were we correct — but we understated the drama to come. At the altar, Bartise said "I don't," and from there, the chaos erupted. Nancy's family sat in confusion as she walked out and her brother became visibly, and audibly, upset.
Nancy and Bartise eventually meet outside to discuss his rejection and her mother immediately interrupts — an attempt to stop any gaslighting on Bartise's behalf — we assume. Nancy begs her to leave and she finds the remainder of the family, who are sharing their disdain.
Nancy's younger brother exclaimed, "I don't want to be right," in between tears, revealing that he knew Bartise wasn't a
real man." "That's why I don't know how to feel because I don't want to be right," he sobs outside of the wedding. Nancy's mother assured her little brother that Bartise just wasn't enough for his sister. "I understand your pain," she says. "I cannot be broken, because I have to be strong for her…. because that's my baby."
After arguing as a family, clearly going through the motions for Nancy, Nancy's mother finds her and Bartise — again. Except for this time she says how she truly feels. "This young man is not ready for you, he's not ready for you. Because you're too much for him. If he says no right now, then it's cause he's not prepared to receive you."
"Would you rather me go to that altar and say yes to your daughter, after what you just said?" Bartise says loudly while being dragged. "That makes no sense." She asks the million-dollar question: "If you knew you were going to say no," then why would you have her come to this wedding?" Apparently, he didn't think he was going to say no.
"I don't owe yall anything," Bartise kept repeating as Nancy's brother addresses him amongst the crowd. Nancy's brother repeats that he just wants an explanation and Bartise slyly replies, "You're f-cking this whole thing up."
Nancy's brother knowing in his bones Bartise was NO GOOD is heartbreaking ? you a good lil bro bro #loveisblind pic.twitter.com/5OfMMegJ0m

— zanaduxx (@zanaduxx) November 9, 2022
Nancy continued to beg her family to stay out of it as the entire wedding party gathered outside to hear the commotion. As they finally find a safe space to communicate about the "I don't," Nancy says  "I did not think you were going to say no… you f-cking gaslit me."
In the end, it seems like Nancy is willing to continue dating because she's so calm. But then she utters these words that visibly crush Bartise's heart: "I'm not going to backtrack, for what?… I want to rip this [ring] off because it means nothing to me now. I don't want it, like, we are done."
Since the weddings have been shot, the pair has rekindled. If you still have faith in the couple, check out all of Bartise's red flags.
View this post on Instagram
---
Share this article