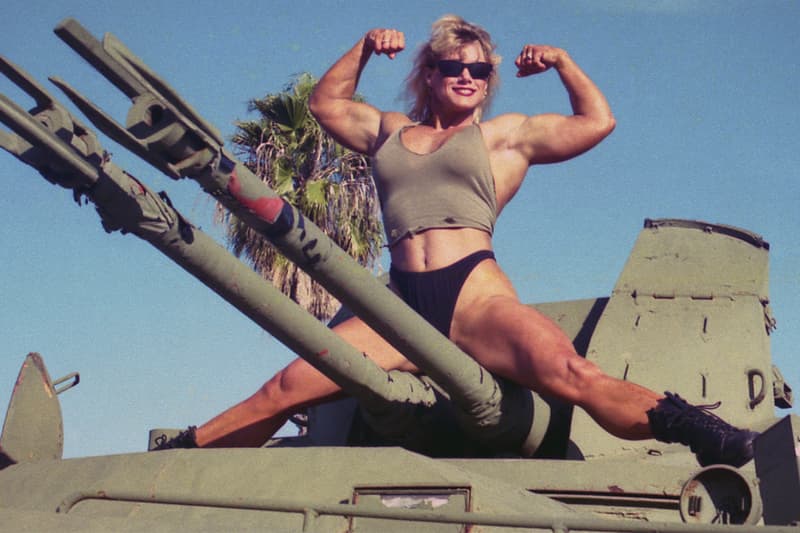 Sex & Dating
Netflix True Crime Documentary 'Killer Sally' Unveils Kinky Underbelly of Bodybuilding
Love, unconventional sex and murder.
Netflix True Crime Documentary 'Killer Sally' Unveils Kinky Underbelly of Bodybuilding
Love, unconventional sex and murder.
Netflix's true crime documentary Killer Sally, tells the story of Sally McNeil who murdered her late husband, Ray McNeil on Valentine's Day in 1995. In the three-part series, Sally discusses her journey in bodybuilding and muscle worship also derogatorily referred to as "muscle prostitution."
Sally McNeil, was admired for her bodybuilding physique and when it came to her late husband, they were respected as a power couple. On the outside, the two seemed perfect, however, Ray was extremely abusive behind closed doors. Their love story ultimately turned sour and ended with Sally serving a life sentence in prison. But another harsh reality of Sally's life was industry sexism that drove her to sex-adjacent work — which also paid for Ray's steroid addiction.
Because they were aspiring athletes, Sally had several side jobs. One of which, was muscle worship, a subculture and form of power play within the wrestling and bodybuilding industries. Because of inequality in the bodybuilding realm, many women would enter this form of work for extra pay — Sally included. Essentially, men would pay stronger-built women to wrestle them and they would "get off on it," as one interviewee in the film stated.
The series directly questions whether the career path is a "fetish," or not and as it progresses, you begin to notice many similarities. Videographer Bill Wick recounted his time in the industry with former wife and bodybuilder Kay Baxter and he even admitted that he's not naive to the fact that people use these visuals for sexual satisfaction. "Is it fetish or isn't it?" he asked. "If you like it and you can show your mother" there's no need to be ashamed. It's simply a stunt fight he admitted, right before joking that he would lose his customers for the reveal.
Sally was taught moves like body scissors and headlocks and stated "it was like Karate Kid… I was groomed for wrestling," she joked. Patrons of muscle worship were submissives, or "Schmos," who enjoyed consensual, degrading acts. For example, being walked like a dog and being choked out in between a dommes legs as they beg for mercy. The expert added: "Very seldom did they have conventional sex, it was the unconventional sex…"
Sally didn't consider this to be "sexy," work and declared that she never had sex with patrons. She received $50 USD an hour for these services and that was more than enough. Ray's friend, however, found Sally's job to be odd and said, "They were into funny stuff… Ray was okay with it because they needed to raise the money."
Eventually, Sally followed the mindset of many sex workers and admitted, "Why should I let these men exploit me when I could exploit myself and money off the videos?" She then started her own company "Top Secret Productions," with her first film Snow Job. In her scene, Private Serena, she visited a Marine Corps base to film and ran into a platoon of Marines walking by. Surprisingly, they let her run cadence, an official Marine drill, which goes to show how deep her domme-like power ran.
When discussing her career, Sally shared that she wanted to elevate her career from amateur to professional bodybuilder, but the limitations were unbearable. In terms of pay and coverage, the lifestyle just wasn't sustainable. An expert in the industry admitted it was difficult to market female bodybuilders because they weren't attractive and didn't bring in the eyes they needed — as in money.
Ultimately, the lifestyle of a female bodybuilder was not sustainable and led Sally and many other women to perform sexually arousing power play for male patrons, similar to a dominatrix in the world of sex work. Although the industry does not claim it as sex work, muscle worship and sex work have clear similarities. But are they the same? We'll leave that to the women providing services.
---
Share this article