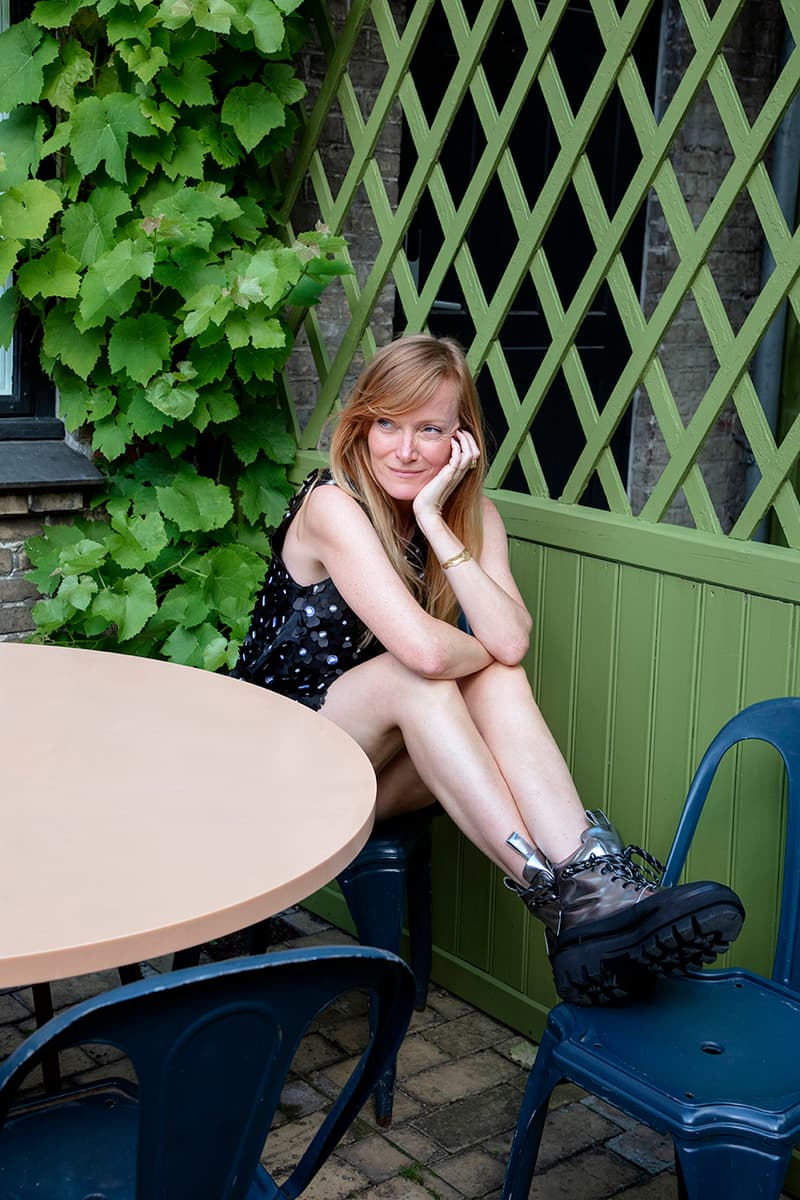 Step Inside Stine Goya's Copenhagen Cottage
We're moving in.
Known for its uber-saturated colors and playful silhouettes, Stine Goya is easily one of the most recognizable brands today. Founded in 2006, the Danish brand is the antithesis of fast fashion, tapping into our inner children and our collective desire for clothing infused with dopamine.
Considering the Scandinavian fashion label is heavily inspired by art and design, it should come as no surprise that Stine Goya herself has the most stunning home. Whereas her clothing delivers whimsy and subtle surrealism, the fashion designer's home is warm, inviting and beautifully curated.
Shared with her husband and business partner Thomas and her two children, the creative visionary's expert sense of color guides the interior design of her Copenhagen cottage. Walls are painted in soft, pastel tones to soothe senses, while artwork by their friend John Kørner intermingles with nostalgic tchotchkes.
Goya's home is undoubtedly a living and breathing work of art as it evokes a thoughtful consideration of its appearance without forgetting what truly makes a house a home.
Continue scrolling to read Hypebae's exclusive interview with Stine Goya below.
Tell us a bit about your background and how that led you to launch your own brand in 2006.
I always knew I wanted to establish a brand that would inject joy into the world through color and print. In the lead-up to doing so in 2006, I've been granted amazing opportunities across the industry, which has enabled me to gain insights from so many different areas within fashion. From studying at Central Saint Martins — delving into the history of other designers and exploring my own aesthetic, along with modeling and understanding how clothes move and feel on the body, to pulling together trends and looks as an editor — every step of this journey has informed my vision and enhanced my intuition.
What did you envision the brand to be in the beginning and how has it evolved since then?
In the beginning, the most important thing for me was to establish my design DNA by using print and color in contrast to what Scandinavian fashion was back then — a lot of very chic yet monotone styling. The end goal has always been to design artistically driven pieces and easygoing silhouettes that provide the wearer with a certain confidence. We're known for being an extremely colorful and joyful brand and we still fully stand by this. We believe in dopamine dressing and in starting the day right by injecting the power of color into your look to feel great.
What can you tell us about Stine Goya's Spring 2023 collection and the concept behind it?
This season, we were heavily inspired by the early '90s women of the Riot Grrrl movement. When listening to their music, you immediately feel emboldened and alive. This feeling of empowerment was intrinsic to the way they expressed themselves, the way they dressed and the way they behaved. This whole vibe of "je m'en foutisme" is so powerful and is communicated in the eclecticism of how they dressed, combining different prints and styles such as mesh slip dresses with oversized bombers – which you can see reflected in our Spring/Summer 2023 collection "Whisper Loud." Another great source of inspiration in the creation of our prints and color palette was Chinese artist Cai Guo-Qiang. He is known for impressive aerial artworks by generating an explosion of colored pigments in the sky, resulting in a dynamic firework of colors.
How does living in Denmark, specifically Copenhagen, inspire you as a designer?
The colors of Copenhagen are an endless source of inspiration. From the colored houses to the breathtaking skies on long Summer evenings to all of the different museums with the most inspiring exhibitions, I will never get bored of it. Thomas, my husband, and I also try to escape to the seaside on the weekends, which just brings another breath of fresh air, a new color palette and the most beautiful sunsets and scenery.
Has the pandemic changed the way you think about fashion or how you approach design at all?
The pandemic gave us the time to reassess and take stock of everything we've created up until that point. It made us even more aware of how important community is and it shifted our focus to building and growing our Stine Goya community in meaningful ways even more. To be able to look at our brand from a certain distance, helped us realize more than ever that we have to be more than just clothes. We have to form and support a value system dedicated to creating a more ethical and diverse world, especially during times of global crisis. It is this sense of community that will always provide support.
What prompted this change in Stine Goya's new visual brand identity?
We're currently in a time of global expansion for Stine Goya and whilst the essential codes we have been building throughout our collections over the years remain true, we felt that now was the perfect time to progress our overall visual identity. We've made changes to our graphics, logo, sales material, shops-fit and packaging to reflect where we are now and where we are going. The last few seasons have also marked a slightly adjusted approach to the collections, adding a little more edge and international direction to them.
What's next for your brand? Are there any upcoming projects you are excited about?
We've just officially opened our first store outside of Denmark, in the heart of Soho in London, which was extremely exciting for us since it has been a long-time dream come true. We are also very much looking forward to our Christmas and New Year's Eve party wear pop-up in the city's iconic Liberty, starting in November. In tandem, Pre-Spring 2023 sees the launch of our very first beachwear collection which hits stores at the beginning of November. And of course, we're already in full preparation for our next show at Copenhagen Fashion Week, which takes place at the beginning of February, while planning our next moves for 2023/2024. Watch this space!
What does "home" mean to you? How does your environment impact your emotional and mental health?
A home for me is the place where I can go after a long day to relax, a place where I can spend time with my family and feel the most comfortable. The environment I find myself in influences me tremendously when it comes to emotional and mental health. I am happiest when I surround myself with color and light. I approach designing an environment or interior in the same way as I approach designing fashion; it is all about trying to find combinations that make you feel good, give you confidence and make you happy.
How do you like to curate your space to provide the most creative inspiration and peace?
It is all about finding the right balance between having a space that provides input and inspiration but that is not too full so it doesn't get too overwhelming. I personally feel most creative in bright-colored spaces that have interesting art on the walls but leave room for the mind to wander.
What are the general inspirations behind your home interiors? What gives your space its unique character?
Inspiration for our home comes from a lot of different things which makes the end result a pretty unique mix of flavors! Our home is a curated mix of memorabilia we've collected over the years on our travels, artworks by dear friends and artists we know, directional design pieces and vintage treasures. We wanted to instill a feeling of intimacy and creativity in our home with a space that feels warm and familiar but immediately draws you in and invites you to discover more.
Can you give us three tips for adding bold colors to a room?
Start out with pastels if it is the first time you're using color in a room. Pastels are a great way to add bold colors without them dominating space. They are easily combined with other tones and work nicely as a solid background to brighter accents. Just try things out and don't be afraid of making mistakes. It is often by just going for it and placing certain colors next to each other that you find the most unexpected and beautiful combinations. Color can be used in so many different ways, it can be by painting a wall, adding a colorful curtain or just one furniture piece, a bright work of art or even smaller accessories. To figure out what makes you feel best in a room, it's important to explore and have fun with it.
Can you break down your top three to five favorite items in your home? What makes each of these objects special for you?
I love our garden table and chairs by the Belgian design duo Muller Van Severen — one of my all-time favorite designers. Their use of color combinations is always so unexpected and distinguishable. We have quite a few pieces from them dotted around the house and I never get bored of them. The big painting in our upstairs living room, by John Kørner also brings me so much satisfaction. We are forever inspired by his work and this painting just sets the mood for the whole room. His artworks are always full of expression and every time you look at them, you can discover new little details that keep on surprising me. And I couldn't talk about my favorite items without mentioning our brass lamp in the lounge area by Fos by Etage Projects. Fos is a good friend with unending talent. We fell in love with these lamps, they're so unique and add such warmth to a space. Finally, the blue rocking horse in our living room. It was a wedding gift from my parents and I will cherish it forever. For me, it's really those sentimental pieces that cannot be replaced that make a room so special.
What are some homegrown, Danish homeware designers or boutiques that you personally love to shop from?
One of the most inspiring stores in Copenhagen is HAY House. It is a two-story apartment, fully and beautifully decorated with HAY design furniture pieces and accessories and there are always loads of treasures to be found. I also love spending time with one of my best friends, Helle Mardahl's beautiful glassware boutique — it's like a candy store where every piece is absolutely stunning and fun to look at. Etage Projects is a firm favorite of mine. It is a gallery place that floats in between being an art gallery and a design store and they change up their exhibition space every few weeks so you always feel inspired when paying them a visit.
Finally, tell us what's currently on your wish list. What items have you been wanting to add to your home?
Thomas and I love staying at Soho House when traveling and that's how we discovered their interior line "Soho Home." Currently, we have these linen, sage bedsheets on our wishlist.
Another piece I've discovered at Etage Projects is the Hue mirrors by Sabine Marcelis. They would brighten up any room and I currently have my eye on the orange hue one.
I am currently obsessed with Susanne Kaufmann's skincare. All products are fully natural and organic. Her balancing room diffuser has the most amazing, natural scent.
This sofa by Pierluigi Cerri is currently top of my wishlist. I discovered it at 180 The Strand where our new London showroom is situated and haven't stopped dreaming of it since.
Lastly, I've been thinking about this color cabinet by Hay x Muller Van Severen. It is such a fun and playful piece and I absolutely love the color combination.
---
Share this article