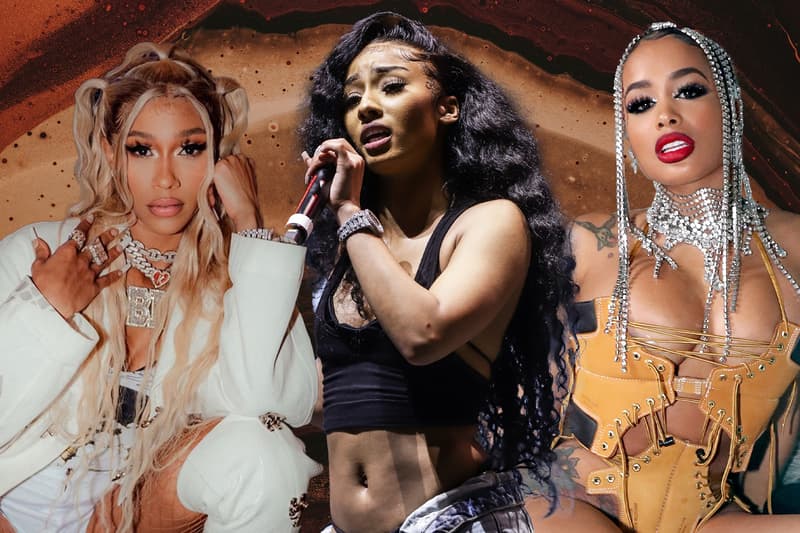 Music
The Top 8 Hip-Hop Artists To Watch in 2022
From BIA to DreamDoll, meet the rising female rappers of today's generation.
The Top 8 Hip-Hop Artists To Watch in 2022
From BIA to DreamDoll, meet the rising female rappers of today's generation.
The hip-hop world has seen the rise of female rappers over the years. Pioneers like MC Lyte, Lauryn Hill and Missy Elliott have paved the way for today's generation of artists such as Nicki Minaj, Cardi B and Megan Thee Stallion. Every year, we see emerging names making waves in the scene and we've gathered the top eight talents for you to watch this year. From the Bronx native DreamDoll to hip-hop and soul duo OSHUN, read on to discover our full lineup.
While you're at it, check out the 10 most influential hip-hop albums by women.
BIA
BIA, also known as Bianca Miquela Landrau, was first discovered on Oxygen's reality television show Sisterhood of Hip Hop. The rapper then signed to Pharrell Williams' I Am Other record label in 2014. After dropping her first EP Nice Girls Finish Last: Cuidado in 2018 and having worked with J Balvin on "Safari" and Russ on "Best on Earth," BIA moved over to Epic Records in 2020. She recently saw success with "WHOLE LOTTA MONEY" going RIAA-certified platinum, along with supporting Don Toliver on tour. Prior to her current gig, she toured alongside Ariana Grande, J Balvin, Pusha T and more. The artist also opened for Rihanna's Savage X Fenty Show Vol. 3 with a performance of her singles "COVER GIRL" and "WHOLE LOTTA MONEY?"
Listen: Spotify | Apple Music
DreamDoll
The Bronx native DreamDoll started her rap journey in college. To make ends meet, the artist worked different kinds of jobs, including being a bartender at Starlet's of New York, where her manager discovered her. Since signing to Warner Records just last year, the talent released a few singles such as "You Know My Body" and "Oh Shhh."
Listen: Spotify | Apple Music
Lady London
Zaire Stewart, professionally known as Lady London, is an American rapper and lyricist. Having started writing poetry at 11 years old, the artist has always had a talent for creative writing. When she discovered her passion for music, she self-taught herself music theory and debuted her first rap song during her time at graduate school. Lady London's name started gaining recognition in 2021 after she released "Never" produced by The Nigel Uno.
Listen: Spotify | Apple Music
Lakeyah
Born and raised in Milwaukee, Wisconsin, Lakeyah started rapping at the age of 15. With the aim to pursue her dreams, the artist moved to Atlanta at 18 years old and was signed to Quality Control Music. By 2020, the young star released her first single, "Big FlexHER," featuring 42 Dugg, followed by her debut album Time's Up. Last year, XXL included her in its 2021 Freshman Class, becoming the first talent from Milwaukee to be a part of the list.
Listen: Spotify | Apple Music
Little Simz
British rapper, singer and actor Little Simz released her first three albums — A Curious Tale of Trials + Persons (2015), Stillness in Wonderland (2016) and Grey Area (2019) — independently through her own record label, Age 101. Grey Area put the talent on the shortlist for the Mercury Prize, and won the award for Best Album at the Ivor Novello Awards and the NME Awards. In 2018, Simz and Age 101 signed a worldwide deal with AWAL Recordings and worked on her fourth record, Sometimes I Might Be Introvert. The album debuted last year, which earned her the title of Best New Artist at the 2022 Brit Awards.
Listen: Spotify | Apple Music
OSHUN
Hip-hop and soul duo OSHUN is comprised of Thandiwe and Niambi Sala, two DC-born artists who formed their group during their time at NYU. Raised in a musical home, Sala decided to hone her craft further at the Clive Davis Institute of Recorded Music. Meanwhile, Thandiwe majored in Journalism and Africana Studies but experimented with music production. At the end of their first semester, the duo started to take their music seriously. Describing their work as "the sonic manifestation of Afrofuturism," OSHUN released their debut mixtape ASASE YAA in 2015. After a short hiatus to focus on their studies, OSHUN returned with "Not My President" and "Graduate," among other notable singles.
Listen: Spotify | Apple Music
Sampa The Great
Zambian-born Australia-based rapper and songwriter Sampa The Great debuted her first solo album, The Return, in September 2019. The record landed at No. 12 on the ARIA Albums Chart, while the artist won Best Hip Hop Release at the 2019 ARIA Music Awards for her single, "Final Form." At the 2020 ARIA Music Awards, the rapper won Best Hip Hop Release, Best Female Artist and Best Independent Release for The Return. Following the release of her newest single "Wildones," the artist is due for her North America tour in March and April of this year.
Listen: Spotify | Apple Music
Rubi Rose
Rubi Rose gained attention after starring in Migos' "Bad and Boujee" music video in 2016. Three years later, Rose decided to work on her own music by releasing her first song, "Big Mouth," via Hitco Entertainment. She then made an appearance in Cardi B and Megan Thee Stallion's "WAP" visual in 2020. That same year, she dropped her first official mixtape, For the Streets, featuring collaborations with Future and PartyNextDoor. In 2021, Rose was also included in XXL's 2021 Freshman List.
Listen: Spotify | Apple Music
Share this article