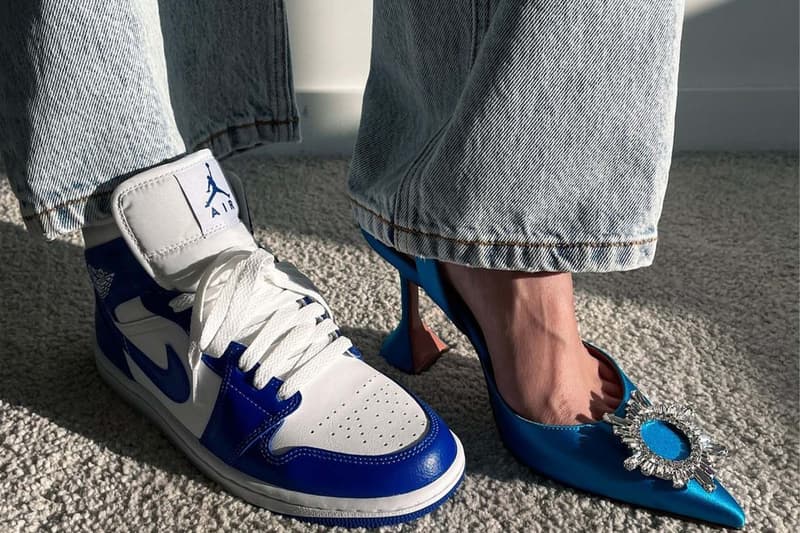 Footwear
#TwoMoods: Here Are 7 Sneaker and Heel Combinations We Love
Get you a girl that can do both.
#TwoMoods: Here Are 7 Sneaker and Heel Combinations We Love
Get you a girl that can do both.
Images of coordinating sneakers and heels have recently been taking over our Instagram feeds. The unexpected pairings are more than aesthetically pleasing, as they also speak to the current fashion landscape that embraces eclectic design and style. The modern shopper wants options when it comes to footwear, along with the freedom to pair a satin mule with baggy denim or a Swarovski-covered sneaker with a nighttime fit.
Read on for seven #TwoMoods combos we are adding to cart this season.
Crystals and Kentucky's
Where to Buy: Luxury resale sites like Vestiaire Collective
Price: Starting at $1,300 USD
Where to Buy: Resale sites like StockX and GOAT
Price: Starting at $145 USD
Stilettos and Swarovskis
Mach & Mach Double Bow Embellished Satin Pump
Where to Buy: Luxury retailers like Moda Operandi
Price: $1,050 USD
Where to Buy: Resale sites like StockX and GOAT
Price: Starting at $350 USD
Dunks and Dalmatian Print
Amina Muaddi Gilda Dalmatian Print Sandal
Where to Buy: Luxury retailers like Coltorti
Price: $887 USD
Where to Buy: Resale sites like StockX and GOAT
Price: Starting at $1,253 USD
Sandals and Swooshes
Loewe Rose Two-Band Slide Sandals
Where to Buy: Loewe
Price: $1,600 USD
Where to Buy: Resale sites like StockX and GOAT
Price: Starting at $231
Cactus Plants and Pumps
Where to Buy: Bottega Veneta
Price: $2,300 USD
Where to Buy: Resale sites like StockX and GOAT
Price: Starting at $10,490 USD
Jewels and Jordans
Aquazzura Tequila Sandal 105 "Jasmine Green"
Where to Buy: Aquazzura
Price: $1,350 USD
Where to Buy: Resale sites like StockX and GOAT
Price: Starting at $163 USD
Fuchsia and Foam
Off-White™ Allen Leather Crisscross Sandal
Where to Buy: Luxury retailers like Neiman Marcus
Price: $1,140 USD
Where to Buy: Resale sites like StockX and GOAT
Price: Starting at $348 USD
Share this article