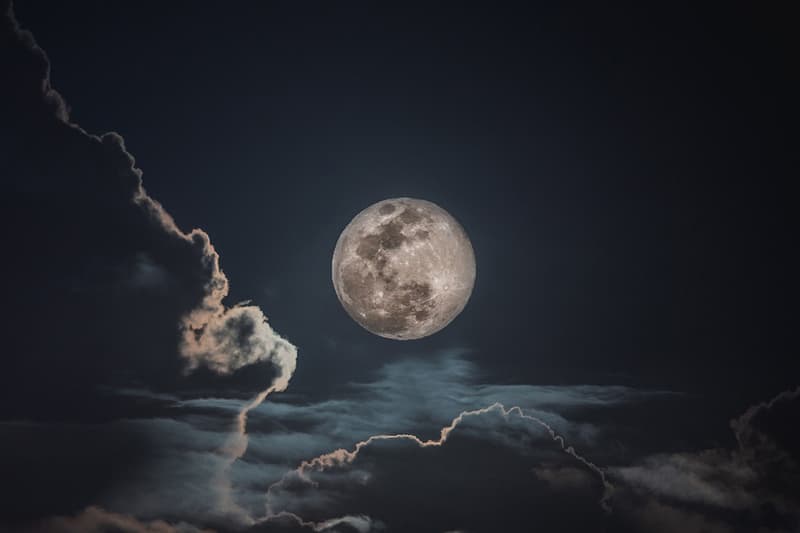 Culture
February's Full Moon in Leo Is All About Me Season
Find out what's in store for your zodiac sign.
February's Full Moon in Leo Is All About Me Season
Find out what's in store for your zodiac sign.
Known as the lion of the zodiac, Leos exude pure confidence, instantly commanding any room they walk into. The full moon on February 16 happens to fall into the prideful sign, setting the stage for a season of putting yourself first. The cosmos are telling us it's time to take our power back and surround ourselves with like-minded people, building a community you can grow with.
We're still in Aquarius season, as the sun is in the watery sign. Although Leo is typically brash, bold and loud, Aquarius is the more steady zodiac and focused on empowering a collective rather than simply themselves. Since Leo is ruled by the sun, the watery and fiery signs come together to create a complex transit of energy, urging us to realize we don't need to shout to prove ourselves and reminding us that we go further together.
To take advantage of the luminary event, Cristina Panescu, a tarot card reader and psychic recommends using crystals like selenite, moonstone, amethyst or clear quartz to ground and support your full moon ritual. "By choosing the right full moon rituals, you can better manage your emotions during this charged time," she tells us. "The February full moon comes with huge challenges for most zodiac signs. This astrological phenomenon will bring out our hidden qualities and make us more ambitious. The full moon offers the possibility of many signs to clarify their problems in love — especially if we refer to water natives."
Keep reading for a comprehensive full moon ritual and to learn what the full moon will bring for your sign.
February Full Moon Rituals
Meditation – Before starting your full moon ritual, it is recommended that you relax and enter a meditative state. Breathe deeply. Play quiet music. And most of all, focus on what the moon has to offer. At the end of the ritual, you let everything go. Make peace with what is and what is not and eliminate any drama.
Forgiveness – The work of forgiveness is the essence of any full moon ritual. Start the ritual by writing a list of resentments, grievances, and emotional wounds that come to mind as you meditate.
Fire – The next step in a full moon ritual is to destroy the list of forgiveness — ideally by burning it. The fire may seem dramatic, but it is an essential component of the ritual. A safer option is to burn the piece of paper in the sink or very carefully in the backyard, in a specially arranged place.
Gratitude – At this point in the full moon ritual, you have (temporarily) emptied yourself of resentment. The next step is to fill the gap with gratitude.
Full Moon Circle – For more collective experience, complete your monthly rituals with others in a gathering known as the lunar circle.
Moon Water – The full moon lasts about three days. However, astrologers say that it is possible to take some of its cleansing energy with you by making "moon water" infused with the light of the full moon.
Baths – According to astrologers, the Full Moon is an ideal time to take a relaxing bath, so enjoy an evening of purification and relaxation.
Effects of the February full moon on each zodiac sign
Aries – It will be a good time for your career, to discover a new job, to receive good offers or even a collaboration from which more money will come in the future.
Taurus – For Taurus natives, the full moon is a time of fullness and love. There will be a few romantic days, shrouded in moonlight, there will be moments full of love and fulfillment. Troubled couples can find quick fixes, and single natives can find the right partner.
Gemini – The domestic sphere will come into focus for the twins of the zodiac, helping Geminis develop family and home projects. Some of them will move in with their loved ones, others will buy new homes or move into better homes.
Cancer – Cancer natives will benefit from the full moon in many ways, but perhaps the most important is the one related to communication with others, especially communication in professional relationships. New collaborative projects will now take shape.
Leo – For a Leo, the full moon represents a time of abundance. Money will come, they will receive rewards, they will receive bonuses or gifts from those they helped. Leo natives can make savings or make investments in the coming days.
Virgo – The full moon will be one of the greatest astrological moments for Virgo. It will be a period in which a major project will be concluded from which the natives of this sign will benefit. It can be related to their career, family, love or even their children.
Libra – This time will mark the end of a very busy and tiring period. For Libra, the balanced influence of the full moon comes to bring a moment of relaxation, recovery, and emotional balance. Balances need to rest and think about the future.
Scorpio – The full moon emphasizes the need for socialization, and Scorpio natives will feel the need to break away from their monotonous activities and work and do something special. Many of them will travel, reconnecting with old friends.
Sagittarius – Sagittarius natives will experience a moment of victory and fullness. Many of them will be happy to find a better job. Some of them will be rewarded, others will be advanced and will receive other benefits at work.
Capricorn – In full agreement with the influence of the full moon, the sign of Capricorn will be favored in the days to come. Capricorns will have an unexpected victory — they will travel, they will find brilliant solutions to their projects, and they will be more open to innovative ideas.
Aquarius – The full moon will focus on your intimate desires; on the things you want from your partner, and you did not receive them. Now is the time to ask for more and to offer more love, to organize some romantic evenings and to rekindle the passion for you.
Pisces – For Pisces natives, the cosmic event will bring joy, love, intimacy, trust and romance. It is not excluded that some of the natives of this sign will receive an engagement ring or find a partner while traveling.
---
Cristina Panescu is a tarot card reader, spiritual healer, psychic, and empath from Psychics1on1.com, a digital platform that connects people with New Age Healers.
---
Share this article