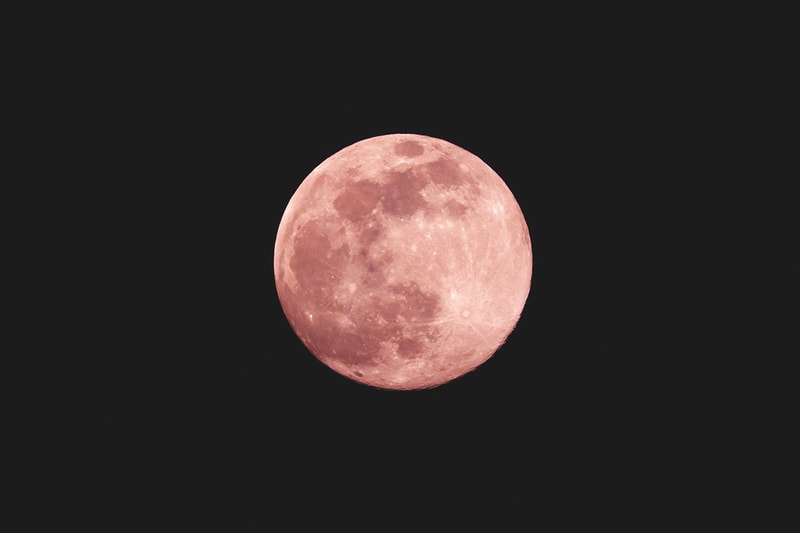 Culture
April's Pink Libra Full Moon Will Heal You From The Inside Out
Joining Chiron — the wounded healer asteroid.
April's Pink Libra Full Moon Will Heal You From The Inside Out
Joining Chiron — the wounded healer asteroid.
Spring is looking rosier and rosier by the minute as this month's pink Libra full moon arrives on April 6 at 12:34 a.m. ET.
The lunation owes its name to the Farmer's Almanac, which dubs the first full moon of spring as the pink moon. While it would be cool to witness a moon Elle Woods would approve of, the Libra full moon still infuses the cosmos with its romantic and collaborative energy. The people-oriented sign is ruled by Venus, the planet of love, so it shouldn't come as surprise if you've been finding yourself in a charitable mood. Coupled with the more-than-welcome end of winter, the full moon has many of us feeling like social butterflies.
Embrace that energy as this particular moon phase asks how you can find healing through community as the celestial planet will also be in opposition to Chiron, the "wounded healer" asteroid, which just so happens to be situated in Aries. While Libras tend to find strength in numbers, Aries are notoriously independent and self-motivated. This special cosmic contrast invites you to imagine how you can rely on others without surrendering your autonomy. In our individualistic society, it's not uncommon to believe that we have to shoulder our burdens all on our own, but the Libra full moon reminds you that you can go further together and that there is no shame in asking for help. The air sign is represented by scales, so apply that sense of balance and give yourself the grace to reach out to your inner circle. Think of Chiron as a catalyst to letting go of unresolved tensions. Coinciding with a full moon, which represent the closing of chapters, finding solace in kinship is the key to walking into the new season emotionally balanced.
Setting intentions and grounding yourself during this full moon will be particularly important as it comes just before the Day of Miracles, April 11, when the sun and Jupiter link up in Aries — an astrological event that only takes place every 12 years. This is your sign to take yourself seriously and manifest what you want your life to look to and how you want you to feel over the next few weeks.
Continue scrolling to see how the pink Libra full moon affects your zodiac sign.
Falling in your seventh house of partnership, April's full moon might spark a serious conversation between you and your significant other or add extra fuel to your creative fire, inspiring you to find a partner for your passion projects. Your confident energy easily attracts others, so your crew is big, but considering the moon's opposition to the healer astroid and be wise about who you're confiding in. Mirror Libra's spirit and collaborate with those you can trust most.
The pink moon is in your sixth house of health and well-being so make it a priority to address your work-life balance on April 6. Your grounded nature makes it hard for you to let go of old habits, but examining what actions are serving or harming you will allow you to move more freely this spring. Carve out some time to create a realistic daily routine that fills your cup and gives you the energy to be productive. Find the balance between what feels good and what's good for you.
La luna shines a light in your fifth house of creativity and romance, laying the groundwork for a spring fling or the start of a new creative venture. Channel this lunar power up and allow yourself to become immersed in what your heart is calling you to do. While your buzzing mind is one of your greatest strengths, avoid falling victim to thinking rather than doing. If you're over-analyzing the conversations between you and your crush or having imposter syndrome about your side hustle, give yourself a pep talk and take the leap.
Resting in your fourth house of domesticity, the pink Libra full moon encourages you to take stock of both your physical environment as well as your mental home. Decluttering is always a sound full moon ritual as it sets the tone for an abundant and peaceful season, but taking the extra step to clear out the cobwebs of your mind will set you up for success. Keeping in mind Chiron's presence, don't be afraid to do some shadow work and reflect on familial patterns that may be holding you back. The spring is the perfect time to tend to your inner child and start new traditions, as well as hobbies.
It's time to roar as the moon is taking up space in your third house of communication. You're lucky to have the tribe that you do, but don't be afraid to reach out and make new connections. You just might find a new partner in crime. While you're known for your unapologetic confidence, have you been playing small? It's time to break out of your winter cocoon and put yourself out there –the world needs your gifts.
Money is on your mind with the Libra full moon resting in your second house of income. Who can blame you with the ongoing recession? If you've been scouring job postings, looking for your next big break, something fruitful may be in store for you, but being the ever practical sign that you are, getting your ducks in order will give you an extra cushion for any career pivots. We all have self-limiting beliefs around money and finances, but knowing your worth is the first step to getting what you deserve.
The moon is in your first house of self, so use Thursday night as an excuse from the stars to get carried away in an indulgent self-care routine. You're often playing mediator in your personal relationships, bringing others together and diffusing tension when necessary. However, that doesn't leave a lot of energy for yourself. Take advantage of the pink full moon and show yourself some tender loving care.
Your mental health is your first priority as the full moon is in your twelfth house of subconscious, inviting you to get introspective and close the book on any unresolved issues. The twelfth house is connected to closure and considering Chiron, the wounded healer astroid is in opposition to the moon, now is the time to put whatever is tugging at your heart strings to rest. Whether it's writing your past self a letter and sealing it in an envelope or deleting old pictures, it's time to give yourself the fresh start you deserve.
With the full moon in your eleventh house of networking, you may find yourself with the urge to step out of your comfort zone and meet new people. Libra's "teamwork makes the dream work" energy is at play, so embrace that friendly spirit and invite a creative companion for a night of mood boarding and see where the synergy takes you. The eleventh house is also associated with lofty ideals and the betterment of humanity, so dream big, though remember Chiron's influence and don't wait for the external validation to pursue your passion.
The pink Libra full moon is in your tenth house of career and while you are a goal-oriented and ambitious sign, you may find yourself asking if you're truly valued and happy with your current gig. As the goat of the zodiac, you are a natural-born leader, so it could be that stepping up and making change happen is the key. Don't let your inner critic hold you back — you are more than qualified to take charge. Carve out some time on April 6 to brainstorm how you might start taking the initiative at work more. It's time to put yourself in the driver's seat of your career.
Your life ethos is becoming clearer and clearer as April's full moon falls in your ninth house of travel and philosophy. You may be experiencing a bit of an identity crisis, but it's only because you're outgrowing the old you and becoming the person you're meant to be. Ask yourself how you can further expand your self-awareness as you're on the brink of an epiphany and find the courage to share your story with your community. You never know who you might inspire.
Things are about to get serious for you with the pink Libra full moon in your eighth house of intimacy and legacy. Whether it's taking things to the next level in a relationship, making a business deal or moving into a new place, the moon's placement in your eighth house indicates a permanent or long-lasting change is on the horizon. Make sure you're operating from a position of clarity as you never want to make a hasty or unwise decision. With Chiron creating an atmosphere of vulnerability, now is the time to ask those important questions before putting pen to paper.
---
Share this article