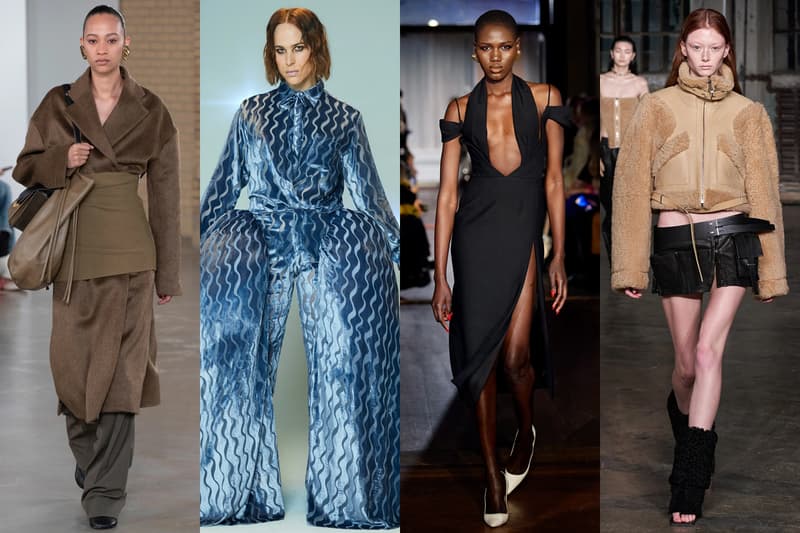 Fashion
The Top 10 Shows and Runway Trends at New York Fashion Week FW22
Our favorite collections from Proenza Schouler to LaQuan Smith.
The Top 10 Shows and Runway Trends at New York Fashion Week FW22
Our favorite collections from Proenza Schouler to LaQuan Smith.
Once again, New York has emerged from its chrysalis to present an array of exciting Fall/Winter 2022 collections for Fashion Week. Buoyant silhouettes, skin-baring dresses and acidic hues signaled a collective hunger for something fresh and new, as emerging and established designers alike put forth their latest creations. While many designers returned to the physical runway, leaning into the nostalgic memories of the city's pulsing nightlife, others dove their way into the metaverse with digital garments as well as NFTs. Kim Shui, for example, created one-of-a-kind jade keys that served as a lucky bidder's ticket to her show
Always listening to the pop culture zeitgeist, NYFW's most savvy designers made use of the internet's it girls, as media muse Julia Fox, actor Tommy Dorfman and Bagatiba jewelry founder Jessie Andrews all made runway appearances. Here, we round up the best shows of NYFW FW22.
Paying his respects to the late André Leon Talley, New York-based designer LaQuan Smith embodied fashion's love for the flamboyant and audacious, opening his show with Lower East Side socialite Julia Fox. Smith's collection is certainly designed for the women of the moment, as his barely butt-grazing miniskirts and skin-tight dresses with plunging necklines exude utter confidence and sexiness.
Subverting her usually hyper-sexual designs with the arrival of coy fur-trimmed outerwear and tantalizing mesh dresses, Kim Shui presented a purely vibrant collection of bright yellows and soft lavender in the form of tweed bustier dresses and demure coats. Elsewhere, rich shades of brown made their appearance in monochromatic vegan leather ensembles and figure-flattering frocks with exposed seams for extra edge.
Leading with frothy color-blocked skirts and peplum waists, Proenza Schouler's FW22 collection played on neutral tones' basicness with expert tailoring and voluminous silhouettes. Grounded in earthy khaki, rich brown and crisp white with electric pops of red and purple, Schouler's latest melange of clothing merges a minimalist color palette with a truly inspired maximalist taste.
Featuring actor Tommy Dorfman, who plays an affable, yet out-of-place intern in a short film for the collection, Collina Strada's newest line is a Y2K-inspired fever dream of uber-saturated neon hues and dizzying prints. Embracing the need for play, the accessories are not to be missed as leaping frogs sit atop metallic handbags, while ultra-cool printed fingerless gloves complement a delightfully textured tassel top that's just begging for a night out dancing.
A wondrous and decidedly fresh display of Olivia Cheng's always intricate designs, Dauphinette's FW22 collection marked the label's first introduction into swimwear with the arrival of poppy-red bikinis with playful illustrations of tigers in a jungle scene alongside a light blue option. Spiked hair and metallic green lips added a taste of grit to Dauphinette's ephemeral gilded tops and innocent puff-sleeved frocks bedecked with iridescent beetle wings.
Khaite never ceases to deliver elevated minimalist basics, and its FW22 presentation is no different. Featuring ruffle dresses bathed in lace, romantic sweetheart necklines, cool-girl leather pants and classic matching pantsuits, Khaite's latest assortment of garments transforms essentials into sculptural and considered pieces.
Sticking to a curated color palette of black, white, camel and gray, Peter Do's most recent collection was comprised of refined monochromatic three-piece suits, outfitted with coats worn leisurely across the shoulders for a nonchalant aesthetic. Cozy shearling jackets alongside sweeping fur vests and ultra-plush outerwear had viewers wishing for colder weather.
No Sesso took a trip back to the '90s with its unapologetically sentinel and proudly Black range of clothing. Sturdy denim made several appearances in the form of two-piece suits, or molded into baggy pants to juxtapose fitted chocolate brown bustiers accented with gold chains. An off-the-shoulder silhouette appeared in multiple iterations, solidifying designers Pia Davis and Autumn Randolph's penchant for excitement.
Presenting an innovative range of outerwear in the form of trench coats with adjoining gloves, as well as zippered shearling bustiers complemented by matching gloves, Dion Lee returned to its utilitarian-inspired roots with its signature architectural silhouettes with an added touch of subtle sex appeal.
AREA's Spring 2022 Couture line was a truly otherworldly presentation. The brand accented Daisy Duke denim-shorts with a blue fur trim, while matching denim jackets became cropped tuxedo coats complete with shimmering tassels. A sculptural gold gown was the collection's standout, while green and yellow tweed jackets bore exaggerated hips. Elsewhere, the brightly colored fabric also arrived in the adorable form of a heart-shaped top with a sparkling trim.
Share this article