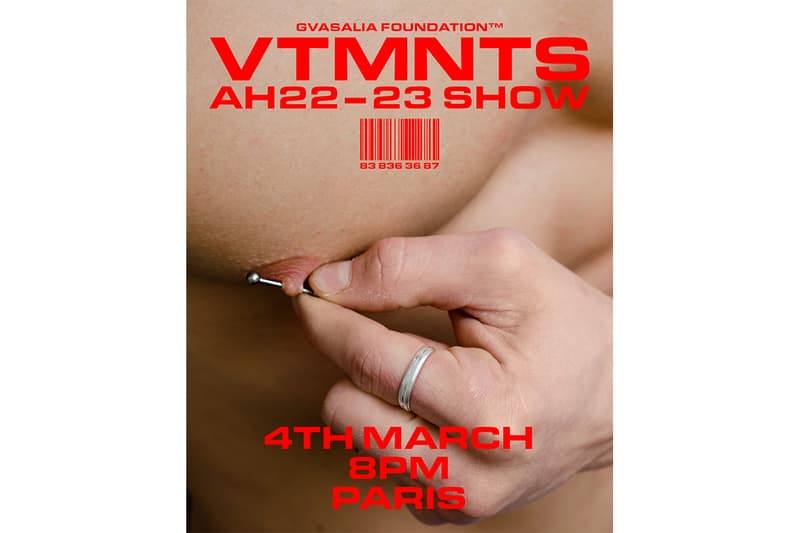 Fashion
VTMNTS' Runway Debut Will Be at Paris Fashion Week
The new brand from the minds behind Vetements.
VTMNTS' Runway Debut Will Be at Paris Fashion Week
The new brand from the minds behind Vetements.
Vetements' new brand VTMNTS is ready for its runway debut, with a Paris Fashion Week show scheduled for March 4.
Rumors about the new trademark "VTMNTS" first circulated back in April of 2021, and inspired a lot of questions about why Vetements was rebranding. The name change was suspected to be an attempt at resolving all trademark issues the fashion label had due to its name being too literal.
According to a press release, VTMNTS will take a minimalistic approach in every facet, from its designs to replacing its logo with a barcode, the brand's signature element. The brand says its clothing is "designed for all genders and values modern material science and traditional craftsmanship."
Since its launch last summer, VTMNTS has had tremendous success and was picked up by over 100 retailers globally such as Saks Fifth Avenue and SSENSE.
The press release for the upcoming show has left a lot of questions unanswered, but it did share that the launch is all about minimalism and appealing to true Vetements fans. The fashion week invitation posted on the brand's Instagram, an image featuring a nipple piercing, was deleted due to censorship. As for the designs, fans will have to wait and see.
View this post on Instagram
Share this article