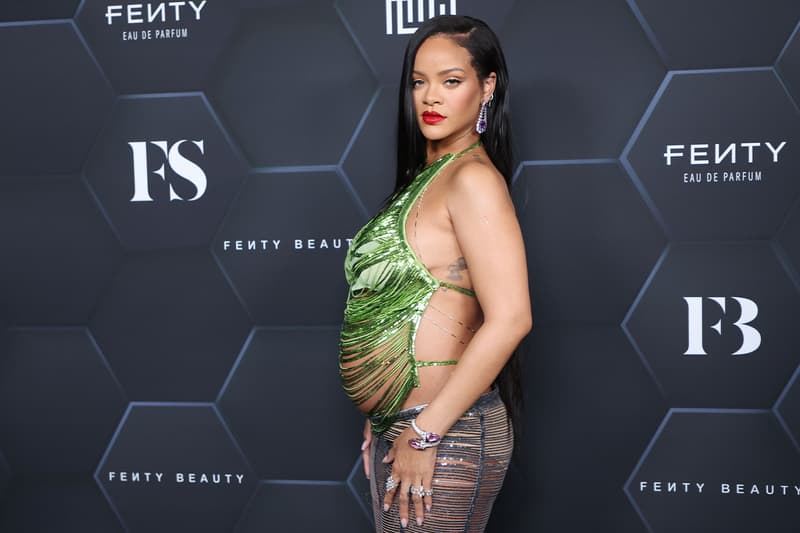 Culture
Rihanna Speaks About Her Maternity Fashion and the Joys of Being Pregnant
"If I feel a little chubby, it's like, whatever! It's a baby!"
Rihanna Speaks About Her Maternity Fashion and the Joys of Being Pregnant
"If I feel a little chubby, it's like, whatever! It's a baby!"
Rihanna, who has been showing off her baby bump in the most fashionable ways possible, has opened up about her pregnancy and maternity fashion.
The star showed up at her Fenty Beauty Universe Even in Los Angeles on Friday with her boyfriend A$AP Rocky, wearing a custom The Attico look with a pair of Manolo Blahniks. Speaking to People, Riri said that being pregnant "is fun" but is also a "challenge." "I like it. I'm enjoying it," she commented on putting together stunning fashion looks throughout her pregnancy. "I'm enjoying not having to worry about covering up my tummy. If I feel a little chubby, it's like, whatever! It's a baby!" she added.
"Right now, being pregnant, some days you just feel like, 'Ugh, I just want to lay here on this couch all day.' But when you put on a little face and a little lipstick, you transform… You put some clothes on, and it's like, when you look good, you feel good," she further explained. "I've heard that for a very long time, but it's true. It really can get you up off that couch and make you feel like a bad bitch." She also told ET: "I'm trying to enjoy it as much as I could. And fashion is one of my favorite things, so, you know, we're defying what it even means to be pregnant and maternal. It can get uncomfortable at times and so you can dress the part and pretend." She additionally mentioned that she has been feeling more put together with her Fenty Beauty Gloss Bomb, which she will never leave the house without.
Aside from her pregnancy, Rihanna told ET that she will be releasing music sometime in the future. "Yes, you're still going to get music from me. My fans would kill me if they waited this long for a lullaby."
Peep the star's latest maternity look above. While you're here, explore Riri and A$AP Rocky's relationship timeline.
Share this article