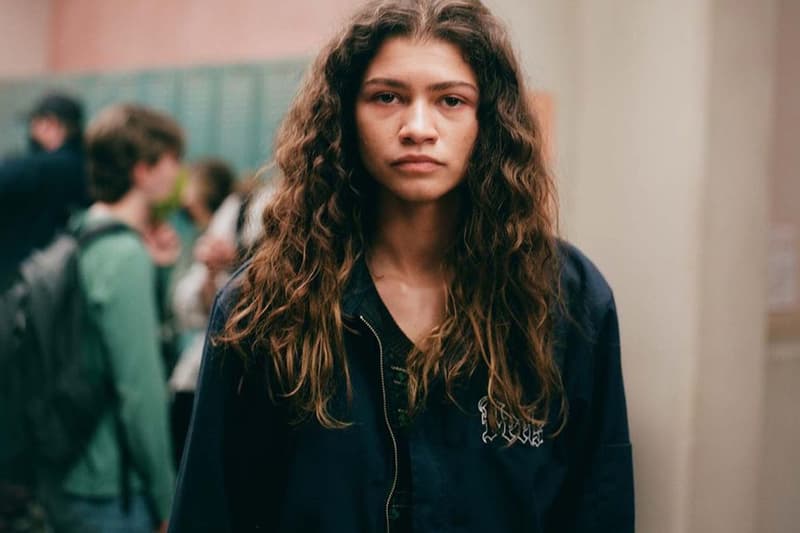 Film & TV
Is Rue Trafficked on 'Euphoria'? Here's a Recap of the Plot Twist You Missed
The truth about sex trafficking.
Is Rue Trafficked on 'Euphoria'? Here's a Recap of the Plot Twist You Missed
The truth about sex trafficking.
The fifth episode of Euphoria Season 2 was chaotic to say the least.
Editor's Note: This article contains spoilers for Euphoria.
Between Rue (Zendaya) trying to steal drugs from Fez (Angus Cloud) and her running a thousand miles away from the cops, the show had viewers on the edge of their seats. Audiences had their eyes glued to the screen, but somehow an important conversation was missed. Rue comes dangerously close to the trafficking lifestyle of Laurie, the emotionless drug dealer and sex trafficker.
There are countless fan theory threads on social media debating what actually happened and how people missed the obvious. We won't cover the birds in this article, but next time you watch Episode 5, pay attention to each time the parrots are shown and what's happening within the scene. For now, let's break down each step of Laurie's trap and how Rue is her perfect investment.
How Laurie lures Rue into her trap
From the moment Laurie appears in Episode 4, we knew she played no games. However, her tone of voice can trick most into thinking she is a protective older woman. This is characteristic of a lot of traffickers, especially female traffickers. They appeal to your needs and appear nurturing to lead you into the shady business.
Upon their first meeting, Laurie knows that Rue will be of value to her. She even asks Fez about Rue curiously, but nothing more happens in that episode. Sex traffickers specifically scout women who appear to be vulnerable, and as someone with experience in drugs and sex trafficking, Laurie knows that Rue can be of use.
When Rue approaches Laurie about her "genius" business idea, Laurie offers to increase the amount of drugs she gives her to $50,000 USD. She knows that Rue is using at the time, so she offers her even more drugs to put her deeper in debt. Laurie's reward? A lifetime of using Rue. As Rue leaves, Laurie even says, "Hey Rue, if you screw me over, I'll kidnap you and have you sold to the worst people I know."
In Episode 5, viewers get a clearer picture of how manipulative Laurie is. Rue experiences withdrawal, and as a last resort, takes stolen jewelry and cash to Laurie to cover some debt and score drugs. Laurie sits down at the table and tells Rue very motherly and gently that jewelry won't suffice, that she needs cash — but of course not before finding a way to appeal to Rue's emotions. She tells the story of how she got addicted to pills and how withdrawal was hell. "You're going through hell, aren't you?" Laurie asks, concerned. "You know when I was in withdrawal, I would do anything. That's the good thing about being a woman. Even if you don't have money, you've still got something people want."
If you pay close attention to that scene at the table, Rue zones out and stares down the hall at a suspicious room with a lock on the outside. Listen carefully and you can hear moaning, bouncing bed springs and scratching at the door. A clear indication of sex trafficking is when you notice security measures that usually keep people from coming in, are used to keep people from exiting. In this case, the lock isn't on the inside of the door, which would signify the people in the room need privacy. Instead, it is on the outside, which means Laurie is locking them in.
When Rue asks her if she has any pills, Laurie seems to be genuinely sad that she doesn't have any for her. In reality, which we see after Rue goes to the bathroom, Laurie has ample drugs of all kinds available. However, she tells Rue that she unfortunately only has morphine available. Very motherly-like, she implies it won't work because Rue doesn't usually take injections. But when Rue goes to the bathroom, she gets the morphine ready knowing that Rue is so down bad, she'll take anything — which is exactly what happens. Laurie leads Rue right into the next part of her trap.
When Laurie pulls out the morphine, the parrot shrieks. As Laurie injects Rue with morphine, she says, "You know, when I met you, I had a feeling you were going to be in my life for a long time." Rue thanks her.
Laurie injects her with morphine twice in the arm, but when Rue wakes up hours later, she appears to have more track marks. There are a lot of fan theories, like maybe she has injected her more times to ruin any remaining credibility she has amongst peers. Maybe it is a form of branding, as sex traffickers tend to brand their workers. My theory is that Laurie has most likely dosed her a few more times while she's blacked out, which means she may have been trafficked for payment while unconscious. Although we don't know exactly what has happened, Rue wakes up in a room with new clothes, a parrot and sealed windows. Something is clearly off.
What makes Rue and other women susceptible to sex trafficking?
There are so many risk factors that most girls who are trafficked at a young age endure. Unfortunately, Rue's story is a great example of how some young girls are groomed for a life of hell.
Running away from home
When you run away from home young, you will probably run into the wrong people. In most cases, young girls are being abused at home or have experienced something so horrible, they think "outside can't be worse than what's going on in my home." In Rue's case, she isn't running away from home at first, but eventually does to avoid rehab. Since Rue's drug withdrawal is so intense, she runs right into the arms of a sex trafficker to avoid feeling the discomfort of withdrawal.
A clear sign of vulnerability
Although she denies it in Episode 4, the passing of Rue's father is a trigger for her drug addiction. Her father, who said he would always be by her side, was her safe space, but now that support is gone. Losing the physical presence of a parent is tough, especially as a teenager who is trying to navigate identity and sexuality. As a result, Rue experiments with drugs for relief.
Drug addiction
Drug addiction is another huge risk factor. Rue knows the consequences of not paying back her debt, so she breaks into homes and even tries to steal from Fez's dead grandmother to score drugs. Even though Laurie warns her that she will be trafficked if she screws her over, Rue still shows up to Laurie's front door seeking relief from her withdrawal. It goes to show how deeply drug addiction rewires one's brain.
View this post on Instagram
Share this article