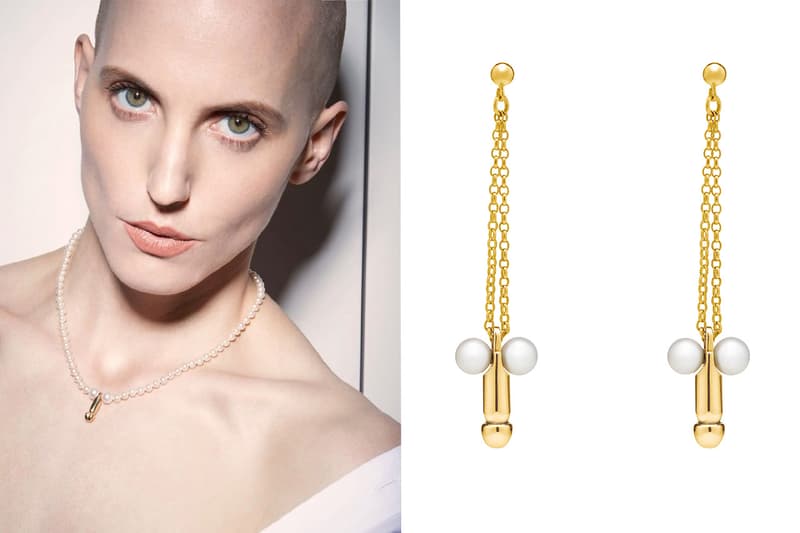 Fashion
Indie Designer Challenges Gender Norms With Phallic-Inspired Jewelry
SAMHAM's "Pretty Dix" pieces are for the girls who love a bold look.
Indie Designer Challenges Gender Norms With Phallic-Inspired Jewelry
SAMHAM's "Pretty Dix" pieces are for the girls who love a bold look.
Unisex jewelry brand SAMHAM is launching a new collection of hilarious statement pieces in celebration of the upcoming International Women's Day (March 8). The independent brand is all about repurposing traditional symbols of power, and its latest collection hits the nail right on the head. The "Pretty Dix" collection features 12 phallic-inspired pieces in gold and silver, with dainty pearls representing balls.
SAMHAM's goal with all of its designs is to challenge gender norms while also helping the wearer exude confidence. The brand's press release reads, "The signature Pretty Dix Collection pairs the iconic feminine glamour of pearls with a perfectly polished, gold-plated phallus to light-heartedly celebrate every strong woman's equal footing with any man."
The items featured in this witty collection are perfect for everyday wear, especially for those who love to live boldly. The options range from earrings to necklaces in a number of different colors depending on the look you want to serve. For those who enjoy a more minimalistic and edgy aesthetic, the collection features a Golden Pretty Dix Earring with Pearl Stud. If you love the drama that pearls give, the Pretty Dix Pearl Necklace is for you.
Shop the Pretty Dix collection on SAMHAM's website.
Share this article