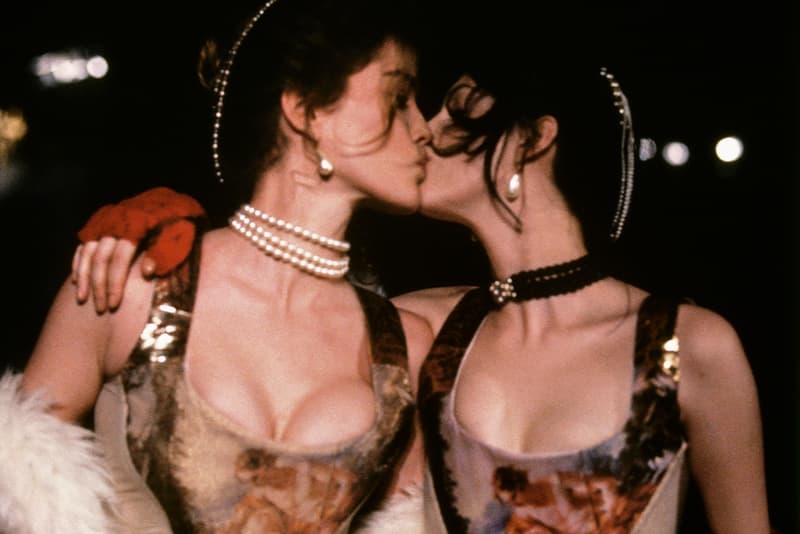 Fashion
Is the Corset Trend Actually Anti-Feminist?
A close look at the undergarment's history and rebirth.
Is the Corset Trend Actually Anti-Feminist?
A close look at the undergarment's history and rebirth.
If you haven't been paying attention to the corset trend yet, prepare for a slew of cute looks and controversy. The corset has held femininity together since the 15th-century by tightening the waistline and securing shape. During that time, medicine was not the most advanced, but one thing researchers, surgeons and common people could agree on was that corsets were dangerous. But could the item rooted in harmful and superficial social standards be reimagined into something better?
Before delving into that topic of conversation, it's important to understand the controversial history of corsets. The trend of wearing the tightly fitting undergarment was encouraged by high-status women like Catherine de Medici who forbid women in the court from revealing their "thick" waists. There were talks of it causing infertility, endometriosis and difficulty breathing which led to fainting. Some corset wearers had organs that were atrophied due to their body's inability to circulate blood, and as a result, they had to permanently wear corsets to remain upright. Even in present day, the original style of corset caused issues for Bridgerton actor Simone Ashley, who almost tore her shoulder on set due to excessive corset wearing.
However, designers who love the corset, like Vivienne Westwood, disagree with this narrative. Some think that it's impossible one garment could have been this oppressive, and the narrative actually encouraged Westwood to visit this concept later in her career.
But before the 1900s, there were no talks of the corset being eradicated. The undergarment became more popular after the Industrial Revolution, which led to it being mass-produced. As a result, the already restrictive garment was even more celebrated, as women who once couldn't get access to the It item began to wear it as well.
If it wasn't for the flapper era, women would probably have stuck to the outdated corsets they had always known. According to History, the flapper era introduced a generation of young women who were gladly rebelling against lady-like norms. Their new approach influenced fashion, and led to women wearing dresses that were more loose-fitting and androgynous.
Fast forward to the '80s and '90s, Westwood reimagined the corset by keeping its erotic and feminine elements, but left behind its uncomfortable aspects. The brand essentially took part in transforming the garment from underwear to outerwear, while also adding detailed touches. For example, the designer's Harris Tweed collection of Fall/Winter 1987 featured a corset she titled "Stature of Liberty," to place corsets outside of the oppressive narrative. Jean-Paul Gaultier also took part in the rewriting of this script in his Spring/Summer 1993 collection.
From 2020 to now, corsets have become a hot commodity again. Almost every brand, from fast fashion companies to haute couture houses, has reimagined the corset — some still as restrictive, while others only pull certain elements from the garment. Some credit the return of corsets to the creation of Bridgerton, the Netflix series that continues to fuel the popularity of "Regencycore" on Pinterest. My current favorite corset is by Kristin Mallison, a designer who plays with tapestries and portraiture on corsets as Westwood did in the '90s. 
The current state of the corset trend is more of a creative form of self-expression, rather than a status symbol or a push to make a point. Billie Eilish and Zöe Kravitz are two great examples of women who are creatively interacting with the garment, with the latter sporting a cat-themed, corseted dress by Oscar de la Renta at the premiere of The Batman. Eilish, who revealed to Vanity Fair that she adopted an oversized wardrobe to avoid body-shaming, tried her own hand at the corset trend in 2021. The singer was on what she called an "experimental cover" of British Vogue donning a corset. That same year, she styled a corset with sweatpants. Eilish was heavily criticized for her choice to wear corsets, and lost over 100,000 followers after fans thought she was changing to appear desirable. In all actuality, however, Eilish was simply experimenting with new forms of expression — which she gladly stood by.
Dior also reimagined the concept of the corset in its Fall/Winter 2022 collection, with sporty corsets and corseted overcoats. Newer designers like Cierra Boyd from Frisk Me Good have even upcycled Nike sneakers into playful, sustainable corsets.
Today, women — and whoever else would like to wear corsets — no longer have to endure uncomfortably in order to feel beautiful. The idea that "beauty is pain" is outdated, and the fashion industry is helping pioneer that movement.
The resurgence of corsets is also allowing women to get creative with their self-expression without having to tap dance around respectability politics. It's no secret that women are judged for what they wear in society, which leaves a lot of women cosplaying modesty or "performing a vanilla self." It's refreshing to see women reject those tropes.
So, are corsets a sign that our society is becoming anti-feminist? I'd like to think not. If anything, the reemergence of corsets contributes to the bold statement modern women are making: Not only can we wear whatever the f-ck we want, but we can also rewrite the rules and make sexy authentic and comfortable.
Share this article