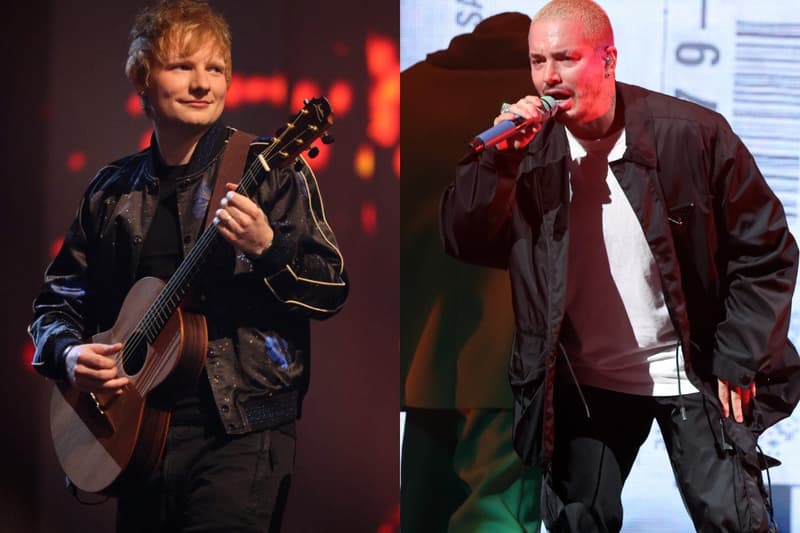 Music
Ed Sheeran and J Balvin on Their Cultures Colliding for 2 Upcoming Collabs
"He wanted to bring me into his world, and I wanted to bring him into mine."
Ed Sheeran and J Balvin on Their Cultures Colliding for 2 Upcoming Collabs
"He wanted to bring me into his world, and I wanted to bring him into mine."
Ed Sheeran and J Balvin's worlds have collided. The British singer-songwriter and the Colombian Reggaeton artist announced they are releasing two upcoming tracks, "Sigue" and "Forever My Love." Additionally, Sheeran revealed he had to learn Spanish for their forthcoming music collaborations.
"So I want to share something with you that I've been working on. I met @jbalvin in a gym in New York last year," Sheeran captioned an Instagram video, which Balvin also shared along with a similar message in Spanish. "It was just me and him very early in the morning. I recognized his voice when he was on the phone so I just went up and said hi. We chatted so long we ended up having lunch and then afternoon tea. Then just went to being mates who chatted nonstop."
"I was in New York at Christmas for shows so we decided to have one day in the studio that led to so so much more, which you'll find out about soon," Sheeran continued. "But the first two songs we wrote are 'Sigue' and 'Forever My Love;' they are out soon, and I absolutely love them. He wanted to bring me into his world, and I wanted to bring him into mine. Was a proper challenge learning Spanish for this and I had so much fun doing it."
In Balvin's caption, he revealed that it all started six months ago when he saw someone who he believed resembled the "Shape of You" musician at the gym before realizing it was actually him. From there, they met up for coffee, bonded over fatherhood and formed a genuine friendship, which eventually led to creating music.
See the video post they each teased below.
View this post on Instagram
---
Share this article