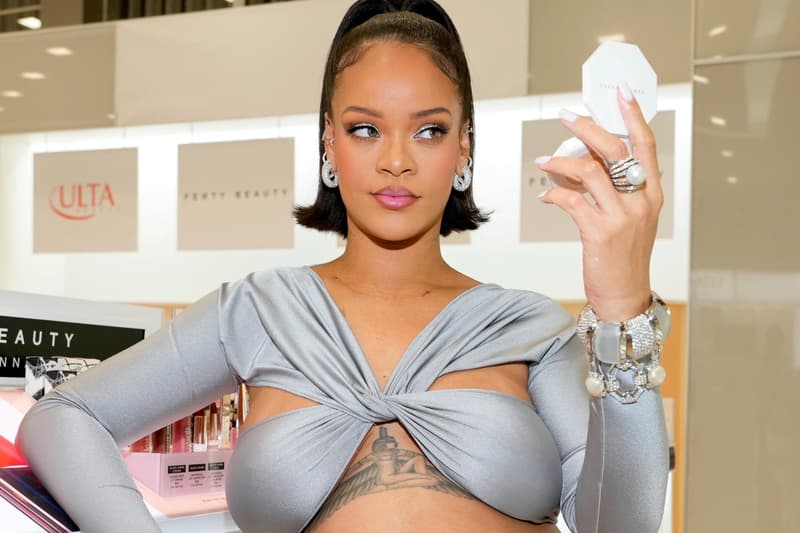 Rihanna Reveals Which Makeup Product Is Her "New Obsession"
Directly from Fenty Beauty.
If Rihanna approves of something, then it must be good. The singer-slash-entrepreneur took to her Instagram Story recently to disclose her latest go-to beauty product.
"I'm not gon' lie we f–ked this new lipgloss color UUUPPP!!! #BubbleBinge is easily my new obsession," she captioned a video showing off her bright pink pout, referring to one of the shades from Fenty Beauty's Gloss Bomb Cream Color Drip Lip Cream.
In a previous clip, Riri showed off her growing baby bump."Takin 'booty do' to new levels #preggoAF," she wrote in the video. Throughout her pregnancy, Rihanna has been slaying, reinventing maternity style. However, after reaching her third trimester, she's experienced times when she's not feeling her best. Fortunately, though, applying makeup helps.
"Right now, being pregnant, some days you just feel like, 'Ugh, I just want to lay here on this couch all day.' But when you put on a little face and a little lipstick, you transform," she recently told PEOPLE.
"You put some clothes on, and it's like, when you look good, you feel good," she added. "I've heard that for a very long time, but it's true. It really can get you up off that couch and make you feel like a bad bitch."
Share this article